Posted by
Mary Chastain
Tuesday, March 14, 2017 at 5:00pm
| 3/14/2017 - 5:00pm
The statue could be "one of the most important discoveries ever."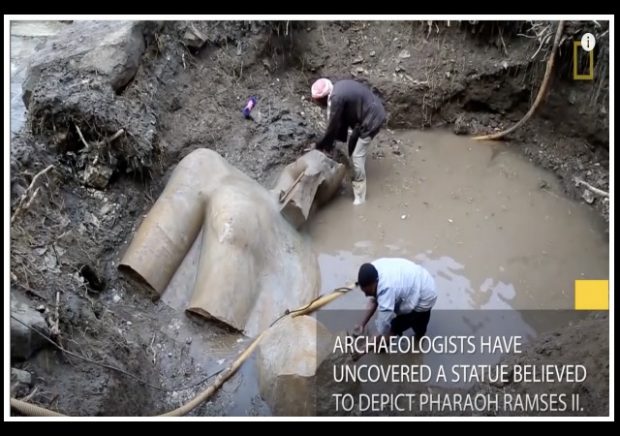 HOLY COW! In the slums of Cairo, Egypt, archaeologists retrieved what they believe is a 3,000 year old statue of Pharaoh Rasmes II. From The Daily Mail:
This is the moment archaeologists lifted a 3,000-year-old statue of an Egyptian Pharaoh considered 'one of the most important discoveries ever' from a muddy ditch.

Experts descended on the Souq al-Khamis district of the capital Cairo and used a crane to lift the three-tonne torso of the statue, which is believed to depict revered Pharaoh Ramses II.

The discovery, hailed by the Antiquities Ministry as one of the most important ever, was made near the ruins of Ramses II's temple in the ancient city of Heliopolis.

Researchers from Egypt and Germany say the 26ft statue probably depicts revered Pharaoh Ramses II, who ruled Egypt more than 3,000 years ago.

The first part of the colossus – a large portion of the head – was pulled up Thursday.

The Ministry of Antiquities says the statue's parts would be assembled at the Egyptian museum in central Cairo, where they would be pieced together and restored before being moved to the yet-to-open Grand Egyptian Museum near the Giza Pyramids.

Ramses the Great was the most powerful and celebrated ruler of ancient Egypt.

Known by his successors as the 'Great Ancestor', he led several military expeditions and expanded the Egyptian Empire to stretch from Syria in the east to Nubia in the south.

He was the third pharaoh of the Nineteenth Dynasty of Egypt and ruled from 1279 to 1213 BCE.

'Last Tuesday they called me to announce the big discovery of a colossus of a king, most probably Ramses II, made out of quartzite,' Antiquities Minister Khaled al-Anani told Reuters on Thursday at the site of the statue's unveiling.

'We found the bust of the statue and the lower part of the head and now we removed the head and we found the crown and the right ear and a fragment of the right eye,' Anani said.
BBC News – Egypt extracts torso of 'Pharaoh Ramses II' statue from mud https://t.co/5VvSrkVTOv #Archaeology #history #travel pic.twitter.com/KHlWrspLIH

— Britannia PR (@Britanniacomms) March 13, 2017
3000 year old Pharaoh Ramses II statue found in Cairo slumhttps://t.co/C5ziBk3wv1 pic.twitter.com/0pJWeCtb4w

— 9GAG (@9GAG) March 12, 2017
⭕️ Giant statue of Egyptian Pharaoh Ramses II found in Cairo slum by archaeologistshttps://t.co/VlTvasI8bH pic.twitter.com/7R44slU0Le

— Archaeology in Egypt (@AinEgypt1) March 11, 2017
Archaeologists discover massive statue resembling pharaoh Ramses II in Cairo slum. https://t.co/hZAYAFd4Pe pic.twitter.com/gqQvr1I3sa

— The Associated Press (@AP) March 10, 2017
Archaeologists in Egypt may have discovered a statue of pharaoh Ramses II https://t.co/E7kNhnfDyF (Photo: epa) pic.twitter.com/liiV2gfSp6

— USA TODAY (@USATODAY) March 10, 2017
Archaeologists have discovered a massive, ancient statue in a Cairo slum they believe is of pharaoh Ramses II https://t.co/dkGnMS9a2l pic.twitter.com/wdK3xFjKUM

— nzherald (@nzherald) March 10, 2017