Posted by
Kemberlee Kaye
Friday, February 17, 2017 at 7:30pm
| 2/17/2017 - 7:30pm
The irony is not lost on us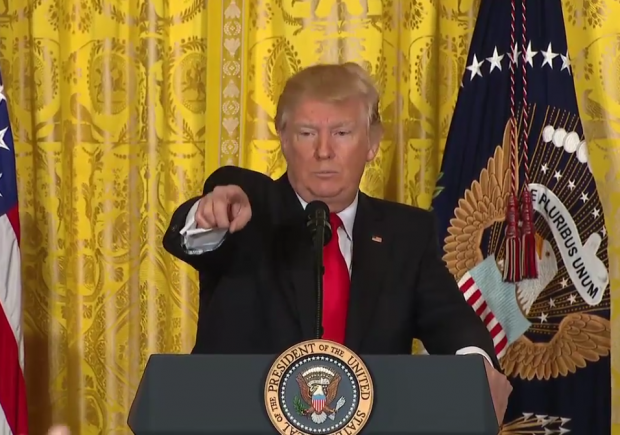 Fresh off a seventy-minute press conference where he leveraged national media coverage to berate and skewer the national press corps, President Trump kicked off the weekend with another shot at political media, only this time, he used Twitter.
Trump tweeted that many "fake news" outlets were not his personal enemy, but instead an "enemy of the American people." Shortly after the initial tweet, Trump deleted it, leaving many to believe he'd reconsidered his inflammatory social media post.
The original tweet:
This is the now-deleted tweet from the president of the United States just now. Link: https://t.co/NoskLJFERx pic.twitter.com/9xysfiitVN

— Chris Geidner (@chrisgeidner) February 17, 2017
But Trump wasn't sorry, nor did he think his decision poor. After deleting the tweet cited above, he composed the same tweet again, this time adding more news networks to his list of fake newsers.
The FAKE NEWS media (failing @nytimes, @NBCNews, @ABC, @CBS, @CNN) is not my enemy, it is the enemy of the American People!

— Donald J. Trump (@realDonaldTrump) February 17, 2017
Needless to say, the political media wasn't thrilled with being labeled an enemy of the state right before the weekend:
Not to be a pedant, but is he saying he's not an American person? https://t.co/90hE5GYR41

— Dave Itzkoff (@ditzkoff) February 17, 2017
UPDATE: Trump retweets initially deleted tweet, adds @ABC and @CBS to list with @nytimes @NBCNews and @CNN as "enemy of the American people" https://t.co/TkJtWmOmHL

— Katie Frates (@TheWorldsFrates) February 17, 2017
He tagged CBS Entertainment though. Maybe he meant fake NCIS? https://t.co/EzwPSmzNs7

— Steven Shepard (@POLITICO_Steve) February 17, 2017
Good to see President Trump doesn't make the common @abc / @abcnews error

— Niels Lesniewski (@nielslesniewski) February 17, 2017
But seriously, all joking aside, this is an incredibly disturbing statement. https://t.co/c8HnOmHmUW

— Binyamin Appelbaum (@BCAppelbaum) February 17, 2017
Trump again tweets that the media is the "enemy of the American People!" https://t.co/5Z7fbmQWLU

— Scott Wong (@scottwongDC) February 17, 2017
.@jackshafer: "There is no more consistent political tradition in America than presidents delegitimizing the press" https://t.co/sALsrCSl0L

— Cristiano Lima (@ludacristiano) February 17, 2017
And it's back https://t.co/A8hQWKqRQ6

— Zeke Miller (@ZekeJMiller) February 17, 2017
You have a good weekend, too, buddy. pic.twitter.com/mEi3Sgcih5

— Dave Itzkoff (@ditzkoff) February 17, 2017
You have a good weekend, too, buddy. pic.twitter.com/mEi3Sgcih5

— Dave Itzkoff (@ditzkoff) February 17, 2017
pretty great that Trump calls a class of professionals an enemy of the state and the response is "whoa what about recordkeeping laws????"

— Simon Maloy (@SimonMaloy) February 17, 2017
Dear Mr. President: we journalists work *for* our fellow Americans. Just like you! We have something in common.

— Jacob Soboroff (@jacobsoboroff) February 17, 2017
Follow Kemberlee on Twitter @kemberleekaye