Posted by
William A. Jacobson
Saturday, February 25, 2017 at 3:24pm
| 2/25/2017 - 3:24pm
Dems step back from the brink, but just barely as Ellison to serve as Vice Chair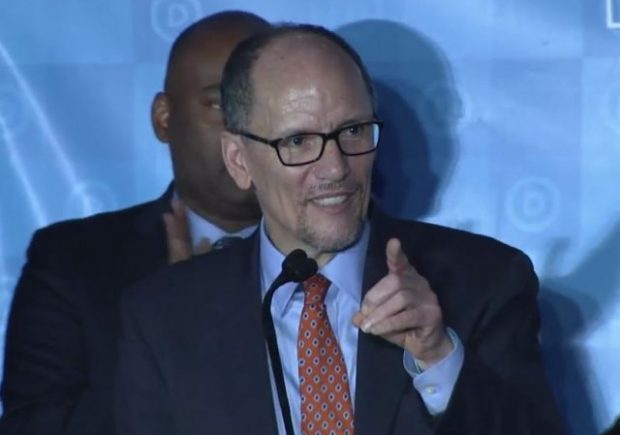 At its winter convention, the Democratic National Committee just elected Tom Perez the new Chair of the DNC.
This follows a contentious fight as to whether Democrats would turn the party over to the Keith Ellison wing of the party. Full details in yesterday's post, DNC Vote Saturday: Will Democrats become party of Keith Ellison?
In some ways, it was a replay of the Dem primaries:
If you're in the mood to relive the Dem primary, just browse this tag: #DNCChair

— Peter Daou (@peterdaou) February 25, 2017
Ellison had the backing of Linda Sarsour, someone trying to move the party to merge Islamism and socialism into a new anti-Israel Democratic Party.
If the @DNC wants a second chance at life, @keithellison is what you need. #DNCChair

— Linda Sarsour (@lsarsour) February 25, 2017
Hope the @DNC does the right thing today. #KeithforDNC

— Linda Sarsour (@lsarsour) February 25, 2017
This cable news debate pretty much set up the divide among Democrats on Ellison's history and associations.
Alan Dershowitz: Why I Will Leave Democratic Party If Keith Ellison Is Elected DNC Chairman https://t.co/SeuS51GMSB

— Jake Tapper (@jaketapper) February 25, 2017
11:05pm ET: @NomikiKonst ???? on #CNN with @DonLemon discussing the state of the #DNCChair's race. pic.twitter.com/h6ehBrBGp6

— #ForThePeople ???? (@BernieVolunteer) February 25, 2017
In the first round, Tom Perez fell one vote short (214.5 needed)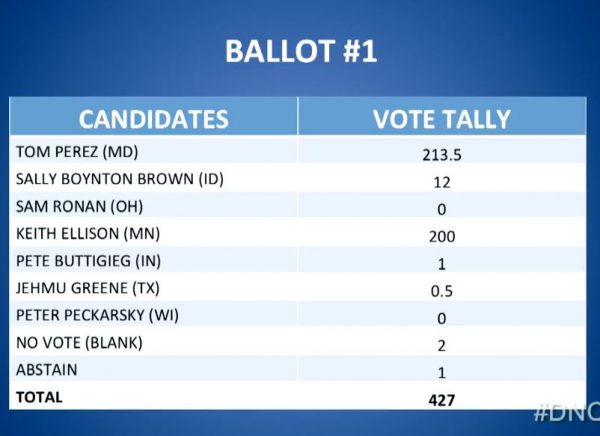 After all the other candidates dropped out after the first ballot, it came down to just Ellison or Perez.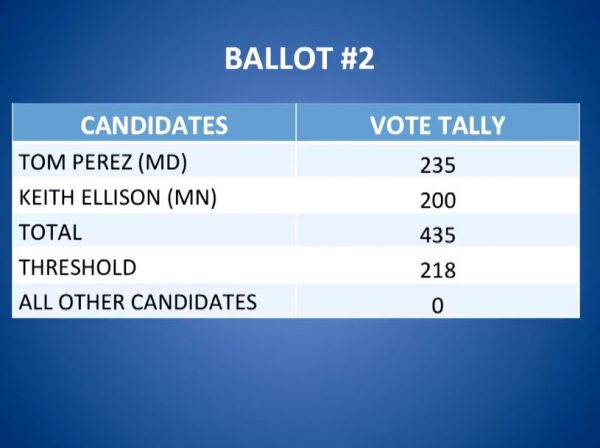 REACTIONS:
Oh the sad irony…Dems criticize Trump's anti-Muslim rhetoric YET ensure a Muslim not become #DNCChair. #EpicFail #SundayMorning #GoGreen???? pic.twitter.com/zegAkyNEd5

— Teabar.com (@MAHAMOSA) February 25, 2017
The #DNCChair vote is indicative of the DNC not listening to the base. Perez is a good guy but this is wrong

— Andrew Ward (@IAmAndrewWard) February 25, 2017
#DNCChair @TomPerez huh? Well so long @DNC ! Hello @DemSocialists !

— Spencer (@Imnotbobbarker) February 25, 2017
Tom Perez wins. Goodbye @TheDemocrats. Good luck chasing moderate Republicans to join Hillary's "Lesser Evil 2" campaign in 2020. #DNCChair

— Kisco (@Kisco75) February 25, 2017
.@TomPerez & rest of clueless members who voted 4 him-50 state strategy means NOTHING if ur MESSAGE DOESN'T MATCH YOUR DONATIONS #DNCChair

— Jordan (@JordanChariton) February 25, 2017
So much for self-awareness, Democratic Party.#DNCChair pic.twitter.com/y76HpMhC6J

— Justice Democrats (@justicedems) February 25, 2017
What do you call it when you do the same thing over and over again and expect different results? Oh yeah: the Democratic Party. #DNCChair

— Naomi Klein (@NaomiAKlein) February 25, 2017
The immediate consequences of a @TomPerez victory will be to encourage activists to build outside the party rather than within. #DNCChair

— Domenic Powell (@_vectorist) February 25, 2017
What a joke. Ellison had all the momentum. This is a message to progressives that this party does not care about you. Only lobbyists https://t.co/NYlYQkWycs

— Rania Khalek (@RaniaKhalek) February 25, 2017
At the end of the day DNC chair has limited import. But the corrupt machinations in the Democratic Party are symbolic of racisms traffic

— Zaid Jilani (@ZaidJilani) February 25, 2017
Perez won the spot because his allies ran a campaign demonizing Ellison for believing Palestinians are human beings. Yes that matters

— Zaid Jilani (@ZaidJilani) February 25, 2017
Democrats playing 12th dimensional chess, defeating Elison with Islamaphobic smear campaign in order to better understand and defeat Trump.

— Emmett Rensin (@emmettrensin) February 25, 2017