Posted by
Kemberlee Kaye
Wednesday, February 22, 2017 at 2:30pm
| 2/22/2017 - 2:30pm
The warning signs were there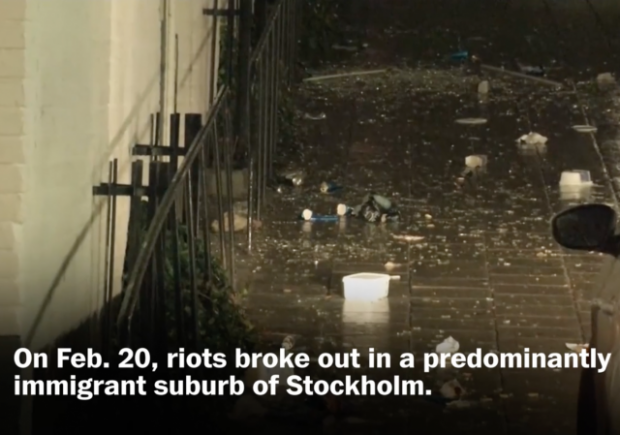 Trump was chided for his remarks on the immigrant problems in Sweden.
Just days after his comments, violent riots erupted in Stockholm's immigrant-filled suburbs, forcing law enforcement officers to open fire.
From The Express:
The scenes took place just hours after the country's Prime Minister, Stefan Löfven, slammed Donald Trump for claiming Sweden was in crisis as a result of its liberal refugee policy.

Stockholm police were forced to fire a shot into the crowd in the hard-hit suburb of Rinkeby, after a mob of around 30 began attacking officers with rocks.

Violence erupted after the police had tried to arrest a wanted person on the subway.

Sylvia Odin, of the Stockholm police, said: "There was stone throwing and they were placed in a situation where a number of people jointly attacked and threw stones. They felt vulnerable and threatened.

"The initial information we received was that a warning shot [was fired] but when the picture cleared, it turned out it was for effect [meaning it was intended to hit the target]."

Another officer told Aftonbladet: "The police were cornered between the stone throwers and their car and shot towards the stone thrower but missed."

In addition to the police being attacked, emergency services had their hands full as 10 cars were set alight in Rinkeby.

A photographer from Dagens Nyheter was also reportedly attacked during the clashes as he said a group of around 15 people had assaulted him when he arrived in Rinkeby to report on the unrest.

"I was hit with a lot of punches and kicks both to my body and my head. I have spent the night in hospital," he said.
The WaPo's summation:
The neighborhood, Rinkeby, was the scene of riots in 2010 and 2013, too. And in most ways, what happened Monday night was reminiscent of those earlier bouts of anger. Swedish police apparently made an arrest on drug charges at about 8 p.m. near the Rinkeby station. For reasons not yet disclosed by the police, word of the arrest prompted youths to gather.

Over four hours, the crowd burned about half a dozen cars, vandalized several shopfronts and threw rocks at police. Police spokesman Lars Bystrom confirmed to Sweden's Dagens Nyheter newspaper that an officer fired shots at a rioter but missed. A photographer for the newspaper was attacked and beaten by more than a dozen men and his camera was stolen.
Ami Horowitz dicussed Sweden's migrant crisis:
Here at Legal Insurrection, we've been covering the rise of anti-Semitism in Sweden, spurred by a rapid influx of fundamentalist Muslim immigrants.
Seem like a good time to re-up prior posts abt Sweden: "For Jews in Sweden, "this is not living"" https://t.co/9EXhALPTaf

— Legal Insurrection (@LegInsurrection) February 20, 2017
Seem like a good time to re-up prior posts abt Sweden: "For Jews in Sweden, "this is not living"" https://t.co/9EXhALPTaf

— Legal Insurrection (@LegInsurrection) February 20, 2017
Seem like a good time to re-up prior posts abt Sweden: "Malmö brings together Islamist and Leftist anti-Semites" https://t.co/qa99IalJRC

— Legal Insurrection (@LegInsurrection) February 20, 2017
Seem like a good time to re-up prior posts abt Sweden: "anti-Semitic shame of Malmö continues with attack on Rabbi" https://t.co/Dzjdt3V4DR

— Legal Insurrection (@LegInsurrection) February 20, 2017
Seem like a good time to re-up prior posts abt Sweden: "Kippah Walk in Malmö in solidarity with Jews persecuted" https://t.co/Dfd4z8ovKc

— Legal Insurrection (@LegInsurrection) February 20, 2017
Seem like a good time to re-up prior posts abt Sweden: "Malmö Syndrome" https://t.co/U0AiqyZloJ

— Legal Insurrection (@LegInsurrection) February 20, 2017
Follow Kemberlee on Twitter @kemberleekaye