Posted by
William A. Jacobson
Sunday, December 4, 2016 at 9:15pm
| 12/4/2016 - 9:15pm
Pro-Israel students report staged walkout to deprive student government meeting of a quorum.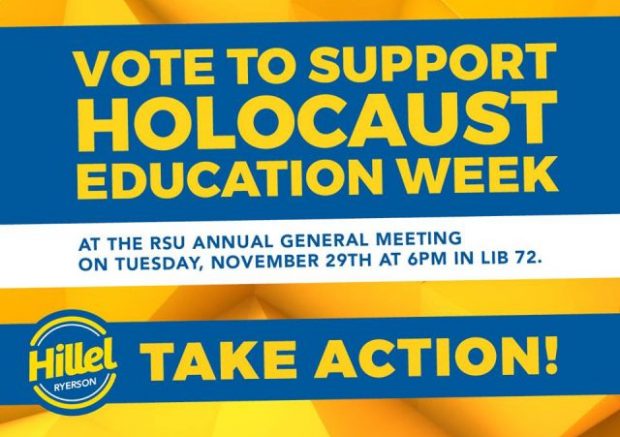 We have documented for years how anti-Israel protests at campuses frequently cross over into antisemitism, both directly and by creating a toxic environment for Jews.
Ryerson University in Toronto is a case in point. A resolution to boycott Israel passed in 2014
Another Ontario university student union has voted in support of the anti-Israel Boycott, Divest and Sanction (BDS) campaign.

In a tense Annual General Meeting this week, several hundred Ryerson University students voted "overwhelmingly in favour" of supporting BDS.
Given the toxic environment, some Jewish students felt it important for the student government to support a Holocaust education week, and openly planned to present a motion at a recent student government semi-annual general meeting.
At the upcoming RSU Annual General Meeting on Tuesday, November 29th, there will be a vote taking place on a motion that has been submitted by a Ryerson Hillel student. The motion asks the RSU to institute programming and events during Holocaust Education Week that educate and inform the Ryerson community about the Holocaust, and the atrocities that occurred during this dark period in our history. In order for this motion to pass, we need a majority vote. Therefore, we need you to come out and show your support.
What happened next is troubling — members of the Muslim Student Association and Students for Justice in Palestine, according to students in attendance, organized a protest walk out in order to deprive student government of a quorum, thus defeating the motion.
Israelly Cool broke the story on November 30, Vile Antisemitism At Ryerson University With Student Walkout:
Last night, Aedan O'Connor, Hasbara Fellow and Vice President of programming at Students Supporting Israel at Ryerson University, uploaded the following Facebook Post:

At the Annual General Meeting at Ryerson University in Toronto Canada, dozens, if not hundreds, of students walked out of the auditorium with the purpose of breaking quorum. They filled these seats so that other students who wanted to come couldn't make it in. Looks like the typical action of Students for Justice in Palestine during a pro-Israel resolution.

Here's the catch though: the resolution had absolutely nothing to do with Israel. It was about condemning antisemitism and promoting Holocaust remembrance and education. Yet it angered a group of students to such an extent that they felt they had to leave in protest, to sabotage the vote.
A Ryerson student in attendance wrote about her experience at The Times of Israel:
I am a student at a Ryerson University. On Tuesday, November 29, 2016, I attended the Semi-Annual General Meeting (AGM) to show my support for a motion that stated that, the Ryerson student union should provide programming to educate people during Canadian Holocaust Education week….

I lined up to speak at the microphone in favour of this motion. Three people including the President of the Muslim Student Association (MSA), and vice president of Students for Justice in Palestine (SJP), were ahead and opposed the motion. SJP claims to be against anti-Semitism (after tonight I can attest that it clearly does not live up to that standard) and stand up for social justice of the oppressed.

I stood behind them, politely welcoming them. I was then aggressively told by the president of the MSA and Vice President of SJP to "sit down" because there are too many people with my opinions. Excuse me? You think that just because I wear a Jewish star on my necklace you can assume my positions? Well, unfortunately for these individuals, they attacked the WRONG Jewish girl….

As if rehearsed, they formed an unofficial walk-out in which they guarded the doors, patrolled the hallways and aggressively pressured attendees to leave the room so that there would not be enough people present to hold a vote or hear the "pro" voices. The president of the MSA then called for a recount on quorum. Out of a room of 200 of my peers, the audience was reduced to less than 50.

The meeting was adjourned.
Students Supporting Israel at Ryerson issued the following statement:
Students Supporting Israel at Ryerson University condemns the blatant anti Semitism that took place during the events of the November 29th Ryerson Student Union semi Annual general meeting.

Our friends at Hillel Ryerson were working with a Hillel student to put forth a motion regarding having an official Holocaust Education Week.

A certain group of students formed a walk out to ensure that no Jewish students would have a voice or the opportunity to speak in favour, or vote for this motion. The meeting was adjourned almost instantaneously after that.

2 student leaders from the MSA and SJP aggressively spoke to our Vice President telling her to "sit down" as there were "too many of you". We condemn this act of singling out and personal attack.

We condemn the HATE and the atrocity that occurred in that meeting. We are here to speak to any students who feel affected by Tuesday's meeting.

We would also like to update our community members with an important update. We would like to recognize the great work of current RSU slate. Some of our executives have spoken to Obaid Ullah, president of the RSU, and Obaid has expressed his utmost disgust of the blatant anti Semitism that occurred at the meeting. He assured us that our voices will not be silenced. We thank our RSU for the work that they do and we thank them in their effort to represent us effectively.

SSI wants to see CONCRETE ACTION. We do not want an apology. We want to see a CONCRETE plan of action ensuring that NO students should feel the way those Jewish students felt in the meeting. This does not end with a statement. This ends with action.
The Jewish Telegraph Agency reported on the protest:
Students at Ryerson University in Toronto staged a walkout rather than vote on a resolution to commemorate Holocaust Education Week.

Local members of Students for Justice in Palestine and the Muslim Students Association reportedly staged the walkout Tuesday night during the semiannual general meeting of the Ryerson Student Union. The meeting lost its quorum, according to B'nai Brith Canada.

The resolution, which was submitted by a member of the Ryerson Hillel Jewish students' group, called on the Student Union to offer annual Holocaust education programs to emphasize "the value of pluralism and the acceptance of diversity." There was no mention of Israel.

The Ryerson Student Union voted to join the Boycott, Divestment and Sanctions movement against Israel in April 2014. The resolution prohibits the student group from having ties with companies that do business in Israel, including Home Depot, Costco and Sears, and removed Sabra hummus from the campus cafeteria.

"What starts with BDS does not end with BDS," said Amanda Hohmann, national director of B'nai Brith's League for Human Rights. "More often than not, BDS is simply a gateway drug to more blatant forms of anti-Semitism."
The Toronto Star reports that Ryerson officials are "concerned" about reports of what happened, as the Muslim Student Association and Students for Justice in Palestine deny everything (but won't respond to media requests):
Ryerson University has expressed concern about complaints of anti-Semitism that erupted at a student union meeting this week after students made a motion to mark Holocaust education week on campus every year.

"The university is very concerned about allegations at a recent RSU (Ryerson Students' Union) meeting," Johanna VanderMaas, manager of public affairs, said in an email Thursday….

Both groups accused of orchestrating the walkout strongly denied it on Facebook and did not respond to media requests.

"Allegations that we organized or directed the loss of quorum are completely false and hurtful," said a post from the Ryerson Muslim Students' Association.

"We strongly believe in free speech, the right for all paying members of the RSU to put forth motions, and the importance of motions being debated and put to a democratic vote."

A statement from the executive of Students for Justice in Palestine said it supports the call for a week to commemorate the Holocaust at Ryerson and "did not engage in any manner in the 'planned' walkout."
Despite the denials, a pro-Israel student group at Ryerson obtained an audio of SJP members discussing how they planned to defeat the motion (via Israelly Cool):
A Muslim student issued a video statement condemning what happened: