Posted by
Mary Chastain
Monday, October 10, 2016 at 6:30pm
| 10/10/2016 - 6:30pm
Apple, Google donated to the campaign for Democrat Deborah Ross.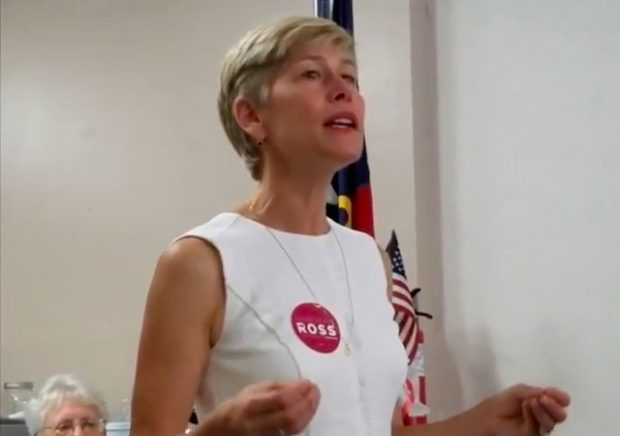 Technology giants in Silicon Valley have donated money to Democrat Deborah Ross against Sen. Richard Burr (R), which has become one of the tightest races in the country. The Hill reported:
Laurene Powell-Jobs, the widow of former Apple CEO Steve Jobs, tech venture capitalist Brook Byers and tech executive Amy Rao have all donated $2,700 to Ross, the maximum allowed. Paul Haahr, a top engineer at Google, has also donated $2,000 to Ross via the Bay Area based PAC, WomenCount.

Burr, meanwhile, received virtually no donations from tech donors in San Francisco and surrounding areas like Palo Alto, Atherton, Los Altos and Woodside during the last two fundraising quarters.
They may have chosen Ross because Burr has sided with Sen. Dianne Feinstein (D-CA) to "grant law enforcement easier access to consumer data." The majority of these tech groups have protested against it, citing privacy issues.
The two sides came head-to-head after the terrorist attack in San Bernardino and the FBI asked Apple to develop software so the agents could get into the terrorist's phone. Apple refused to help and even told officials that our Founding Fathers "would be appalled" of their request. CEO Tim Cook said the demand from the judge is "an unprecedented step which threatens the security of our customers."
None of the companies have actually come out and made statements about the North Carolina race, but those companies have publicly criticized the bill. Inside sources have said those involved with the companies have grown "frustrated with Burr's refusal to listen to them on privacy matters:"
ITIF Vice President Castro expressed similar sentiment.

"The Burr encryption bill is something that people in tech were really frustrated by," he said.

"I think it misunderstood encryption and how it can be resolved. It gave unfair weight to law enforcement side. It tried to say how American companies should put in encryption in their products."

Overall, Burr's policy stances seem to be at odds with the ethos of Silicon Valley.

"[Burr's bill] tried to say how American companies should put in encryption in their products," said Castro. "Silicon Valley believes that the private sector should be free to create."
But Burr's campaign quickly noted Ross has not taken a side on the bill:
"Deborah Ross has refused to take a position on the Burr-Feinstein bill, whether she would require tech companies to provide unencrypted data for terrorist's phones," said a Burr campaign spokesperson to The Hill.

"She was asked three times about that on 'Capital Tonight.' Three times she refused to take a position. I think that's telling to Deborah Ross's desire or her philosophy when it comes to combating terrorism."
Even though she has not taken a stance, her campaign noted that she will listen to the tech companies and celebrated the donations:
"Deborah also hears people in North Carolina echo the same concerns that the tech industry has raised," a Ross campaign aide told The Hill. "Those are concerns she takes seriously."

—

"Deborah will work to make sure that our intelligence community has the tools they need to keep our communities safe," said Ross's Press Secretary, Cole Leiter when asked about Ross's views on encryption and privacy. "She also recognizes it is crucial there are strong checks and balances on those tools to prevent their abuse and to protect the privacy of individuals."
The Hill notes, though, that her work as a lawyer with the ACLU could have inspired the tech world to take her side over Burr:
"That suggests she would come in pretty strongly in favor of encryption," said Daniel Castro, vice president of the Information Technology and Innovation Foundation (ITIF).
Castro or The Hill did not provide exact examples why that led the tech companies to Ross. But the ACLU did come out against the FBI and the Department of Justice for trying to persuade Apple for the software because of future consequences:
We have already explained that a key premise of the government's argument — that it would lose the data if it tried to guess the passcode too many times — was false. And now the FBI is acknowledging that its previous statements that only Apple could help may also have been wrong.

This doesn't inspire confidence, and it is yet another reason to resist the government's demands in the larger debate about whether tech companies should be forced to weaken the encryption in their devices to provide for governmental access. There is an extraordinary consensus among security professionals that doing so would be disastrous for security. The FBI has responded by wishing away the consensus of the technical community. The latest development in Apple's case gives little reason to think that the FBI has the technical qualifications necessary to make this point.

Second, the legal fight is far from over. Even if the FBI gets access to the San Bernardino phone using the new method it is exploring, it is inevitable that the FBI will come knocking again. We know of a dozen or so other apparently pending requests that Apple has received from the government for technical assistance — including a case in New York, in which the government recently appealed a ruling against it. (It's unclear if the technique that the FBI indicated could help it unlock the San Bernardino phone would apply in these other instances. If it does, that could moot those requests.)