Posted by
Mary Chastain
Saturday, August 13, 2016 at 3:00pm
| 8/13/2016 - 3:00pm
Anti-Israel internet feared loss to Israeli would humiliate Islam, but now cheer his refusal to shake hands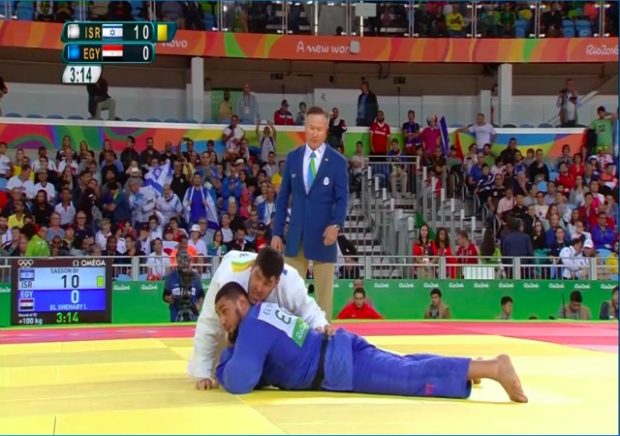 Anti-Israel Egyptian judo fighter Islam el-Shehaby received backlash on Friday when he didn't shake the hand or bow to his Israeli opponent Or Sasson, who defeated him on Friday. In response, the Egyptian Olympic Committee announced they will open an investigation into his actions.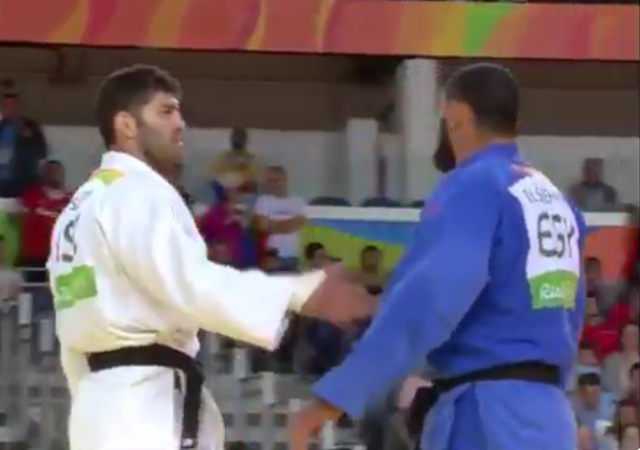 El-Shehaby received pressure from Muslims not to fight against the Israeli, but the EOC threatened to strip him of his citizenship if he withdrew. He immediately retired after the loss.
Shameful behavior by Egypt, especially given this is a martial arts competition where respect is everything. https://t.co/zIfV5QIe6U

— jason (@Jason) August 13, 2016
From The Jerusalem Post:
The Egyptian Olympic Committee said it has summoned el-Shehaby to a hearing on the matter in order to listen to his version of events. The committee added that it will release its decision in the next 48 hours.

In response, a spokesperson for the International Olympic Committee said they "will review the case to figure out exactly what happened."

"Sometimes over the course of such tournaments such things happen, but in general the idea of the Olympics is to build bridges between countries and nations, not destroy them," the IOC added.
Before the match, Muslims littered the internet with demands for him to boycott the match:
"You will shame Islam," wrote one angry follower. "If you lose, you will shame an entire nation and yourself. We don't want to think what will happen if you lost to an Israeli. Victory will give you nothing. How can you cooperate with a murderous nation?"
However, attitudes changed with Muslims and anti-Israelis on social media because they cheered when Shehaby refused to shake Sasson's hand.
Fair play to Islam el shehaby for not shaking that dirty isreali's hands after the match

— Ahmed (@ahmed_hamed11) August 12, 2016
المصري رفض مصافحة الإسرائيلي .. الله أكبر انتصر الإسلام بفعلته.. يا أخي ما تريد تصافحه لا تلعب من الأساس.

— أرسنآل الغد .. (@Arsenal_mhk) August 12, 2016
Translation: Masri declined Israeli handshake. Allahu Akbar. Islam triumphed with it.
Todo apoio à Islam El Shehaby! #BoycottIsrael #FreePalestine #IslamElShehaby pic.twitter.com/NfBQyTwWIc

— Vini Oliveira (@vinicartoons) August 13, 2016
today we are all Islam el-Shehaby

— Maxwell Hoaglund (@mhoaglund) August 13, 2016
Only thing I'm sharing from Olympics: Egypt's Islam El Shehaby refusing to shake hands with Israel's Or Sasson. ???????????????? https://t.co/PjPUZS3u7s

— TheDevilWearsPraxis (@EmmaCaterine) August 12, 2016
So many people mad Egypt's Islam el-Shehaby refused to shake hands with Israel's Sasson. Cry some more Zio groupies. pic.twitter.com/f9HzsrIQVg

— JUBAE (@dubhe0ne) August 12, 2016
Shehaby has some of the most anti-Israel views, which makes some think he lost on purpose "as a silent protest against Egyptian President Abdel Fattah al-Sisi who forced him to compete in the games."