Posted by
Fuzzy Slippers
Saturday, July 2, 2016 at 5:29pm
| 7/2/2016 - 5:29pm
Netanyahu: He "gave expression to the victory of the human spirit over cruelty and evil"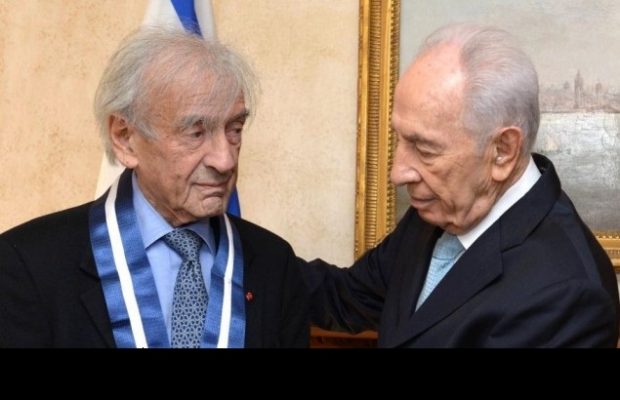 Elie Wiesel, a beacon of light, died today at age 87 after a prolonged illness.
Nobel Peace Prize laureate, Holocaust survivor and human rights activist Eliezer "Elie" Wiesel died on Saturday at the age of 87 after a prolonged illness.

A survivor of the Auschwitz and Buchenwald Nazi death camps, Wiesel dedicated much of his life to Holocaust education and promoting tolerance around the world.

. . . .  Soon after he won the Nobel prize, Wiesel and his wife Marion founded The Elie Wiesel Foundation for Humanity with a mission to "combat indifference, intolerance and injustice through international dialogue and youth-focused programs that promote acceptance, understanding and equality".

. . . . Throughout his life and career, Wiesel continued to speak out for victims of oppression all over the world.

Prime Minister of Israel, Benjamin Netanyahu, mourned Wiesel's passing.
Prime Minister Benjamin Netanyahu mourned the passing of Nobel laureate Elie Wiesel on Saturday, saying that he "gave expression to the victory of the human spirit over cruelty and evil, through his extraordinary personality and his fascinating books."

Netanyahu said that "in the darkness of the Holocaust, in which our sisters and brothers were killed – six million – Elie Wiesel served as a ray of light and example of humanity who believed in the goodness in people."

The prime minister gave thanks that he had been blessed to have know Wiesel, and learned from him, personally.
The Museum mourns the loss of its Founding Chairman, Elie Wiesel. https://t.co/qORlmZN9X8

— US Holocaust Museum (@HolocaustMuseum) July 2, 2016
For the survivor who chooses to testify… his duty is to bear witness for the dead & for the living #ElieWieselRIP https://t.co/5WJwaawmlK

— Peter Lerner (@LTCPeterLerner) July 2, 2016
God will welcome him..Thankyou https://t.co/leXqP8rZDG

— Michael Reagan (@ReaganWorld) July 2, 2016
"To forget the dead would be akin to killing them a second time." Elie Wiesel RIP

— Tim Stanley (@timothy_stanley) July 2, 2016
Deeply saddened by the passing of Elie Wiesel, who remained optimistic in the darkest days and pushed us to see beauty in humanity.

— Melinda Gates (@melindagates) July 2, 2016
Natan and Avital Sharansky mourn the passing of Elie Wiesel. https://t.co/lAd1Rk3U41 pic.twitter.com/wsBx1VN4XJ

— The Jewish Agency (@JewishAgency) July 2, 2016
Eternal words frombless Elie Wiesel, my hero, our collective grandfather, a Jew, a lover of humanity, BDE pic.twitter.com/VzVvLHzACn

— Afshine Emrani MD (@afshineemrani) July 2, 2016
[Featured image via The Times of Israel]