Posted by
Kemberlee Kaye
Friday, April 1, 2016 at 5:45pm
| 4/1/2016 - 5:45pm
"They're not going to get the data and the tools of the RNC… and tell me they're not going to support the party. It doesn't work that way."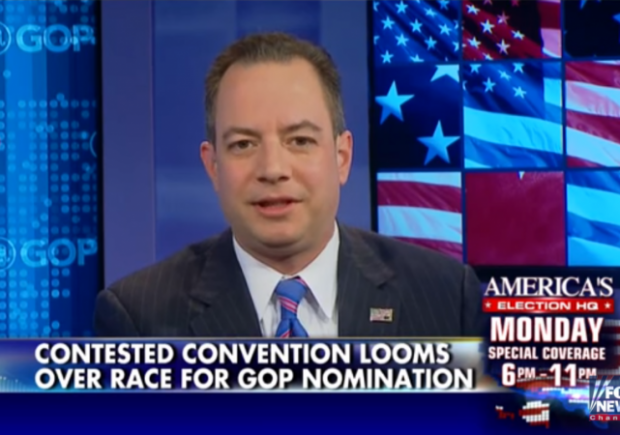 RNC Chairman Reince Priebus joined Fox News Thursday night to discuss the state of the GOP presidential race.
Though Trump is the only candidate to outright denounce the GOP loyalty pledge publicly, both Cruz and Kasich have danced around the issue, alluding to their waning support for the eventual Republican presidential nominee.
When asked about candidates walking back their support for the soon to be determined nominee, Priebus repeatedly claimed candidate threats were nothing more than disingenuous "posturing."
He went on to suggest that candidates are obliged to support the nominee because of the assistance they've received from the RNC throughout their campaigns.
Priebus said:
"We're going into a potentially, we don't know for sure, but potentially, an open convention. So the candidates I think, are going to posture a little bit as far as what they're willing to do, and who they're willing to support and who they're not. It think people are counting noses, I think the section of delegates is becoming very intense. We're not just talking about the allocation of delegates, who wins the states, but after that happens, the actual selection of who's sitting in those chairs and what candidates are now portraying out for the public to listen to, is you know, I think a bit of posturing. I'm not really worried about — in regard to supporting the eventual nominee for the party, they've all agreed to by virtue of, in one case signing a data agreement. They're not going to get the data and the tools of the RNC, and run to be our nominee and tell me they're not going to support the party. It doesn't work that way."
Sounds like Priebus too, is posturing. Nothing about this cycle is like any other election cycle, despite the RNC's attempts to keep the cats corralled.
Forget a dumpster fire, we're upgrading the current status of the Presidential race to a porta potty BBQ: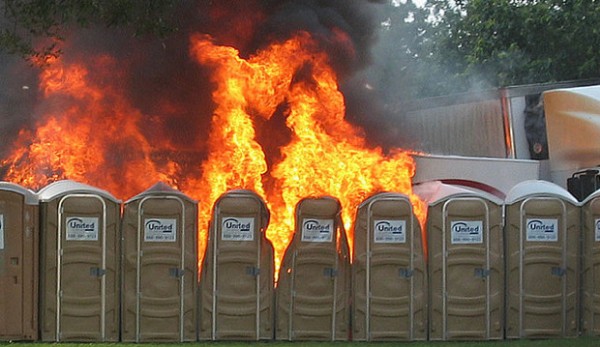 Follow Kemberlee on Twitter @kemberleekaye