Posted by
Fuzzy Slippers
Sunday, April 10, 2016 at 5:30pm
| 4/10/2016 - 5:30pm
Marlin Stutzman viewed as a "potential troublemaker … much like Cruz"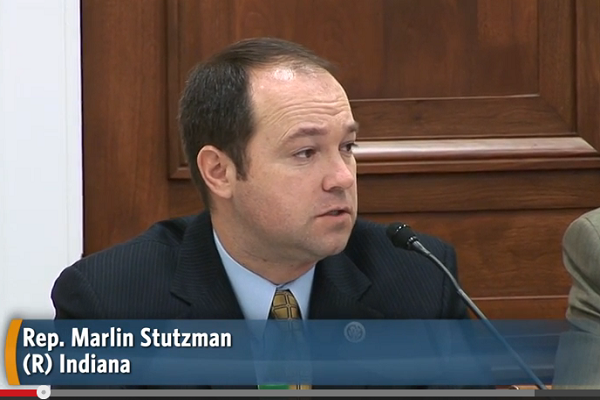 Apparently, Mitch McConnell is trying to undermine the senate run of a conservative candidate from Indiana that he sees as a potential disruptive force like Ted Cruz.
Rep. Marlin Stutzman is a member of the anti-leadership House Freedom Caucus, a conservative in the mold of Ted Cruz and a three-term Indiana congressman who voted against John Boehner as speaker.

Now, he wants a promotion to the Senate — and Majority Leader Mitch McConnell and his allies want to stop that.

Privately, McConnell has made clear to his confidantes that he wants to bolster the candidacy of Stutzman's chief GOP rival, Rep. Todd Young, and push him over-the-top in the May 3 primary, according to sources familiar with the conversations.
This move is purportedly motivated, at least in part, by Stutzman's vote against John Boehner.
CNN continues:
The move marks a new front in the simmering wars between the establishment and the right flank of the party, a battle that has dominated the GOP since the 2010 midterms and is roiling the 2016 presidential contest. But in this case, McConnell and his allies appear to be maneuvering to defeat a candidate whom they view not only as weak in a general election — but also as a potential troublemaker in the Senate GOP Conference, much like Cruz.

In an interview with CNN, Stutzman pointedly accused McConnell of retaliating against him for his vote against Boehner last year, saying it "would be a lot harder" for him now to back the Kentucky Republican as Senate leader if he wins in November. He had previously signaled he'd back McConnell as leader.

"They don't want me to be the next senator from Indiana," Stutzman said. "I think (McConnell) is making a mistake by going after conservatives and trying to pick the nominee in Indiana because we just don't like that." Stutzman added: "Todd Young is going to vote 'yes' for Mitch McConnell, and Mitch McConnell knows that I voted against John Boehner. … Todd Young is a yes-man."

CNN reports that some in DC see Stutzman as more like Ben Sasse than Cruz.

In the House, Stutzman not only was among 25 Republicans to vote against Boehner, but he has taken positions that have at times angered his party's leadership. He voted against a procedural rule in 2015 to take up trade legislation, nearly scuttling the bill. The move infuriated GOP leaders since he ultimately backed the trade bill, a major priority of the GOP leadership.

Stutzman, however, has shown a desire to work with GOP leaders at times. And for that reason, McIntosh of the Club for Growth sees the congressman more in the mold of Nebraska Sen. Ben Sasse rather than a bomb-thrower like Cruz, who has capitalized on his high-profile battles with McConnell and GOP senators during his presidential run.

If you are not familiar with Stutzman, you may find the following short video about government in education of interest:

Here is one of his Senate ads:
Reactions