Posted by
William A. Jacobson
Sunday, December 6, 2015 at 7:45pm
| 12/6/2015 - 7:45pm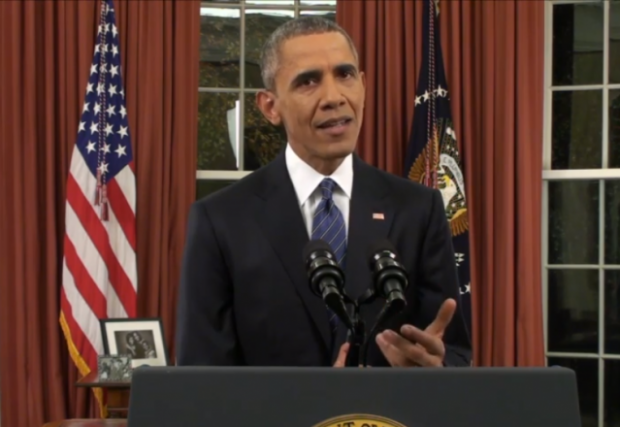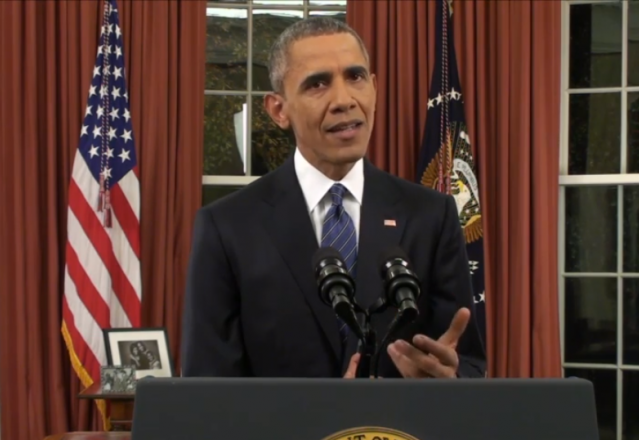 Update: It's over.
My take:
Not just a short speech, a small speech.

— Legal Insurrection (@LegInsurrection) December 7, 2015
There wasn't much to the speech. No proposals. No change of course. Barely a mention of gun control.
Really nothing Grand or Large. So why the speech from the Oval Office?
Judge for yourselves:
Oh, and this, so this >>
Not sure Obama's best move right after "tough on terror" speech was singing "You make me feel like a natural woman" https://t.co/TlXa38zGAX

— virginiahume (@virginiahume) December 7, 2015
——————
"Live Tweets"
Obama: "this was an act of terrorism," the killers embraced "perverted interpretation of Islam"

— John McCormack (@McCormackJohn) December 7, 2015
Obama: "This was an act of terrorism."

— Max Abrahms (@MaxAbrahms) December 7, 2015
Obama: "We're working…to stop ISIL's operations—to disrupt plots, cut off their financing and prevent them from recruiting more fighters."

— Oliver Darcy (@oliverdarcy) December 7, 2015
Obama: "Congress should make sure that no one on a 'no fly' list should be able to by a gun"

— Zeke Miller (@ZekeJMiller) December 7, 2015
"I know there are some who reject any gun safety measures" is a straw man befitting of this colossal straw man president. #ObamaAddress

— Benjamin Weingarten (@bhweingarten) December 7, 2015
Obama: "We cannot turn against one another by letting this fight be defined as a war between the American people and Islam"

— Zeke Miller (@ZekeJMiller) December 7, 2015
Where radicalism indeed festers in Muslim communities: "This is a real problem that Muslims must confront, without excuse," @POTUS says.

— Michael Wilner (@mawilner) December 7, 2015
Not surprising, but stunning in a way: POTUS seems to be giving a speech announcing no real change of strategy against ISIS.

— Stephen Hayes (@stephenfhayes) December 7, 2015
I was expecting an hour long gun control lecture & maybe an executive order or 2 #ObamaSpeech

— Ben Walters (@TheBenWalters) December 7, 2015
Well said @stephenfhayes: "What a low bar it is when we celebrate President Obama calling a terrorist attack a terrorist attack."

— Andrea Tantaros (@AndreaTantaros) December 7, 2015