Posted by
Fuzzy Slippers
Thursday, December 3, 2015 at 1:15pm
| 12/3/2015 - 1:15pm
Emails warn of "Crusade paradigm" and "Christian Dominionists"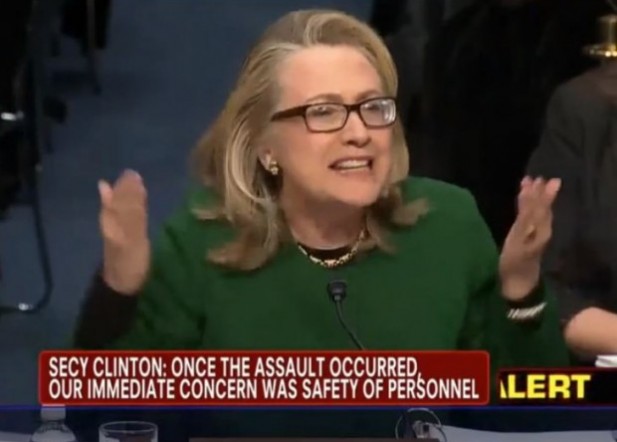 Judicial Watch has obtained new emails (available here) that reveal a bit more about Hillary Clinton's time at State than we knew before (or than she probably wants revealed).
Judicial Watch reports:
Judicial Watch today released a new batch of emails of former Secretary of State Hillary Clinton connected to the Benghazi attack. Included is an email chain showing that Clinton slept late the Saturday after the Benghazi attack and missed a meeting that her staff had been trying to set up about sensitive intelligence issues, including the Presidential Daily Brief, on a day she was to make a slew of phone calls to foreign leaders.
There was also an interesting detail in an email concerning Bowe Bergdahl's father's concern over "Crusader paradigm."
The documents contain an email passed to Clinton in the days following the Benghazi attack in which the father of alleged Army deserter Bowe Bergdahl anguishes over the "'Crusade' paradigm" which he says "will never be forgotten in this part of the world."
You may remember Mr. Bergdahl from Obama's over-the-top, tin-eared, and inappropriate Rose Garden ceremony announcing the exchange of Bowe Bergdahl, who has since been charged with desertion and misbehavior before the enemy, for five top Taliban leaders.
Watch:
Judicial Watch continues:
An email from former Ambassador Joe Wilson to Clinton expresses his concern about "Christian Dominionists who seek to turn [the military] into an instrument of their religious zealotry."

Other emails show approval of an effort to blame an Internet video on the Benghazi attack that aired on the Al Jazeera network.

. . . .

From: Joe Wilson
Sent: Saturday, September 15, 2012 10:27 AM
To: H
Subject: From Joe Wilson

Dear Hillary, …

Glen Doherty [CIA contractor killed in the Benghazi attack] was a fellow member of the Military Religious Freedom Advisory Board, which fights to ensure that our military is not further compromised by the Christian Dominionists who seek to turn it into an instrument of their religious zealotry, an army for Christ rather than for the defense of our nation. He was invaluable in helping us uncover several cases where religious indoctrination was taking place under the guise of military training….

"These new Benghazi emails are disturbing and show why Hillary Clinton and the Obama administration had to be forced to disclose them," said Judicial Watch President Tom Fitton. "Hillary Clinton, despite knowing that terrorists were responsible for the attack, allowed her spokesman to go to the Arab world and blame an Internet film.

Hillary Clinton trafficked in fantastical conspiracy theories that suggested both American conservatives and Israel were to blame for the Benghazi attack and jihadist violence in the Muslim world.  And the crazed email from Sidney Blumenthal shows that she was taking direction on her Benghazi spin based upon attack-style presidential campaign politics.  Finally, the 'I just got up' email shows that, smack dab in the middle of the Benghazi crisis, Hillary Clinton fell behind and may have not been fully briefed as she began an intense round of phone calls to foreign leaders."