Posted by
Amy Miller
Tuesday, August 4, 2015 at 6:26pm
| 8/4/2015 - 6:26pm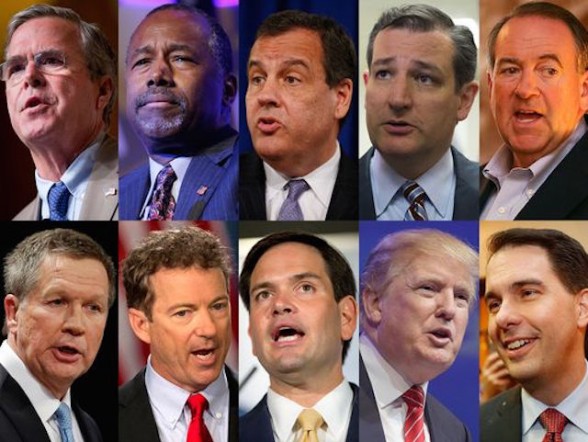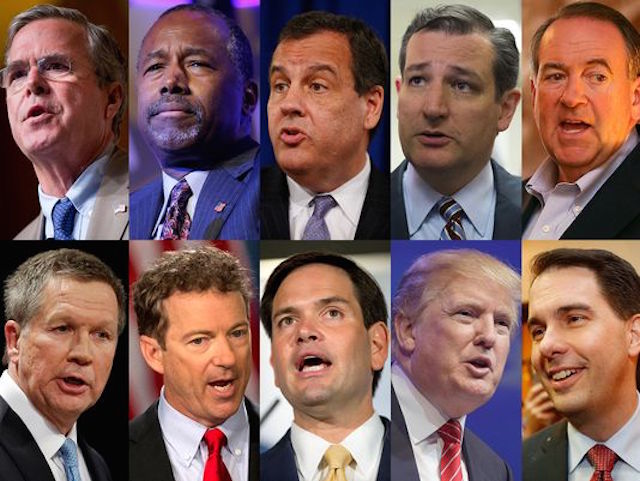 PREPARE YOURSELVES, READERS—for debate season is nigh, and Fox News has just released the names of the ten lucky men who will be participating in the first Republican primary debate of the 2016 cycle.
My use of the word "men" is justifiable here—Carly Fiorina didn't make the cut. Here's the field:
Donald Trump
Jeb Bush
Scott Walker
Mike Huckabee
Ben Carson
Ted Cruz
Marco Rubio
Rand Paul
John Kasich
Chris Christie
Questions? Concerns? Let loose in the comments! This is going to be one barn burner of a debate.
Fox used a selection of national polls to help narrow the field:
Fox used Bloomberg, CBS News, Fox News, Monmouth University and Quinnipiac University polls. (Not NBC/WSJ) http://t.co/kykuVH63B2

— Alex Pappas (@AlexPappas) August 4, 2015
As for Perry, Fiorina, and the rest of the candidates, they'll be featured in a pre-debate forum before the prime time event. More from USA Today:
Perry finished 11th in the aggregate of polls Fox used to determine the field. That relegated the former Texas governor to a 5 p.m. debate on Thursday with other candidates outside the top 10: Rick Santorum, Carly Fiorina, Bobby Jindal, Lindsey Graham, George Pataki, and Jim Gilmore.

Perry's absence from the prime time debate eliminates one of the party's most outspoken critics of Trump, the brash billionaire who is leading Republican preference polls.

"Regardless of where we are on the debate, whether it's the 5:00 or the 9:00 debate, it's going to be with some very substantial people," Perry told Fox Business Network before the final lineups were announced.
Twitter is having a field day with the selection:
Think candidate selection and debate format is awful. Some just need to be told "your time is up".

— Brad Cundiff (@bradcundiff) August 4, 2015
For what it's worth, the "kids table" debate will probably be far more substantive and intelligent without a frontrunner to target.

— Lachlan Markay (@lachlan) August 4, 2015
Not like Kirk v. Picard. That's evergreen. RT @JonahNRO It's funny how this debate will seem so much less important 3 months from now.

— Kurt Schlichter (@KurtSchlichter) August 4, 2015
Perry's spent 3 years to prepare for the first debate, studying issues, traveling, doing tough interviews. Has to be deeply disappointing.

— Matt Mackowiak (@MattMackowiak) August 4, 2015
I'm interested in watching "2nd tier" GOP debate as well as main event. I think out of group, Perry, Jindal, and Fiorina all have potential.

— David Ray (@DavidARay) August 4, 2015
Though Trump has appeared to be made of teflon the pressure of a prime time debate may make him implode, possibly taking out others on stage

— Aaron Gardner (@Aaron_RS) August 4, 2015
I regret that @CarlyFiorina will not be in the primetime debate Thursday night. She is dynamite. More to come.

— Monica Crowley (@MonicaCrowley) August 4, 2015
Jonah Goldberg may have had a good idea about how to whittle down the field even further…
Debate format idea: Every candidate puts one hand on pickup truck, can't stop answering questions until they let go.

— Jonah Goldberg (@JonahNRO) August 4, 2015