Posted by
William A. Jacobson
Sunday, January 4, 2015 at 10:30am
| 1/4/2015 - 10:30am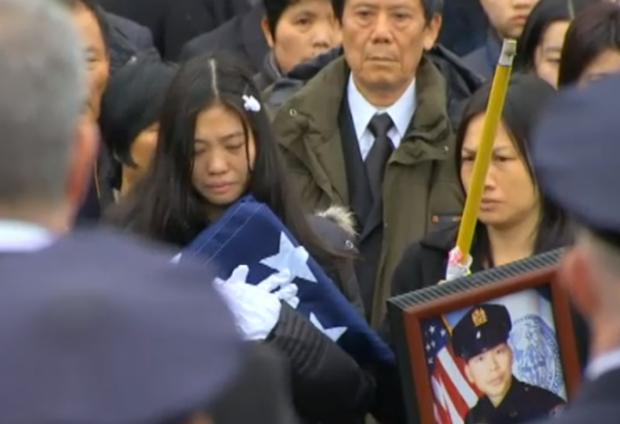 Today Officer Wenjian Liu will be buried.  His partner, Rafael Ramos, was buried a week ago.  Both were assassinated by Ismaaiyl Brinsley, who posted online prior to the murders his anger over the deaths of Michael Brown and Eric Garner.
Officers attending the funeral have been ordered not to turn their backs on Mayor Bill de Blasio, as happened at the Ramos funeral.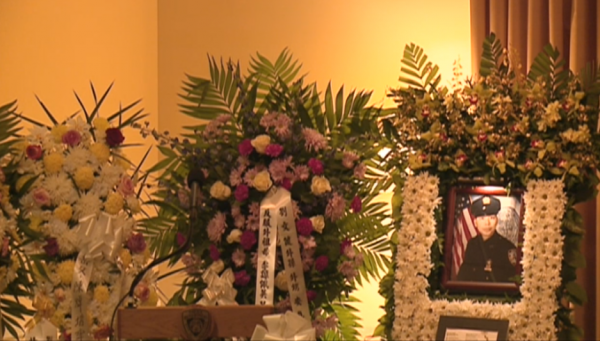 Live Video and Twitter Coverage below.
[Funeral Over – Video feeds removed]
Selected Tweets below.
A sea of blue outside the Funeral Of #NYPD Detective #WenjianLiu pic.twitter.com/IlfBJdKeOn

— Thomas Tobin (@tvnooz) January 4, 2015
Here is another look at the Sea of Blue outside the #Funeral for #NYPD Detective #WenjianLiu from @PIX11News pic.twitter.com/soYO9LpUU3

— ShababniK (@shababnik1) January 4, 2015
Service handing out pictures of #WenjianLiu with #PolicemansPrayer on the back to members of his family @PIX11News pic.twitter.com/j7sVSuoQN7

— Allie Yang (@allieallieooop) January 4, 2015
Baltimore PD just arrived to #WenjianLiu funeral. His killer travelled from that city on the day of the sho… https://t.co/vwTnWFeAuP

— Nicolás Medina Mora (@MedinaMora) January 4, 2015
New York Mayor Bill de Blasio And Hundreds Of Officers Have Arrived To Det. #WenjianLiu s Funeral pic.twitter.com/JPmHxcfsa7 –@NYScanner

— Breaking911 (@Breaking911) January 4, 2015
Some officers appear to be subtly looking away from the mayor, but maybe I'm overinterpreting. #WenjianLiu pic.twitter.com/wzJOfla3qV

— Nicolás Medina Mora (@MedinaMora) January 4, 2015
Hundreds of #NYPD officers turn backs to @BilldeBlasio as he eulogizes #WenjianLiu @allieallieooop pic.twitter.com/kZjL2mB8qR

— New York City Alerts (@NYCityAlerts) January 4, 2015
The wife of slain NYPD Officer Wenjian Liu attends her husband's funeral.

More photos: http://t.co/7VsLWcG0rB (epa) pic.twitter.com/eMXALCJ1zM

— USA TODAY (@USATODAY) January 4, 2015
Picture from the funeral of slain NYPD officer Wenjian Liu today, via @Reuters pic.twitter.com/jTKYWzGpfi

— Jim Dalrymple II (@JimDalrympleII) January 4, 2015