Posted by
William A. Jacobson
Saturday, December 20, 2014 at 6:02pm
| 12/20/2014 - 6:02pm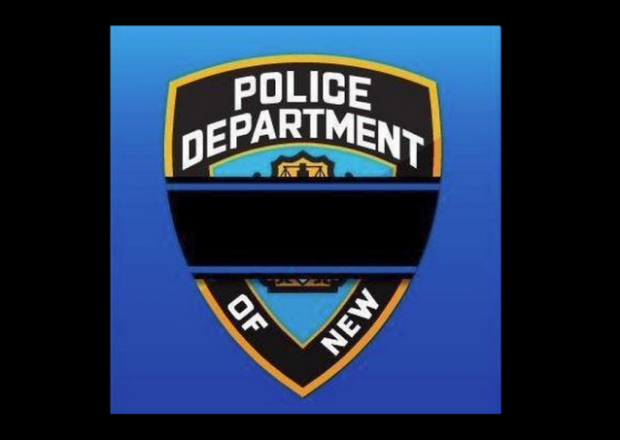 Two New York City policemen were shot dead ambush style in their patrol car.
The initial evidence is that it was a revenge killing, but caution that in such events initial evidence can be wrong.
From The NY Post, Gunman kills self after 2 NYPD cops shot dead 'execution style' as 'revenge' for Garner:
Two uniformed NYPD officers were shot dead Saturday afternoon as they sat in their marked police car on a Brooklyn street corner — in what investigators believe was a crazed gunman's execution-style mission to avenge Eric Garner and Michael Brown.

"It's an execution," one law enforcement source said of the 3 p.m. shooting of the two officers, whose names were being withheld pending family notification of their deaths.

The tragic heroes were working overtime as part of an anti-terrorism drill when they were shot point-blank in their heads by the lone gunman, who approached them on foot from the sidewalk at the corner of Myrtle and Tompkins avenues in Bed-Stuy.

"I'm Putting Wings on Pigs Today," a person believed to be the gunman wrote on Instagram in a message posted just three hours before the officers were shot through their front passenger window.

More ABC News Videos | ABC World News
(Update) The murdered policemen have been identified as Rafael Ramos and Wenjin Liu.
NYPD officers Wenjian Lu and Rafael Ramos "targeted for their uniform" yesterday http://t.co/a12NYD7jZx pic.twitter.com/AD4RZbsCxt

— New York Post (@nypost) December 21, 2014
#NYPD Officer #RafaelRamos (pic) shot/killed with partner #WenjinLiu #CommissionerBillBratton #NYPDLivesMatter pic.twitter.com/OfbeQ7hkzg

— Nick Smith (@nicksmithnews) December 21, 2014
These two images purport to be from the shooter's Instagram account, but that is not yet confirmed (via NY Post):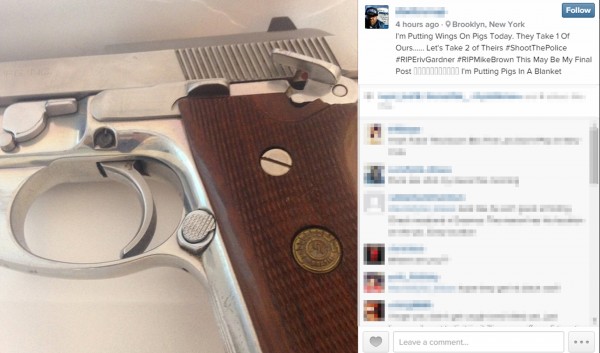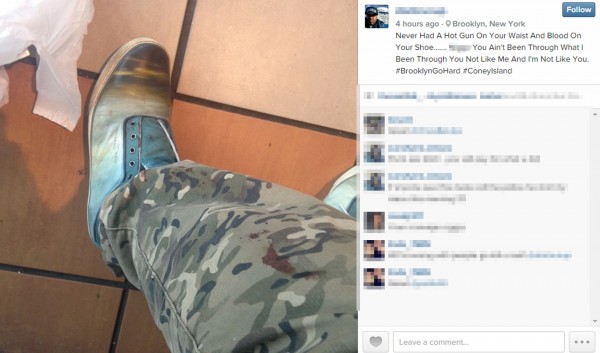 In the distance you can see the police car both officers were sitting in when they were ambushed #nypd https://t.co/oxLEX1veWs

— Shimon Prokupecz (@ShimonPro) December 20, 2014
Another sad day for #NYPD. Please pray for the families of our two slain officers. We will never forget You. pic.twitter.com/iaDOid7yRD

— NYPD 106th Precinct (@NYPD106Pct) December 20, 2014
CNN Guest on Brooklyn Cop Shooting: 'Al Sharpton Got What He Wanted' http://t.co/Ymjnj56ej5 (VIDEO) #NYPD pic.twitter.com/A8Wse6VgL1

— Mediaite (@Mediaite) December 20, 2014
BREAKING: Suspect Identified As 28-Year-Old Ishmael Brinsley – http://t.co/OUDCJdsGtK pic.twitter.com/pIWm1aRJIC

— Breaking911 (@Breaking911) December 20, 2014
Gunman crept up on car opened fire boasting 'they take one of ours let's take 2 of theirs' http://t.co/GfDAfZeyUO pic.twitter.com/LmMTv3u9We

— slone (@slone) December 20, 2014
Things about to get very bad here in NY.

— Jazz Shaw (@JazzShaw) December 20, 2014
AG Eric Holder now: killing of two NYC police officers was 'unspeakable act of barbarism' #NYPD pic.twitter.com/2BP5W3Bff6

— LegalTimes (@Legal_Times) December 21, 2014
.@TheRevAl will hold press conference with mother & widow of #EricGarner in NYC Sun denouncing #NYPD officer killings pic.twitter.com/tdnAD2MmPx

— LESLIE MAYES TV (@LeslieMayesTV) December 21, 2014
Video RAW: NYPD officers turn their backs on Mayor de Blasio at police presser http://t.co/VKZuLLPCFl

— Legal Insurrection (@LegInsurrection) December 21, 2014
#NYPD officers turn backs on @BilldeBlasio as he enters police presser http://t.co/LwVBQ6gghE pic.twitter.com/acTAepEwwg

— Legal Insurrection (@LegInsurrection) December 21, 2014
The blood of 2 executed police officers is on the hands of Mayor de Blasio. May God bless their families and may they rest in peace.

— SBA (@SBANYPD) December 21, 2014
Officers lining up waiting for bodies of PO Ramos and PO Liu to leave Woodhull Hospital #NYPD pic.twitter.com/Ad6Ite6FUV

— katie honan (@katie_honan) December 21, 2014
——————————-
[Featured image source: Twitter]