Posted by
William A. Jacobson
Wednesday, October 15, 2014 at 5:24pm
| 10/15/2014 - 5:24pm
"They all brought their Obama shirts to campaign in, only to learn that they should not be connecting Alison Grimes to Obama"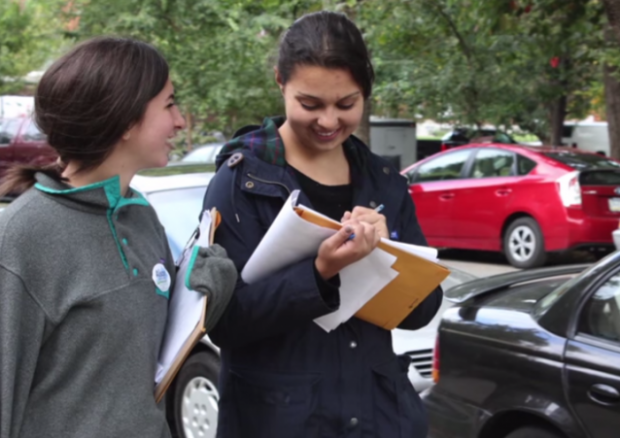 Aleister posted this story over at College Insurrection, but it's worth a cross post here.
The George Washington University student newspaper ran a report on College Democrats volunteering for Alison Grimes in Kentucky.
In light of Grimes' repeated refusals to say if she voted for Obama, and attempts to distance herself, it's not surprising that some of her volunteers came dressed inappropriately, namely, with Obama shirts.
One of the volunteers explains on video how students were told not to make the connection between Grimes and Obama by wearing the Obama T-Shirts — so they covered them over:
Many students filled their bags for the trip with t-shirts depicting President Barack Obama and their GW College Democrats shirts with Obama's name emblazoned on the back.

But it wasn't until they got to Kentucky that canvassers remembered to be careful not to connect Democratic candidates there with Obama. Alison Grimes, who is running against Senate Minority Leader Mitch McConnell, wanted to differentiate herself from the president and the administration's policies that don't resonate with Kentucky residents, like Obama's policies toward coal mining.

Luckily for them, the weather was so cold they had to cover up anyway, and their t-shirts were hidden under jackets and sweatshirts.
Here's the money quote (starting at 2:00) :
"They all brought their Obama shirts to campaign in, only to learn that they should not be connecting Alison Grimes to Obama"