Posted by
William A. Jacobson
Tuesday, July 22, 2014 at 7:43pm
| 7/22/2014 - 7:43pm
Will cancellation of flights into Ben-Gurion Airport lead to increased military firepower, or diplomatic solution?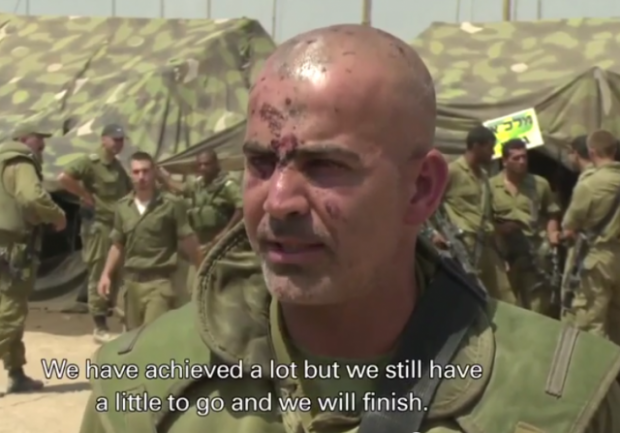 Given the cancellation of flights into and out of Ben-Gurion Int'l Airport at the urging of the FAA backed up by the White House, many are predicting it's likely that the next day or two will be decisive — either militarily or diplomatically.
Anshel Pfeffer at Haaretz writes that the airport shutdown may lead to a heavier Israeli military strike:
This may prove to be a game-changer in a conflict which is now entering its third week. It could provide further impetus for the government in seeking a speedy ceasefire with Hamas, but that seems doubtful.

Even a partial suspension of operations at Ben-Gurion is a major coup for Hamas, which has been so starved of any real achievements that they are pretending to have captured an IDF soldier who was almost certainly killed on Saturday night, though his remains have yet to be identified. Accepting Hamas' terms for a ceasefire now is unthinkable. It is much more likely that, faced with the prospect of more rockets cutting Israel off from the international air routes, the government will be inclined to order a much more devastating blow, a wider ground operation to occupy the rocket-launching sites or even directed at Hamas' underground headquarters, with dreadful implications for the people of Gaza living above.
Times of Israel analyst Avi Issacharoff argues, in Worse may yet lie ahead, that Hamas, while talking tough, is in trouble:
Until a couple of days ago, most Gazans were supporting Hamas — that is, supporting the fighting. The battling in Shejaiya changed that to some extent. "Enough of this; we're exhausted," Gazans say in phone conversations now. Every few minutes there's another Israeli attack, and more death. The atmosphere is one of despair. Eid al-Fitr, the celebratory end of Ramadan, is on Sunday. The killings of 27 Israeli soldiers and the possible capture of one more (likely dead) does not amount to sufficient comfort.

Hence the trap. Hamas will find it hard to end the fighting without a significant achievement. But such an achievement — the opening of the borders, for instance — is not at hand. Egypt has no desire to come to its aid. Israel has no intention of freeing prisoners.

And so after quite a few bad days for Israel and for Gaza, worse days still seem to lie ahead.
We will keep track of any developments overnight and into tomorrow and update this post.
You can follow the events at the live video and Twitter feeds at the bottom of the post.
Israeli troop morale appears to be high. See the video posted yesterday of Israeli soldiers on combat break singing "the nation of Israel will never give up.
The Druse commander of the elite Golani Brigade, who was wounded in combat, has returned to the field:
The IDF also released this video of the killing of Hamas infiltrators dressed in IDF uniforms:
Overnight events and news:
2 IDF soldiers were killed last night on the battlefield. One was Cpt. Dmitri Levitas, 26, of the Armored Corps. May his memory be blessed.

— IDF (@IDFSpokesperson) July 23, 2014
British Airways still running normal service to and fro Ben Gurion airport. Applause! Good to see grit not entirely deserted British psyche.

— Melanie Phillips (@MelanieLatest) July 23, 2014
BREAKING: #IDF hits #Gaza hospital, which they claim has been the source of ongoing fire at soldiers http://t.co/yh0QkNM87N

— Ynetnews (@ynetnews) July 23, 2014
Because Hamas uses Wafa Hospital for military purposes, the IDF has targeted specific sites and terrorists within the hospital grounds.

— IDF (@IDFSpokesperson) July 23, 2014
Just a small fraction of thousands who turned out to pay tribute to fallen American-Israeli IDF soldier Max Steinberg pic.twitter.com/mtUVPdeEw2

— Amy Spiro (@AmySpiro) July 23, 2014
IDF announces three more Israeli soldiers killed in Gaza http://t.co/oefWDLUI76

— The Jerusalem Post (@Jerusalem_Post) July 23, 2014
VIDEO: Terrorists fire rockets from #Gaza hospital – http://t.co/G4Bp6FQ5wi

— Ynetnews (@ynetnews) July 23, 2014
IDF destroys empty Gaza hospital, being used as Hamas command center http://t.co/xNqDDZwxYb

— The Jerusalem Post (@Jerusalem_Post) July 23, 2014
————————————-
i24 News live http://t.co/u5Ava7XvMl

— Legal Insurrection (@LegInsurrection) July 17, 2014


Broadcast live streaming video on Ustream
Tweets from https://twitter.com/LegInsurrection/lists/gaza-2014