Posted by
William A. Jacobson
Monday, July 21, 2014 at 3:30pm
| 7/21/2014 - 3:30pm
Israeli troop morale high despite lost comrades.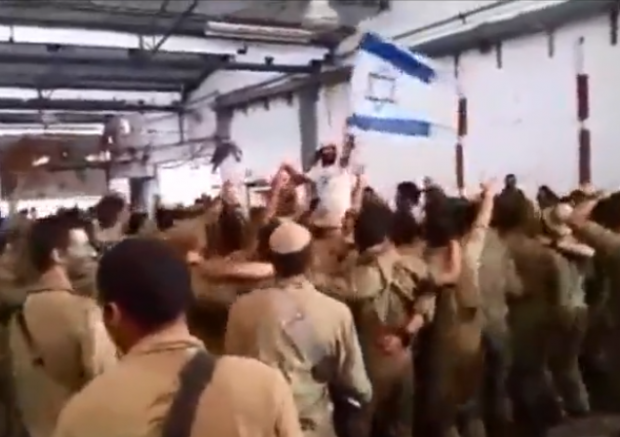 Part of the anti-Israel war effort includes attempts to demoralize Israel and its supporters. That is why Hamas, Hezbollah and others try so hard to kidnap Israeli civilians or soldiers, and even to grab dead bodies.
That psychological warfare is on full display in the media and social media. But it's not working because Israelis know that Hamas and other Islamic terrorist groups in Gaza, who fire from among civilians towards civilians, leave Israel with no choice but to fight in a war it didn't want but in which so much is at stake.
Despite losses from infiltrators and in city combat, Israeli troop morale is high from all reports.
The video below has gone viral on Facebook, with over 30,500 likes and almost 20,000 shares as of this writing.
It shows Israeli soldiers on a break from combat in Gaza singing:
The song is "Who Believes" by Eyal Golan. This is a rough translation (thanks to our Israeli family friend Daniel for the link):
THE ONE WHO BELIEVES

Every place, all the time
The old and young has
Beautiful and less beautiful days
Among them answers to all the questions

There is one mighty God
He gives us everything in this world
Between darkness to a sun beam
We only need to choose the path

It is known life is a gift
All is expected and is allowed

The one who believes is not afraid
To lose faith
We all have the King of the universe
Who guards us from it all

This nation is a family
One and one more is the secret of success
The nation of Israel will never give up
We will always stay on the map

It is known life is a gift
All is expected and is allowed

The one who believes is not afraid
To lose faith
We all have the King of the universe
Who guards us from it all
Update 7-23-2014 –– saw a longer version of the video: