Posted by
William A. Jacobson
Thursday, July 17, 2014 at 3:39pm
| 7/17/2014 - 3:39pm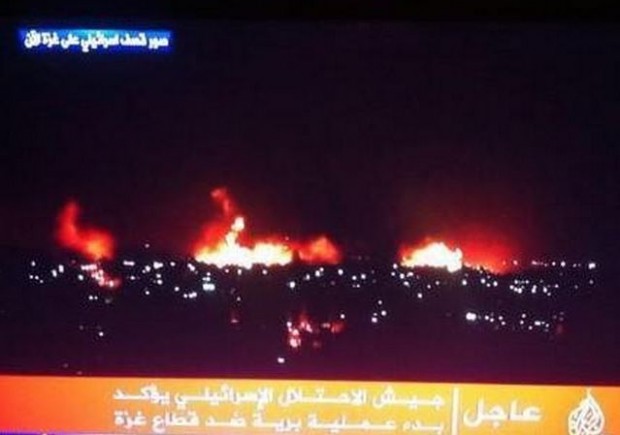 There are numerous reports that after heavy artillery shelling along the border, Israeli troops have entered on the ground in Gaza. Israel i24 News reports that the Prime Minister's office has authorized a ground incursion to destroy tunnels.
It's not known if it is a limited incursion or something larger. It comes the same day that Hamas launched an unsuccessful attack through a tunnel near an Israeli Kibbutz.
It's official, PM and DM order ground troops into Gaza to disable Hamas tunnels

— Ilån Bεn Zıon (@IlanBenZion) July 17, 2014
Israelii24 News has live coverage in English:
i24 News live http://t.co/u5Ava7XvMl

— Legal Insurrection (@LegInsurrection) July 17, 2014
More Live Video Feeds and Live Twitter Feed below
As it's obviously a fluid situation subject to misinformation, we've embedded numerous news and local sources on the Twitter Feed below, so you can keep track as events develop.


Broadcast live streaming video on Ustream
Tweets from https://twitter.com/LegInsurrection/lists/gaza-2014

The armchair perpetual anti-Israel resistance crowd: https://t.co/2YSP7nGHPO https://t.co/kzZ8wa7TGi https://t.co/BZDKy24w4f

— Legal Insurrection (@LegInsurrection) July 17, 2014
People who wanted an end to Israel were playing with Palestinian lives https://t.co/YeIoXadXmg

— Legal Insurrection (@LegInsurrection) July 17, 2014
Same ppl who demanded no compromise w Israel will be on campus complaining abt consequences https://t.co/YeIoXadXmg

— Legal Insurrection (@LegInsurrection) July 17, 2014
BREAKING NEWS: A large IDF force has just launched a ground operation in the Gaza Strip. A new phase of Operation Protective Edge has begun.

— IDF (@IDFSpokesperson) July 17, 2014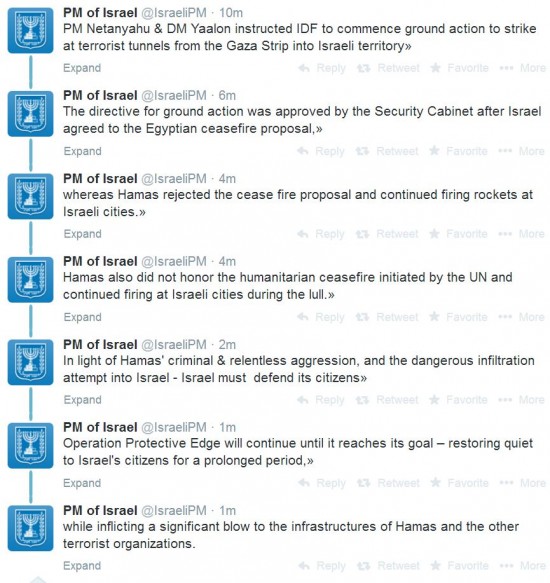 FULL STATEMENT – press release issued by #Israeli military announcing it's initiation of ground operation in #Gaza pic.twitter.com/tnfpUfOpOR

— POWER987 News (@POWER987News) July 17, 2014
Live picture from TV broadcast shows #Israeli attacks as a ground operation against #Gaza started. pic.twitter.com/6MLJBpYOee

— Richard Dufek (@RichardDufek) July 17, 2014
Just now on @Channel2News: Egypt announces that Hamas is reponsible for this conflict.

— Jonathan Schanzer (@JSchanzer) July 17, 2014
With unprecedented backing from #Egypt, Israel has a free hand to act in #Gaza's border areas, and could even stay there after ceasefire.

— Daniel Nisman (@DannyNis) July 17, 2014
MK Bennett: 'IDF soldiers: The entire nation of Israel is with you. Have courage. Return safely.' – http://t.co/nlySzaC4kc

— Ynetnews (@ynetnews) July 17, 2014
We know that Hamas terrorists are operating underground, and that's where we will meet them.

— IDF (@IDFSpokesperson) July 17, 2014
Egypt's murderous coup regime echoes Israeli propaganda, says Hamas 'could have saved dozens of lives' w/ sham truce http://t.co/LNvZm06dAb

— Rania Khalek (@RaniaKhalek) July 17, 2014
RIGHT NOW: Israeli Naval vessels shelling #Gaza port. (source #Israel's Channel 2) pic.twitter.com/t9TSXwzbri

— Lisa Daftari (@LisaDaftari) July 17, 2014