Posted by
David Gerstman
Tuesday, June 17, 2014 at 12:31pm
| 6/17/2014 - 12:31pm
Palestinians take to social media to hail the "three Schalits"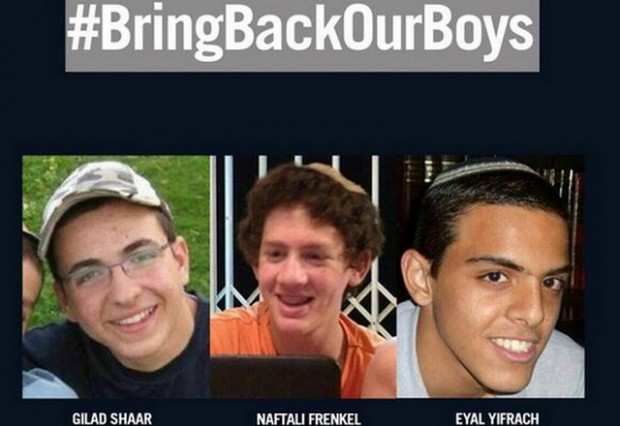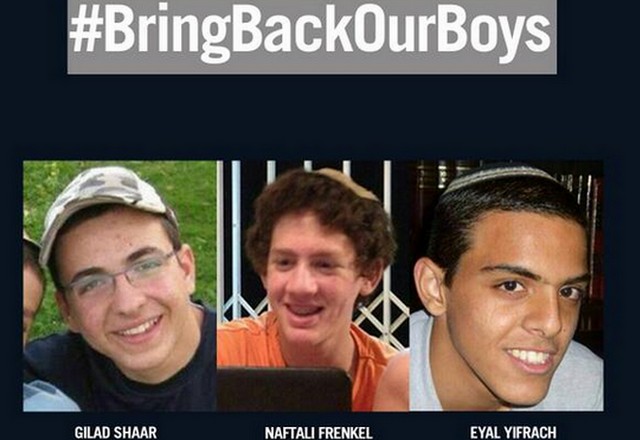 As the IDF continues to search for Gil-ad Shaer, Naftali Fraenkel and Eyal Yifrach who were kidnapped last Thursday night there are have been some new developments, though, unfortunatel,y they have not been found.
Yoav Limor writes in Israel Hayom:
The strategic aspects of the operation are meant to directly undermine Hamas, which it holds responsible for the abduction. Israel has used the attack to target Hamas' political, military and financial infrastructure in the West Bank, arresting dozens of operatives and shutting down its Dawah charity organizations, which have long been suspected of being used to launder terror funds.
The IDF has more about their ongoing operations, called Operation Brother's Keeper.
IDF soldiers conducted a special operation last night in the city of Nablus, arresting dozens of terrorist suspects and uncovering hundreds of weapons in the area. The mission emphasized a key objective of the IDF operation: to weaken Hamas' terrorist infrastructure inside Judea and Samaria.

The operation involved hundreds of forces from the Nahal Brigade, who uncovered guns, explosive devices, grenades and ammunition throughout the city. Soldiers arrested 41 terrorist suspects, bringing to 191 the number detained since the operation began. The IDF is determined to reduce constant acts of terrorism in the region, many of which involve Hamas.
Belatedly the European Union has condemned the kidnapping.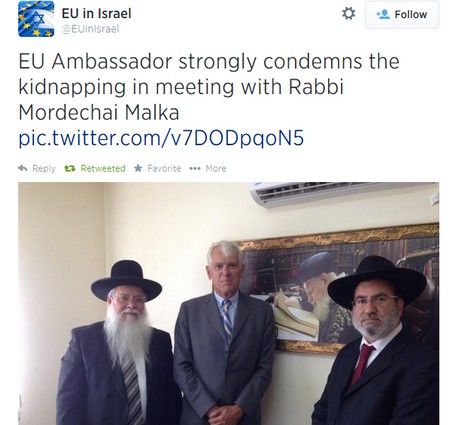 Disturbingly, Palestinians have taken to social media to hail the "three Schalits."
The logo of "Three Schalits" depicts a three-fingered salute, most directly in reference to the three boys abducted last Thursday night. It is also a variant of the symbol for the R4BIA, a movement that, among other things, calls for "the return of Muslims to the world stage" and "the end of the Zionists."

On the "Three Schalits" Facebook page appear dozens of photos of smiling people holding up the three-fingered symbol, many of the sign-bearers young children.
David Shamah, the tech reporter for the Times of Israel (and foremost chronicler of "Startup Nation") has an exclusive about an Israeli company that's developed an app to allow quick reporting of kidnappings.
Israel's NowForce, which develops apps to help rescue personnel deal with emergencies, is setting up a national emergency alert system that will allow any Israeli to register and use its "SOS app" to call for help when they are in trouble. The system is a response to the kidnapping of three Israeli teenagers last week. …

The network will go live this week, enabling anyone who registers to immediately alert police, local security officials, family members and emergency response workers when they face an emergency on the road, such as a kidnapping attempt, said NowForce spokesperson Julie Zuckerman. "This app has been available for our subscription clients for several years," said Zuckerman. "In the wake of the grievous incident, in which three Israeli teens were kidnapped, we decided to release this to the general public for free as a way to boost the personal safety of Israelis all around the country."
UPDATE: The Yifrach, Fraenkel and Shaar families make a joint statement. (h/t Andreas Faggerbakke )
[Photo: TwitterPic from IDF ]