Abbas: "We don't love death, but we welcome martyrdom if it happens …. We will march to Jerusalem in the millions"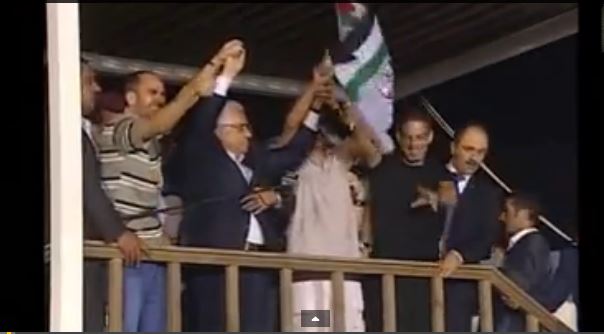 Abba Eban famously said, "The Arabs never miss an opportunity to miss an opportunity."
And such is the history of the Palestinians, from the refusal to accept the 1947 U.N. partition, to decades of absolute rejectionism, to walking away from Camp David, to walking away from Ehud Olmert's offer of almost everything they supposedly wanted.
Of course, it's not about where borders are drawn, it's about Israel being an unacceptable Jewish entity in a sea of Islam. That is why Netanyahu is correct to set the recognition of Israel as a state for the Jewish people — it gets to the root of the problem. Solve that root problem and everything else falls into line.
But solving that root problem is something even the "moderate" Mahmoud Abbas cannot abide.
From The Times of Israel, In fiery speech, Abbas rejects Jerusalem concessions
Palestinian Authority President Mahmoud Abbas sent a defiant message to Israel's leadership and US mediators Saturday, telling cheering supporters that the Palestinians "won't kneel" and won't drop demands for a capital in East Jerusalem.

Abbas' unusually fiery speech highlighted the wide gaps between him and Israeli Prime Minister Benjamin Netanyahu on the outlines of a peace deal. It also raised new doubts about the chances of US Secretary of State John Kerry to bridge those gaps in coming weeks and come up with a framework for an agreement.

Abbas adopted tough positions in the wide-ranging speech, saying that "there will be no peace" without a Palestinian capital in east Jerusalem and that he would not recognize Israel as a Jewish state.

He also suggested he would not continue negotiations beyond a US-set target date of the end of April, and instead will resume his quest for broader international recognition of a state of Palestine by the United Nations and its various agencies….

On Saturday, Abbas spoke to several hundred Palestinians activists from Jerusalem whom he had invited to his headquarters in the West Bank city of Ramallah.

The crowd whistled, chanted and clapped as the normally low-key Abbas, widely known as Abu Mazen, struck a tough tone.

"I say, listen, listen, the Palestinian people won't kneel, and we tell the world, listen, listen the Palestinian people won't kneel," he said at one point, drawing chants of "Abu Mazen, Abu Mazen."

Abbas also invoked a willingness for martyrdom of millions to march on Jerusalem, via JPost:

"We don't love death, but we welcome martyrdom if it happens," Abbas declared. "We will march to Jerusalem in the millions, as free people and heroes."

Referring to Israeli demands to recognize Israel as a Jewish state, Abbas said, "This is a story that we have heard only in the last two years. We won't recognize and accept the Jewishness of Israel. We have many excuses and reasons that prevent us from doing so."

Abbas was speaking during a meeting in his office with dozens of east Jerusalem residents.

Israel's problem is that the Palestinians know more than the Israelis about history and geography, he said. "We talk about what we know," he said.

"We won't accept the Jewishness of Israel. We are asking for the 1967 borders."

Remember, Abbas is the moderate.

Update: Another Palestinian official says what we all know, any agreement is just a first step, US-Brokered Deal 'Just the First Stage' in Israel's Demise:

Update 1-13-2014: Arab ministers back Abbas in rejecting 'Jewish' Israel

DONATE

Donations tax deductible
to the full extent allowed by law.