Posted by
William A. Jacobson
Sunday, October 6, 2013 at 1:21am
| 10/6/2013 - 1:21am
Syracuse Honor Flight group receives hero's welcome home.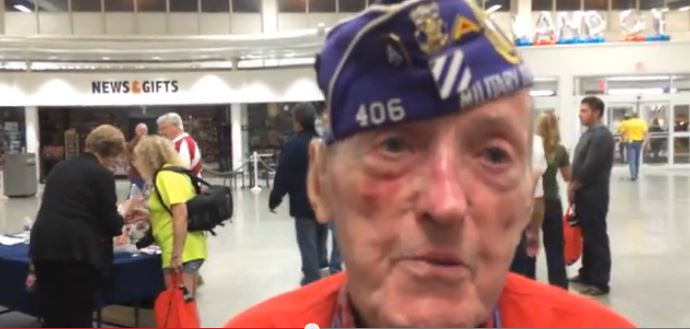 We wrote earlier today about the Vets on the Syracuse (NY) Honor Flight whose buses pushed through barricades at the Iwo Jima Memorial with the help of volunteers accompanying the group.
This is part of an ongoing Battle of the Barrycades that has taken place also at the WWII and Vietnam War Memorials.
The Syracuse Honor flight veterans of World War II and the Korean War returned tonight to Syracuse, where Michael Alan of Legal Insurrection was able to conduct several interviews.
This World War II Veteran, who fought on several fronts including North Africa Southern France, Italy, and the Battle of the Bulge and was wounded twice, could not contain his joy at moving the barricades at the Iwo Jima Memorial (full interview at bottom of post):
"That blew my mind, my God look at that, it was great, a little initiative I guess."
The group received a hero's welcome home, here are several interviews:
(added) Some photos:
FULL INTERVIEW — Fascinating to hear his story of military service: