Posted by
William A. Jacobson
Tuesday, September 10, 2013 at 5:20pm
| 9/10/2013 - 5:20pm
Update — House surveillance video released
Late Update:
Police released the home security system raw video. The video looks like someone was videoing a screen, and was able to zoom in and out of the screen.
The video doesn't show much until about the 6:45 mark, when several people including a large man confront George on the driveway. The man puts his hand on George. It then appears that the man either gave George or he had with him what likely was the iPad. It looks like George was doing something to it (Shellie said cutting) and then threw it on the ground: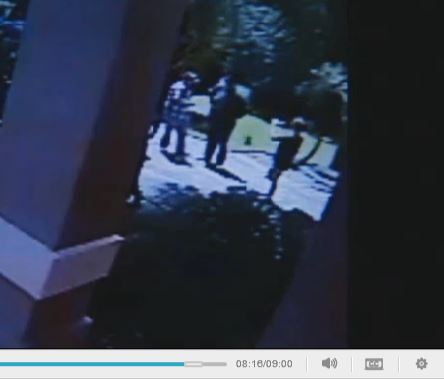 Other than that, the video doesn't show any sort of confrontation, although throughout it people, including what appears to be Shellie holding the iPad, follow him around in a somewhat aggressive posture, getting between him and the car he was filming.
———————————
Lake Mary, Florida, police are holding a press conference as to video just released of the altercation between George and Shellie Zimmerman.
Prior post: iPad video important to Zimmerman dispute as police continue to investigate.
Police dash cam video (full embed at bottom of post) shows Zimmerman being placed into custody. It is not known if the police will have news about iPad video which may show the confrontation.
UPDATE: The Police have not yet decided whether to charge anyone. The witnesses in the house did not clearly see the confrontation and are unclear as to what happened. The video on the iPad has not yet been recovered, but the police expect that it will be, and at that point they will make a decision. The police did not search the car because all witnesses, including Shellie and her father, told police that they did not actually see a gun, and the police did not believe they had probable cause to search the car.
[Press conference over, will post video when available]
PIC: Home security video shows #GeorgeZimmerman throwing wife's iPad during domestic disturbance say police #Local6 pic.twitter.com/7z3IJQBYHC

— Mike DeForest (@MikeDeForest6) September 10, 2013
PIC: Police draw their guns on #GeorgeZimmerman after yesterday's domestic disturbance at his home. pic.twitter.com/lw0KkGdgT8

— Mike DeForest (@MikeDeForest6) September 10, 2013
Lake Mary police: We are still working on getting video from Shellie #Zimmerman's iPad. It's in pretty bad shape. #FOX35

— Sonni Abatta (@SonniAbatta) September 10, 2013
PD spokesman says video on iPad could be "the last piece of the puzzle so that we can make" decision on arresting #GeorgeZimmerman or not.

— Jeff Weiner (@JeffWeinerOS) September 10, 2013
Lake Mary Police – witnesses in house did not see much of #Zimmerman confrontation, unclear on it

— Legal Insurrection (@LegInsurrection) September 10, 2013
Police still wishy washy and may charge either George OR Shelly #Zimmerman

— Jeffrey Evan Gold (@jeffgoldesq) September 10, 2013
Full Dash Cam video: