Posted by
William A. Jacobson
Friday, September 27, 2013 at 4:42pm
| 9/27/2013 - 4:42pm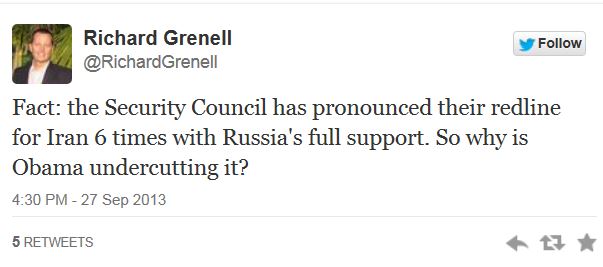 Obama held a victory dance over Senate Republicans as part of a press statement today.
Before he got around to gloating and calling the Tea Party extremists, Obama started with the big announcement that he had spoken by phone with Iranian President Hassan Rouhani:
I do believe that there is a basis for resolution. Iran's supreme leader has issued a fatwa against the development of nuclear weapons. President Rouhani has indicated that Iran will never develop nuclear weapons. I've made clear that we respect the right of the Iranian people to access peaceful nuclear energy in the context of Iran meeting its obligations….

I also communicated to President Rouhani my deep respect for the Iranian people.
Of course, it was historic. For the Mullahs.
Watching a sucker get suckered

— Legal Insurrection (@LegInsurrection) September 27, 2013
Fact: the Security Council has pronounced their redline for Iran 6 times with Russia's full support. So why is Obama undercutting it?

— Richard Grenell (@RichardGrenell) September 27, 2013
If you care about Israel, now would be a good time to speak up. Especially if you're a Democrat.

— Richard Grenell (@RichardGrenell) September 27, 2013
Having the U.S. become a participant in preserving Mullah rule against their own people has been the precondition to which Obama always has been willing to agree. That's why he was silent during the 2009 street protests.
Obama policy since 2009 consistent >> Negotiations Preconditioned On Mullah Rule http://t.co/brP1oFwdR2

— Legal Insurrection (@LegInsurrection) September 27, 2013
Today was very good day for Mullahs, very bad day for Iranians who want freedom

— Legal Insurrection (@LegInsurrection) September 27, 2013
Two Presidents did victory dances today: Israel TV: Iran will have enough uranium for a bomb in 2 months http://t.co/5Mbu2YFAzV

— Legal Insurrection (@LegInsurrection) September 27, 2013
Nice to see progressives cheering consolidation of permanent Mullah rule

— Legal Insurrection (@LegInsurrection) September 27, 2013
A sham deal on Iranian nukes could be just what O needs to revive his presidency

— Allahpundit (@allahpundit) September 27, 2013
Just this week: Iran's Military Shows Off Missiles Promising 'Death to America' http://t.co/7BXjq2v5Ej

— Legal Insurrection (@LegInsurrection) September 27, 2013