Posted by
Mary Chastain
Friday, January 8, 2021 at 6:30pm
| 1/8/2021 - 6:30pm
"After close review of recent Tweets from the @realDonaldTrump account and the context around them we have permanently suspended the account due to the risk of further incitement of violence."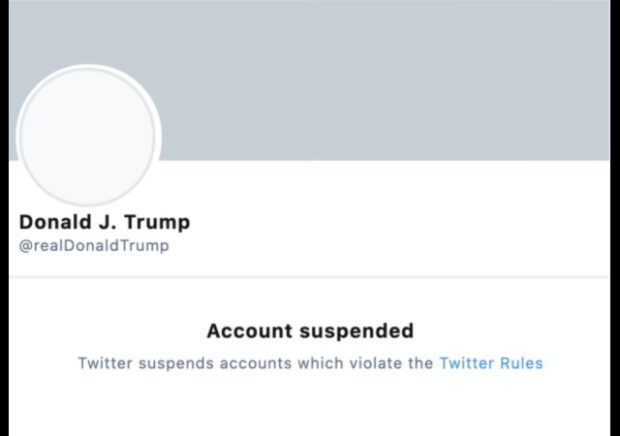 Twitter banned President Donald Trump's personal Twitter account.
BREAKING

The President's personal Twitter account has been suspended. pic.twitter.com/vPtQiY4OyT

— Yashar Ali 🐘 (@yashar) January 8, 2021
After close review of recent Tweets from the @realDonaldTrump account and the context around them we have permanently suspended the account due to the risk of further incitement of violence.https://t.co/CBpE1I6j8Y

— Twitter Safety (@TwitterSafety) January 8, 2021
Twitter put the account on a 12-hour lockdown Wednesday after the riots at Capitol Hill. The platform restored it after he deleted the offending three tweets.
But the suspension put Trump in a pickle. If he messed up again then Twitter would permanently suspend it. I have no idea how these two tweets measure up to Twitter's standards, but okay:
On January 8, 2021, President Donald J. Trump tweeted:

"The 75,000,000 great American Patriots who voted for me, AMERICA FIRST, and MAKE AMERICA GREAT AGAIN, will have a GIANT VOICE long into the future. They will not be disrespected or treated unfairly in any way, shape or form!!!"

Shortly thereafter, the President tweeted:

"To all of those who have asked, I will not be going to the Inauguration on January 20th."

Due to the ongoing tensions in the United States, and an uptick in the global conversation in regards to the people who violently stormed the Capitol on January 6, 2021, these two Tweets must be read in the context of broader events in the country and the ways in which the President's statements can be mobilized by different audiences, including to incite violence, as well as in the context of the pattern of behavior from this account in recent weeks. After assessing the language in these Tweets against our Glorification of Violence policy, we have determined that these Tweets are in violation of the Glorification of Violence Policy and the user @realDonaldTrump should be immediately permanently suspended from the service.
However, we made it clear going back years that these accounts are not above our rules and cannot use Twitter to incite violence. We will continue to be transparent around our policies and their enforcement.

— Twitter Safety (@TwitterSafety) January 8, 2021
Can we get more Orwellian?
The second Tweet may also serve as encouragement to those potentially considering violent acts that the Inauguration would be a "safe" target, as he will not be attending.
The use of the words "American Patriots" to describe some of his supporters is also being interpreted as support for those committing violent acts at the US Capitol.
UPDATE by WAJ:
Let's see how long our account at Twitter stays up, we'll either be banned or we'll leave. We've been expecting this for a long time.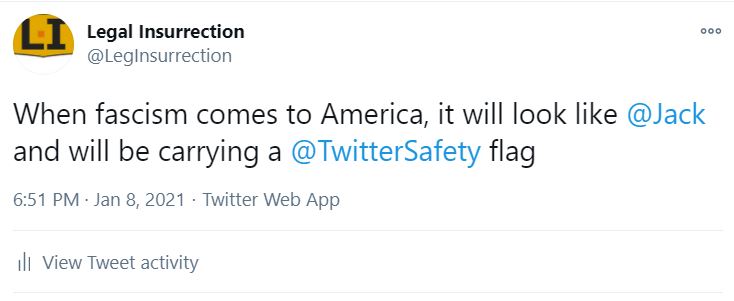 Trump has joined Parler, via Newsweek:
Fox News host Sean Hannity said on Thursday that President Donald Trump has an account on Parler, a social media platform pitched as an alternative to Twitter that has become a popular destination for conservatives.

Hannity said the president had signed up to the platform during a segment that featured former White House press secretary Sarah Huckabee Sanders alongside right-wing commentator and radio host Dan Bongino—an investor in the app.

"I saw that the president had joined it. At least there is a place, it's like Twitter, it's called Parler, I have an account there… good for you because the president joined, because they are censoring him and Dan Scavino and everybody else," Hannity said.
That must be why Parler is crashing tonight, the traffic from people signing up must be immense.
UPDATE:
(KK — 7:58 PM ET)
JUST IN: Google suspending Parler from the Google Play store pic.twitter.com/Nyv59LoNWh

— Cristiano Lima (@viaCristiano) January 9, 2021
UPDATE
(WAJ —- 8:40)
Trump tweeted from his official account, and Twitter deleted the tweets within a minute. Here is a screenshot.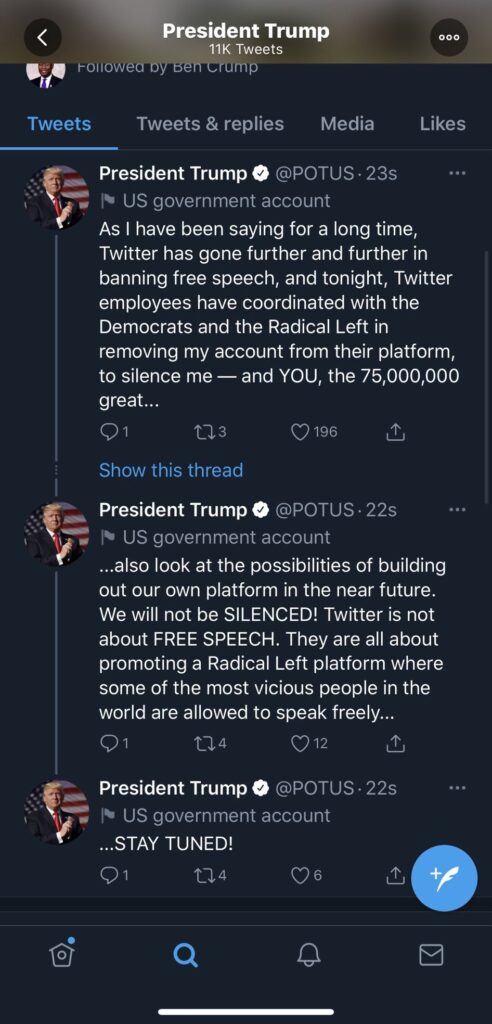 Here's the full statement: