Posted by
Mary Chastain
Wednesday, January 20, 2021 at 11:00am
| 1/20/2021 - 11:00am
"I hope they don't raise your taxes but if they do, I told you so."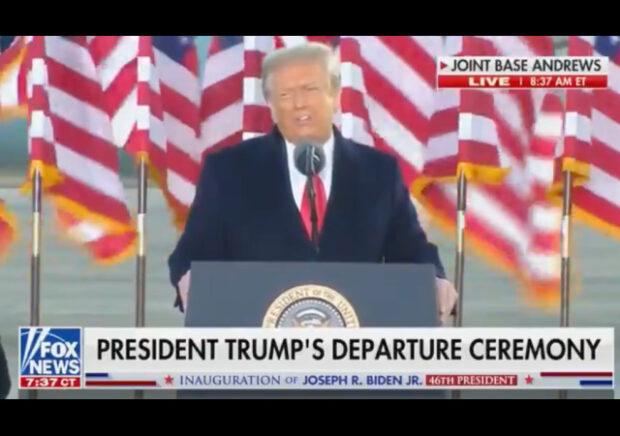 President Donald Trump and First Lady Melania Trump addressed the nation before they took off to Florida.
"We will be back in some form," Trump promised his supporters.
Trump wished President-elect Joe Biden's administration "great luck and success" and thinks "they'll have great success."
He also said that we will "see incredible number start coming in if everything is left alone," but to "be careful."
"I hope they don't raise your taxes, but if they do I told you so," he said.
President Trump's final remarks from the White House. pic.twitter.com/gQhXfS9LC7

— Jeff Mason (@jeffmason1) January 20, 2021
President Trump: It is my greatest honor and privilege to have been your president, I will always fight for you pic.twitter.com/Q1VdiJEOpu

— Trump War Room (@TrumpWarRoom) January 20, 2021
TRUMP: "I hope they don't raise your taxes but if they do, I told you so." pic.twitter.com/QfmgFp76n0

— Daily Caller (@DailyCaller) January 20, 2021
TRUMP: "You are amazing people. This is a great great country. It is my greatest honor and privilege to have been your president… I wish the new administration great luck and great success." pic.twitter.com/jWHr4qH6mh

— Daily Caller (@DailyCaller) January 20, 2021
"We will be back in some form," President Trump says at the end of his farewell address.

"I want to thank all the great people of Washington, D.C., all of the people that we worked with to put this miracle together. So, have a good life, we will see you soon. Thank you." pic.twitter.com/jaaI9EeBG0

— CBS News (@CBSNews) January 20, 2021
Melania also spoke:
MELANIA: "Being your First Lady was my greatest honor." pic.twitter.com/wehpsBoK27

— Daily Caller (@DailyCaller) January 20, 2021