Posted by
Mary Chastain
Tuesday, January 12, 2021 at 3:00pm
| 1/12/2021 - 3:00pm
Trump addressed the Capitol Hill riots, claiming the "25th amendment is of zero risk to me, but will come back to haunt Joe Biden and the Biden administration."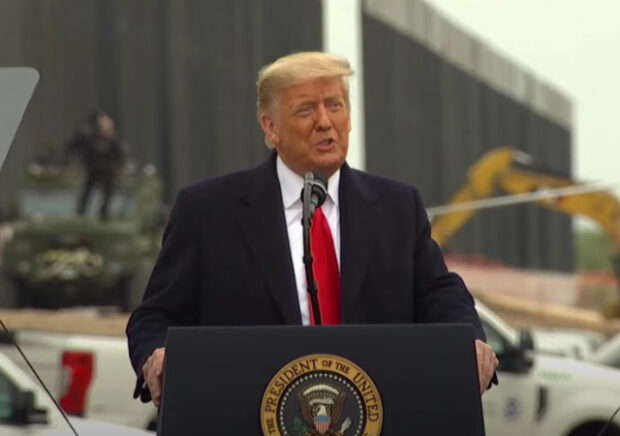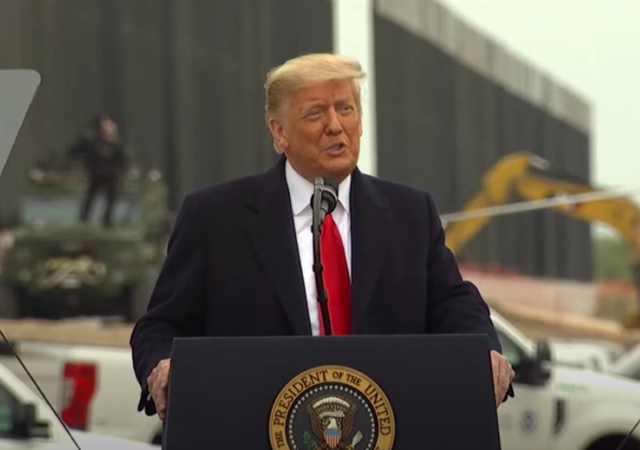 President Donald Trump traveled to Alamo, TX, located near the Rio Grande Valley, to visit his border wall.
He signed the wall while propping up his administration's accomplishments.
From CBS DFW:
Trump aides have been urging the president to spend his remaining days in office highlighting what they see as the chief accomplishments of his presidency: a massive tax cut, his efforts to roll back federal regulations and the transformation of federal courts with the appointment of conservative judges.

In Alamo, he delivered remarks highlighting his administration's efforts to curb illegal immigration and the progress made on his signature 2016 campaign promise: building a "big, beautiful wall" across the length of the southern border — an imposing structure made of concrete and reinforced steel.

But over time, Trump demanded modifications that have been largely rejected: He wanted it painted black to burn the hands of those who touched it; he wanted it adorned with deadly spikes; he even wanted to surround it with an alligator-filled moat. While he promised that it would be funded by Mexico, U.S. taxpayers ended up footing the bill.

In the end, his administration has overseen the construction of roughly 450 miles of border wall construction — likely reaching 475 miles by Inauguration Day.
Trump also mentioned the changes at the border, including "Remain in Mexico" policy:
He cited his "Remain in Mexico" policy, under which more than 65,000 asylum-seekers have been forced to wait in Mexico for hearings in U.S. immigration court since January 2019, and agreements struck with Central American countries for them to offer asylum to people seeking protection in the United States.

He credited his wall for a drop in illegal border crossings from a 13-year high in 2019, but the Government Accountability Office has found the administration lacks measures to correlate drops in illegal crossings to wall construction.
No one knows how the wall will fare under President-elect Joe Biden. He already promised his administration won't add to the wall. Some officials think it would be too expensive to tear down what Trump built.
Trump addressed the Capitol Hill riots, claiming the "25th amendment is of zero risk to me, but will come back to haunt Joe Biden and the Biden administration."
He reiterated his belief in "respecting America's history and traditions, not tearing them down."
Trump pushed for harsh punishment for those who vandalize and trash federal buildings after riots in the summer.