Posted by
Mike LaChance
Wednesday, January 13, 2021 at 7:00am
| 1/13/2021 - 7:00am
"The steep decline in airport traffic because of COVID-19, coupled with all of the new ways that people are consuming content on their personal devices, has lessened the need for the CNN Airport Network"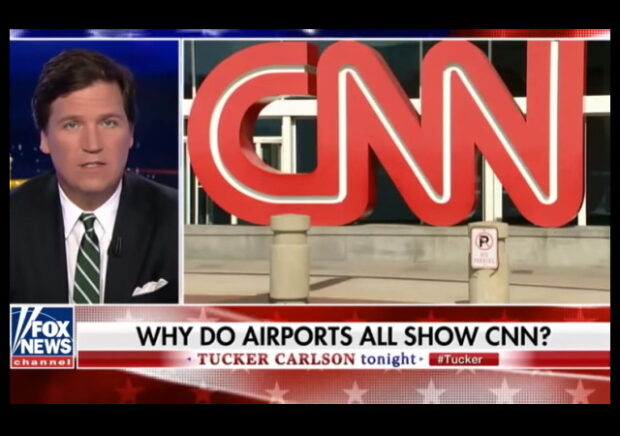 Now that the COVID-19 pandemic has decimated the air travel industry, CNN is discontinuing its airport network. With no captive audience forced to watch, what's the point?
What will all those airport TV screens show now?
Brian Steinberg reports at Variety:
CNN Grounds Its Long-Running Airport Network

CNN Airport, a long-running out-of-home media operation that became an integral part of the traveling experience for people flying through Chicago's O'Hare, Dallas' Love Field or even Fresno-Yosemite International Airport, is shutting down, the victim of shifts in consumer behavior that are moving more quickly than a Boeing 737.

CNN said the operation, which aired a mix of news from CNN and snippets from other WarnerMedia networks in 58 different airports in the U.S., would close as of March 31.

"The steep decline in airport traffic because of COVID-19, coupled with all of the new ways that people are consuming content on their personal devices, has lessened the need for the CNN Airport Network and we had to make the very difficult decision to end its operation," the AT&T unit said in a statement.

This is the second CNN operation to be shuttered in the past five months. The company scuttled its Great Big Story video unit in September.
Have you ever wondered why CNN was always on at the airport? In 2018, Tucker Carlson did a deep dive into the subject and explained the deal the network had with airports.
From The Observer:
Case in point: in his final segment on last night's show, Carlson railed against airports that play CNN in their waiting areas.

"Everyone's watching CNN," he said. "They don't have a choice."

Carlson, a former CNN host himself, said the decision "may have made sense 20 years ago, when CNN had a centrist reputation."

But now, he contends, the channel is simply home to "wacky Russia conspiracy theories" and "strange spiritual advice from philosopher-poet Chris Cuomo."

"Airports feel like a lesser version of hell with dirty seats, overpriced food and propaganda posing as news on CNN," Carlson said.

So what gives?

Well, it turns out CNN pays 47 airports to air its channel. It also reimburses them for the televisions, cable connections and maintenance.

And CNN doesn't skimp. Carlson said the network pays Miami International Airport $150,000 a year to play on its TVs.
Watch Tucker's report below:
Matt Walsh points out the bottom line:
CNN has just forfeited 95 percent of its viewership https://t.co/my36GL51WL

— Matt Walsh (@MattWalshBlog) January 12, 2021
Featured image via YouTube.