Posted by
Fuzzy Slippers
Saturday, December 26, 2020 at 2:00pm
| 12/26/2020 - 2:00pm
"Metro police Chief John Drake said a motive in the explosion was not known"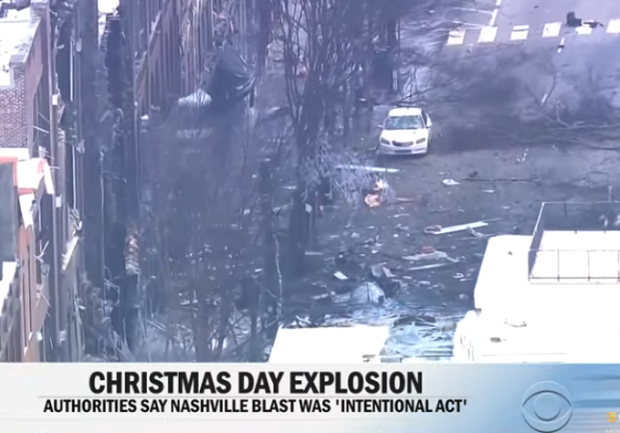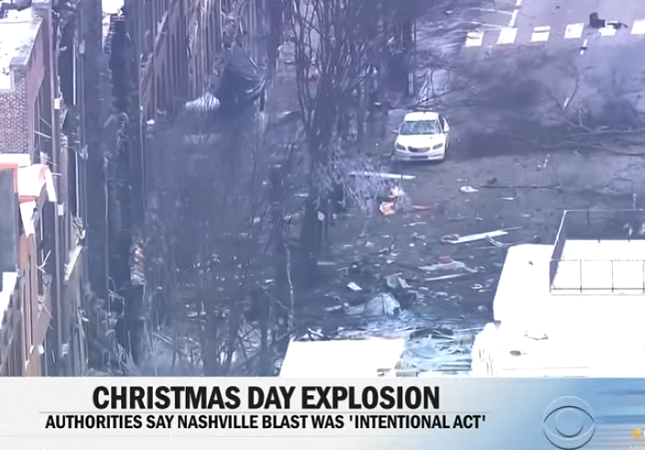 On Christmas morning, an RV broadcasting a bomb warning was discovered in downtown Nashville.  Police were on the scene responding to gunshot reports and quickly leapt into action, evacuating nearby buildings, and doubtlessly saving lives.
The RV exploded with great force, knocking out the windows of nearby buildings, causing massive damage to others, knocking out communications, and injuring at least three people.
A recreational vehicle parked in the deserted streets of downtown Nashville exploded early Christmas morning, causing widespread communications outages that took down police emergency systems and grounded holiday travel at the city's airport.

Police were responding to a report of shots fired Friday when they encountered the RV blaring a recorded warning that a bomb would detonate in 15 minutes, Metro Nashville Police Chief John Drake said. Police evacuated nearby buildings and called in the bomb squad. The RV exploded shortly afterward, Drake said.

"This morning's attack on our community was intended to create chaos and fear in this season of peace and hope. But Nashvillians have proven time and time again that the spirit of our city cannot be broken," Mayor John Cooper said at a news conference after issuing a curfew for the area.

Police believe the blast was intentional but don't yet know a motive or target, and Drake noted that officials had not received any threats before the explosion.

The chief said investigators at the scene "have found tissue that we believe could be remains, but we'll have that examined and let you know at that time." Police could not say whether it potentially came from someone inside the RV.

Three people taken to area hospitals for treatment were in stable condition Friday evening, Cooper said.
The recording blaring from the RV prior to it exploding issued the following warnings:  "All buildings in this area, must be evacuated now" and "If you can hear this message, evacuate now."
CCTV Captured The Devastating Christmas Day Bombing In Downtown Nashville And An Announcement To Evacuate#nashvilleexplosion #nashvillebombing #Nashville pic.twitter.com/IapAd9BuJ2

— Oswaldo Royett (@oswaldosrm) December 26, 2020
Reports of shots fired were made to Nashville police at 5:30 a.m.

Nashville police and fire crews responded the area of Second Avenue and Commerce Street and saw no evidence of any shooting.

Instead, they noticed a suspicious RV parked outside an AT&T building before 6 a.m. Friday, according to police. Officers and witnesses heard a recording from the RV giving a dire warning: "Evacuate now. There is a bomb. A bomb is in this vehicle and will explode."

At least six Nashville police officers acted quickly to start evacuating people from nearby buildings after alerting the department's hazardous devices unit.
Heroes! Thank you. 🙌❤🙌 https://t.co/xYi5S4LngJ

— Kate McKinnon (@katemckinnon) December 26, 2020
The Tennessean continues:
Metro police Chief John Drake said a motive in the explosion was not known, nor has a suspect or person of interest been named.

Drake said it was unclear if anyone was inside the RV when it exploded. He confirmed "tissue" that "could be" human remains was found in the area of the explosion. Authorities are investigating to determine if it is connected with the explosion.

The investigation has focused on an older model RV that police said was spotted in the area after 1 a.m. Friday, hours before the explosion.

The FBI is leading the investigation with help from the ATF and other federal, state and local agencies.
The Nashville bomb was detonated outside an AT&T switching facility, raising the question about whether the company was the target. AT&T is viewed as a sinister force by some in our society. 2/2 https://t.co/ZyDODO4pXB

— Phil Williams (@NC5PhilWilliams) December 25, 2020
Footage from the scene on 2nd Ave North as multiple agencies continue to work and investigate an explosion from earlier this morning. pic.twitter.com/5g40RhwNNl

— Nashville Fire Dept (@NashvilleFD) December 25, 2020
BREAKING: This is the RV that exploded on 2nd Ave N this morning. It arrived on 2nd Ave at 1:22 a.m. Have you seen this vehicle in our area or do you have information about it? Please contact us via Crime Stoppers at 615-742-7463 or online via https://t.co/dVGS7o0m4v. @ATFHQ pic.twitter.com/JNx9sDinAH

— Metro Nashville PD (@MNPDNashville) December 25, 2020
Watch the report:
We will provide updates as more information is released.