Posted by
William A. Jacobson
Friday, November 6, 2020 at 8:30am
| 11/6/2020 - 8:30am
Trump campaign: "The false projection of Joe Biden as the winner is based on results in four states that are far from final"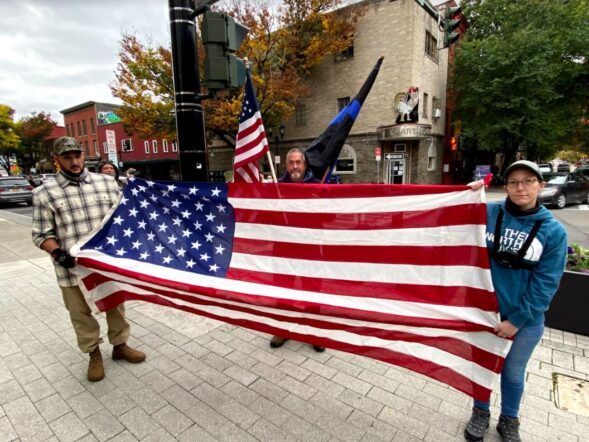 https://twitter.com/Garrett_Archer/status/1324898152114130945Donald Trump needs a sweep of AZ, GA, NC, and PA. It is very close in thses states, not so close in SC but it hasn't been "called" due to an extension of the ballot receipt deadline to November 12. Some states may turn on military and provisional ballots.
GA is also important additionally because it looks like there will be two Senate runoffs on January 5, with the balance of power in the Senate at stake (Dems needed to flip net 3 states, but only have net 1 so far). If Republicans don't win one, the Senate will be 50-50, with VP Kamala Harris casting the tie breaker if Biden is President.
Refresh the page for updates. The Legal Insurrection "Elections" Twitter Feed below is the best way to follow breaking news, and includes our own tweets plus tweets from over 50 Twitter accounts we have selected.
UPDATES – Newest at top
(Updated by various authors)
LIBERTARIANS – CAN'T LIVE WITH THEM, CAN LIVE WITHOUT THEM
Per Current Vote Count:
GA: Trump -4k. Libertarians won 61k
PA: Trump -27k. Libertarian 77k
WI: Trump -20k. Libertarian 30k
AZ: Trump -29k. Libertarian 47k.

Absolutely blood boiling. I hope these voters are happy.

— Scott Ruesterholz (@Read_N_Learn) November 7, 2020
LATEST VOTE COUNTS
Where vote count between Trump and Biden stands as of 910 pm ET:

Georgia: Biden leads by 4,020

Pennsylvania: Biden leads by 21,705

Nevada: Biden leads by 22,657

Arizona: Biden leads by 29,861#CNN

— lisa mirando (@LisaMirandoCNN) November 7, 2020
ARIZONA SHRINKING
More shrinkage but still may not be enough
71,932 ballots dropped from Maricopa

Biden: 31,433 (43.6%)
Trump: 38,388 (53.4%)

— The AZ – abc15 – Data Guru (@Garrett_Archer) November 7, 2020
MARICOPA UPDATE – 53.37/43.7 Trump to Biden with 71,932 votes. This margin was an improvement for Trump from this mornings 5.64% but not enough to overtake the lead. Statewide margin now 29,861 and .92% for Biden. #Election2020 #AZ #ElectionTwitter

— Data Orbital (@Data_Orbital) November 7, 2020
Biden is leading Trump in Arizona by 29,861.

The percentage split is now .92%

— The AZ – abc15 – Data Guru (@Garrett_Archer) November 7, 2020
NEVADA
About 130,000 ballots outstanding in Nevada

In Nevada — which has six electoral votes to offer — Biden is leading by 20,137 votes.https://t.co/ELT5gFzkJp

— ABC News Politics (@ABCPolitics) November 6, 2020
PENNSYLVANIA
JUST IN: The Associated Press says Pennsylvania is likely to go to a recount

— The Spectator Index (@spectatorindex) November 6, 2020
GEORGIA
Secretary of State announces there will be a recount, and that there are about 4000 uncounted ballots plus about 9,000 military ballots that have not been counted. Expect to have everything done before end of November.
Secretary Brad Raffensperger: "There will be a recount in Georgia." pic.twitter.com/V3hGnHxsHF

— CBS46 (@cbs46) November 6, 2020
GEORGIA

Biden 2,450,187 49.40%
Trump 2,448,629 49.37%

4,960,206 votes counted

Via @DecisionDeskHQ

— Political Polls (@Politics_Polls) November 6, 2020
Premature Projection
Trump campaign's Matt Morgan: "The false projection of Joe Biden as the winner is based on results in four states that are far from final."

Georgia is headed for a recount; "irregularities" in Pennsylvania and Nevada; Trump "on course to win Arizona outright," Morgan says. pic.twitter.com/duNEa9KG6H

— Jennifer Jacobs (@JenniferJJacobs) November 6, 2020
Cocaine Mitch Stands Strong (Others, Not So Much)
Here's how this must work in our great country: Every legal vote should be counted. Any illegally-submitted ballots must not. All sides must get to observe the process. And the courts are here to apply the laws & resolve disputes.

That's how Americans' votes decide the result.

— Leader McConnell (@senatemajldr) November 6, 2020
LEGAL INSURRECTION 'ELECTIONS' TWITTER FEED
A Twitter List by LegInsurrection