Posted by
Mary Chastain
Tuesday, October 13, 2020 at 4:02pm
| 10/13/2020 - 4:02pm
No, Senator. You can criticize or disagree without it being considered "chastising."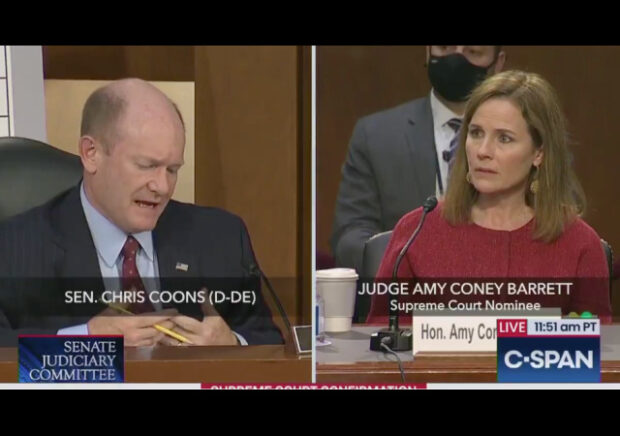 I thought the left did not like mansplaining because I'm seeing quite a few men on the committee mansplain to Judge Amy Coney Barrett.
Sen. Coons actually tried to explain to Barrett what she really meant when she called the ACA ruling from Chief Justice Roberts as "unsound" she was really chastising him.
Either Coons wants to make Barrett sound like a righteous female dog or stir trouble before she makes SCOTUS. Maybe both.
Democrat Senator Chris Coons tried to talk-down to Judge Amy Coney Barrett, telling her what he believed she was actually saying, in a piece that she herself wrote…

But, she quickly let him know just how wrong he was ⬇️#ConfirmACB pic.twitter.com/FDDtPpbdGh

— Tea Party Patriots (@TPPatriots) October 13, 2020
Pressed on her own words that Chief Justice Roberts' ruling upholding the ACA was "unsound," Barrett tells Sen. Coons she was "not chastising" Roberts, but "as an academic, I did express a critique," adds that she has "no hostility" towards the ACA. https://t.co/Lo43IEtjRG pic.twitter.com/YCKKhS9GgR

— ABC News (@ABC) October 13, 2020