Posted by
William A. Jacobson
Thursday, October 22, 2020 at 8:40am
| 10/22/2020 - 8:40am
Hunter also referred to Joe as "my chairman and frequently referenced asking him for his sign-off or advice on various potential deals that we were discussing."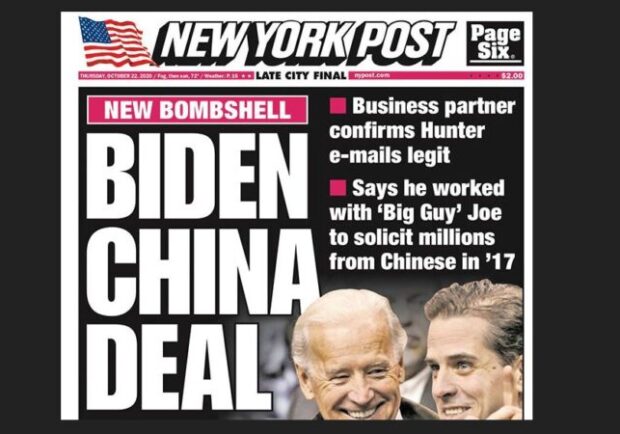 The NY Post has another blockbuster update to the Biden family influence peddling scandal.
The "big guy" referenced in previously released emails, who was to share in payments, was Joe Biden.
From The NY Post:
The dynamite assertion, believable because it aligns with earlier information we know to be true, came in a statement by Tony Bobulinski, who describes himself as a former partner of Hunter Biden, Joe Biden and Joe's brother Jim in the China scheme. Bobulinski unloads his bill of accusations in blunt but precise language and detail.

He confirms that he was one of the recipients of the May 13, 2017, e-mail published by The Post eight days ago. That e-mail, from another partner in the group, laid out cash and equity positions and mysteriously included a 10 percent set-aside for "the big guy."…

To that point, in perhaps the most devastating paragraph of the 689-word statement, Bobulinski writes that Hunter Biden also referred to his father as "my chairman and frequently referenced asking him for his sign-off or advice on various potential deals that we were discussing."

"I've seen Vice President Biden saying he never talked to Hunter about his business," says Bobulinski, who was the CEO of the company being formed. "I've seen firsthand that that's not true, because it wasn't just Hunter's business, they said they were putting the Biden family name and its legacy on the line." …

Bobulinski, a former wrestler at Penn State University who spent four years in the Navy, insists he has voluminous evidence to back up his explosive charges, reportedly including documents, e-mails, messages and other proof.

Late Wednesday night, he uploaded many to a file- sharing service.

He also says that he turned over all his evidence to two Senate committees Wednesday that requested it.
Statement from fame Lt. Tony Bobulinski – a business associate of Hunter Biden – obtained by ⁦@FoxNews⁩ pic.twitter.com/mCVzQibflu

— John Roberts (@johnrobertsFox) October 22, 2020
Tony Bobulinski,a partner, of Hunter Biden has said #CrookedBiden knew of,and was part of,Hunter Biden's getting millions for selling #CROOKEDJOE's office.

He is, also, the "the Big Guy" getting 10% equity in deal with Chinese Comminists.

Still being CENSORED!

— Rudy W. Giuliani (@RudyGiuliani) October 22, 2020
I finally got the FBI to start investigating a laptop they have had for over 8 months.

And it turns out to be valid and incriminates #CrookedBiden the #BidenCrimeFamily.

So do we get an apology from Tweeter, Facebook, NBC, CBS, ABC, CNN etc.

And when does the Censorship end

— Rudy W. Giuliani (@RudyGiuliani) October 22, 2020
You can see how the Hunter Biden laptop has placed the entire corporate media into checkmate: they can either report the story and destroy their preferred candidate or remain silent and destroy their remaining credibility.

— Emerald Robinson ✝️ (@EmeraldRobinson) October 22, 2020
Reminder – As the Joe Biden family influence peddling scandal is unfolding and mainstream media and social media giants are trying to put a lid on it, 50 million people will have early voted without knowing the truth about it.

— Legal Insurrection (@LegInsurrection) October 22, 2020

'