Posted by
Mary Chastain
Tuesday, October 6, 2020 at 7:00am
| 10/6/2020 - 7:00am
"The department said overall crime is down 7% year-to-date in 2020 compared to last year, but thus far the number of homicides (50% increase) and shootings (51% increase) remain well above 2019 figures."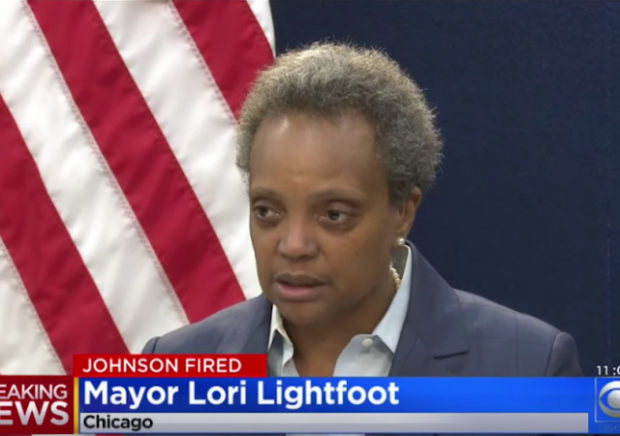 Chicago saw 37 shootings and five fatalities the first weekend in October, starting on Friday and ending early Monday morning.
I know it happens every weekend in Chicago, but it's something that needs to be reported to stress that gun control laws do not work.
Then again, no matter how many times we say it, will the Democratic leaders ever do anything about it? I'm not holding my breath.
The news also comes out after data showed Chicago had its deadliest September since the early 1990s:
Last month, Chicago recorded its deadliest September in more than 25 years as the city approaches 600 homicides in 2020 with a quarter of the year still left to go.

The Chicago Police Department on Thursday reported there were 81 homicides last month — the most for any September since 1993 when there were 84 — as well as 309 shooting incidents and 400 victims.
It's looking like October will be just as violent. The dead and wounded included teenagers:
A man was shot to death and another was injured Sunday night in Lawndale on the West Side. They were in a vehicle heading east about 10:30 p.m. in the 3600 block of West Roosevelt Road when someone fired shots from the passenger side of an approaching vehicle, according to Chicago police. The driver, 27-year-old Joe McGee, was shot multiple times throughout his body and taken to Mount Sinai Hospital, where he died a short time later, authorities said. The other man, 18, was hit multiple times and taken to the same hospital in critical condition.
Earlier that afternoon, a man was killed and another was wounded by gunfire in Roseland on the Far South Side. Someone approached the men, 18 and 50, about 4:50 p.m. and fired shots as they hung out in a backyard in the 11300 block of South Harvard Avenue, police said. The younger man was struck multiple times and taken to Christ Medical Center in Oak Lawn, where he died. The older man was taken to the same hospital in good condition with a gunshot wound to the leg.
Hours earlier, a man was killed and a teen girl was wounded in West Englewood on the South Side. Someone in a vehicle fired shots at 35-year-old Joe Winters and the 14-year-old girl about 5:45 p.m. as they stood outside in the 6600 block of South Oakley Avenue, authorities said. Winters was struck in the head and taken to Christ Medical Center in Oak Lawn, where he died. The girl was taken to Comer Children's Hospital in good condition with a gunshot wound to her ankle.
A 17-year-old boy was dropped off at a West Side hospital Sunday after he was shot several times. About 4:45 p.m., he showed up at Mount Sinai Hospital, 1500 S. Fairfield Ave., with multiple gunshot wounds to his body, police said. He was listed in critical condition. Police said the location of the shooting was unknown Sunday night.
Early Saturday, two other teen boys were wounded in Marquette Park on the Southwest Side. They were in a southbound vehicle about 3 a.m. in the 7000 block of South California Avenue when someone fired shots from the sidewalk, according to police. A 17-year-old boy was shot in the back while a 16-year-old was grazed on his right arm. They were driven to Christ Medical Center in Oak Lawn, where both were in good condition.
Crime has gone done 7% in 2020 compared to this time period last year. However, homicides increased by 50%, and shootings increased by 51% compared to 2019:
The department said overall crime is down 7% year-to-date in 2020 compared to last year, but thus far the number of homicides (50% increase) and shootings (51% increase) remain well above 2019 figures.

"This has been an unprecedented year in policing, as a global pandemic and civil unrest have converged to present law enforcement with a crisis on multiple fronts," Police Superintendent David Brown said in a statement. "And yet, our officers remain committed to improving public safety despite these challenges."

Through the first nine months of 2020, Chicago has reported 2,470 shootings — which have left 3,110 victims — and 588 homicides. The city already surpassed 2019's homicide total by the end of August.

The number of September 2020 shooting incidents and shooting victims are also up 48% and 60%, respectively, over September 2019 totals.
The state, city, and even Attorney General William Barr have tried to brag about better numbers in Chicago.
Barr said Operation Legend led to so-called better stats in Chicago. Mayor Lori Lightfoot and police officials credited the new teams, the Community Safety Team, and the Critical Incident Response Team.
But should they brag? Homicides went up 29% from August to September. Chicago saw a record of 105 killings.
Other serious crimes went down:
The CPD on Thursday reported that the number of other serious crimes, including criminal sexual assaults (35%), burglaries (23%) and thefts (23%), were each down significantly last month compared to September 2019.
Of course, Lightfoot is blaming the "illegal" guns coming into the city:
Lightfoot on Thursday said "nobody's happy with the September numbers" and called on the federal government to increase gun control measures to stop the flow of illegal firearms into Chicago.

"We are gonna continue the fight, we're gonna continue to do everything that we can to work to make Chicago and every neighborhood as safe as possible," she said. "But we need to deal with the reality of gun violence. We've got to take the gun supply out of the hands of children, out of the hands of teenagers and adults. We've got to stop the flow."
How about you take care of your own city, Mayor Lightfoot? Do you realize that with all the gun control laws you have that criminals will find a way to get guns?