Posted by
Mike LaChance
Saturday, September 5, 2020 at 12:00pm
| 9/5/2020 - 12:00pm
"To an escalating degree over my adult life, I have eschewed my lived experience as a white Jewish child in suburban Kansas City under various assumed identities within a Blackness that I had no right to claim"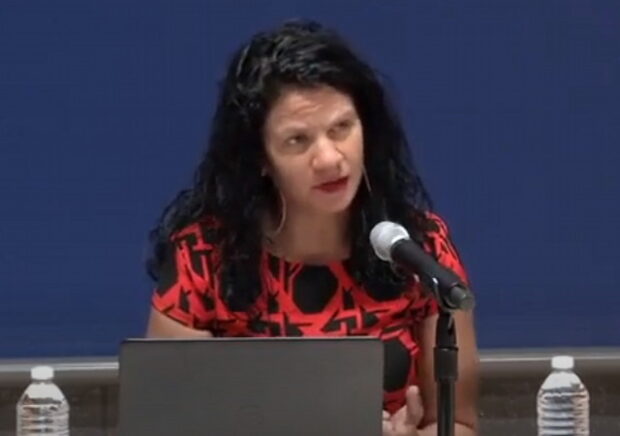 Professor Jessica Krug teaches Black History at George Washington University. She recently revealed that she is not black, but white. This has sent a shock wave through the academic world.
Krug made the admission in an essay she posted online.
Bradford Betz reports at FOX News:
White GWU history professor admits she lied about being Black

A George Washington University professor admitted in a Thursday blog post that she has for years been falsely claiming to be Black, when she is in fact White and Jewish.

Jessica A. Krug, who teaches Black history at GWU, made the startling admission in a blog post on Medium titled, "The Truth, and the Anti-Black Violence of My Lies."…

Krug said she has been dealing with mental health issues since childhood when she first assumed a false identity.

"The mental health professionals from whom I have been so belatedly seeking help assure me that this is a common response to some of the severe trauma that marked my early childhood and teen years," she said.
Here is Krug in her own words, from Medium:
The Truth, and the Anti-Black Violence of My Lies

For the better part of my adult life, every move I've made, every relationship I've formed, has been rooted in the napalm toxic soil of lies.

Not just any lies.

To an escalating degree over my adult life, I have eschewed my lived experience as a white Jewish child in suburban Kansas City under various assumed identities within a Blackness that I had no right to claim: first North African Blackness, then US rooted Blackness, then Caribbean rooted Bronx Blackness.

I have not only claimed these identities as my own when I had absolutely no right to do so — when doing so is the very epitome of violence, of thievery and appropriation, of the myriad ways in which non-Black people continue to use and abuse Black identities and cultures — but I have formed intimate relationships with loving, compassionate people who have trusted and cared for me when I have deserved neither trust nor caring.

People have fought together with me and have fought for me, and my continued appropriation of a Black Caribbean identity is not only, in the starkest terms, wrong — unethical, immoral, anti-Black, colonial — but it means that every step I've taken has gaslighted those whom I love.

… mental health issues can never, will never, neither explain nor justify, neither condone nor excuse, that, in spite of knowing and regularly critiquing any and every non-Black person who appropriates from Black people, my false identity was crafted entirely from the fabric of Black lives.
Krug goes on to call herself a leech and a coward.
While her confession seems heartfelt, it may not save her job.
Nathan Diller writes at the DCist:
GWU May Remove Professor From Classes After She Apparently Pretended To Be Black

George Washington University's history department is reportedly looking to remove a white professor from her fall classes following allegations that she has been pretending to be Black.

In a viral Medium post on Thursday, a person purporting to be Jessica A. Krug, an associate professor in the department, said she'd been assuming a false Black identity for much of her adult life.

The school's student newspaper, The GW Hatchet, reported Friday that Daniel Schwartz, the chair of the department, said in an email to Krug's students that the department is aware of the "shocking news."

"I know that many of you are deeply shaken and angered by Prof. Krug's confession and questioning whether you can remain in her class," he wrote, per the Hatchet. "While I am unable to offer you any specifics at this time, we are working to see if the classes can continue this semester without Prof. Krug as the instructor."
Part of the reason this is being taken so seriously, is because Krug has published books based on this lie.
Jessica Krug with her brand new book Fugitive Modernities at the Duke booth. Buy a copy for just $20. #AHA19 pic.twitter.com/Mm6tDI2Hj7

— Duke University Press (@DukePress) January 4, 2019
She has even won awards. More from Nathan Diller:
Krug has taught classes with titles including African History to 1880 and Africans in the Making of the Atlantic World. She is also the author of the 2018 book, Fugitive Modernities: Kisama and the Politics of Freedom, which was a finalist for both the Frederick Douglass Book Prize and Harriet Tubman Prize last year.
One cannot help but compare Krug's experience to that of Senator Elizabeth Warren, who also advanced in the academic world, while lying about her ethnicity. Don't be surprised if the national media ignores that angle of the story, for reasons which should be obvious.
In another year, Ms. Krug's dishonesty may have been an offense her career could have survived. In our current near panic over race, fueled by the Black Lives Matter movement, and its unquestionable status in higher education, Krug has basically canceled herself.
Featured image via YouTube.