Posted by
Mary Chastain
Wednesday, September 9, 2020 at 6:30pm
| 9/9/2020 - 6:30pm
To the left, it seems the world will literally end if Trump gets to appoint more justices to SCOTUS.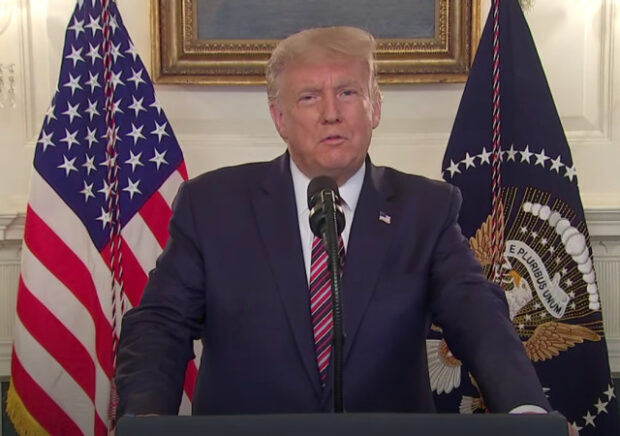 President Donald Trump added 20 names to a list of potential SCOTUS nominees to the list he first unveiled in April 2016.
The list could help Trump's campaign since 21% of voters have SCOTUS as their main issue.
Trump added:
9th U.S. Circuit Court of Appeals Judge Bridget S. Bade
Kentucky Attorney General Daniel Cameron
Texas Sen. Ted Cruz
Arkansas Sen. Tom Cotton
Missouri Sen. Josh Hawley
US Court of Appeals for the Fifth Circuit Judge James Ho
Former White House lawyer and DC Circuit Judge Greg Katsas
White House deputy counsel Kate Comerford
US Court of Appeals for the Sixth Circuit Judge Amul Thapar
Former Michigan Supreme Court Justice Robert Young
US District Court for the Southern District of Florida Judge Frederico Moreno
You can find the rest of the names on the White House webpage.
Trump said:
Unfortunately, there is a growing radical-left movement that rejects the principle of equal treatment under law. If this extreme movement is granted a majority on the Supreme Court, it will fundamentally transform America without a single vote of Congress.

Radical justices will erase the Second Amendment, silence political speech, and require taxpayers to fund extreme late-term abortion. They will give unelected bureaucrats that power to destroy millions of American jobs. They will remove the words "under God" from the Pledge of Allegiance. They will unilaterally declare the death penalty unconstitutional, even for the most depraved mass murderers. They will erase national borders, cripple police departments, and grant new protections to anarchists, rioters, violent criminals, and terrorists.

In the recent past, many of our most treasured freedoms, including religious liberty, free speech, and the right to keep and bear arms, have been saved by a single vote on the United States Supreme Court. Our cherished rights are at risk, including the right to life and our great Second Amendment.
The Senate has confirmed 205 Article III judges nominated by Trump, including 53 to the court of appeals.
It's possible the next president will have to appoint at least three new Supreme Court justices.
Ruth Bader Ginsburg is 87, Stephen Breyer is 82, and Clarence Thomas is 72. Maybe even four justices since Samuel Alito is 70.
Trump promised those on his original list along with the new names come in the same mold as the late Justice Antonin Scalia, Thomas, and Scalia.
You can imagine how the left responded.
Here's Tom Cotton's first tweet after this announcement.

A woman's right to choose is 100% on the ballot in November. https://t.co/4vAtZRn2R3

— Brian Tyler Cohen (@briantylercohen) September 9, 2020
LOL Trump says he might name Tom Cotton, Ted Cruz, or Josh Hawley to SCOTUS. #LordHelpUs pic.twitter.com/Fe0Qm8S0pi

— Aaron Rupar (@atrupar) September 9, 2020
BREAKING: Donald Trump reveals that Ted Cruz and Tom Cotton are at the top of his SCOTUS list – two shameless, unprincipled, hyper-partisan men. If he is reelected, we are doomed.

— A Worried Citizen (@ThePubliusUSA) September 9, 2020
Trump's new SCOTUS list is no different than his old one. Everyone on it has passed his shameful litmus tests with demonstrated records against health care, women, LGBTQ people, people of color & immigrants. It doesn't reflect our values and puts our civil & human rights at risk.

— Vanita Gupta (@vanitaguptaCR) September 9, 2020
Putting Tom Cotton or Ted Cruz on SCOTUS would set us back 150 years.

— Jesse Lifson (@DoYouEvenLif) September 9, 2020
This is what we're up against, folks. #BidenisBest #BidenHarrisToSaveAmerica https://t.co/E5ry23hxi0

— Eliza Orlins (@elizaorlins) September 9, 2020
How about let's not give this Orange Menace Fcuker another #SCOTUS appointment and vote him out in November! We aren't letting Trump's derelict ass change the subject from his #COVID19 downplaying propaganda campaign that has now gotten us to almost 200,000 Americans dead.

— BlackWomenViews Media (@blackwomenviews) September 9, 2020
JESUSFUCKINGCHRIST he's planning on putting right wing dominionist christian taliban on our SCOTUS! 😱

It's time to panic, kids. https://t.co/BFxkOwEVo4

— There are some who call me…TIM (@TimNoEgo) September 9, 2020
One of the white men on Trump's SCOTUS shortlist is publicly thirsting to regulate women's bodies https://t.co/enWMbmeGx8

— Aaron Rupar (@atrupar) September 9, 2020
Who feels even more motivated to vote Trump out, now that you know Ted Cruz is on the SCOTUS nomination list? ✋

— James Kosur (@JamesKosur) September 9, 2020
Decent human beings should #VoteBidenHarris2020 at the prospect of #TedCruz and #TomCotton on the #SCOTUS alone.

— John Pavlovitz (@johnpavlovitz) September 9, 2020
America's future depends on our votes! We can not allow Trump to destroy our constitution. His list of SCOTUS nominees is honestly quite frightening. #VoteBlueToSaveAmerica

— Joshua Ratliff (@Josh_Ratliff734) September 9, 2020