Posted by
William A. Jacobson
Friday, September 25, 2020 at 5:24pm
| 9/25/2020 - 5:24pm
Can we call her Notorious ACB? The crazed reactions already have started: Handmaids Tale!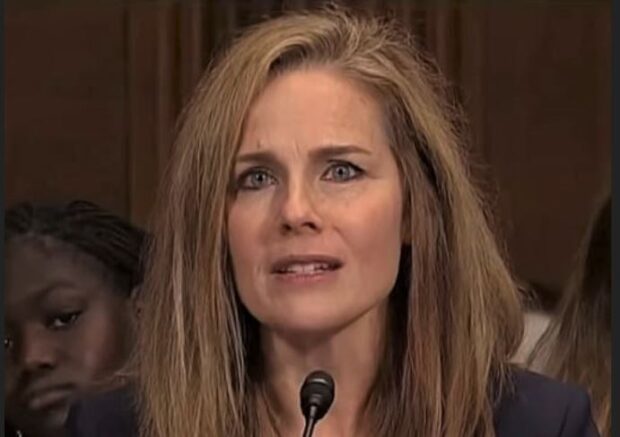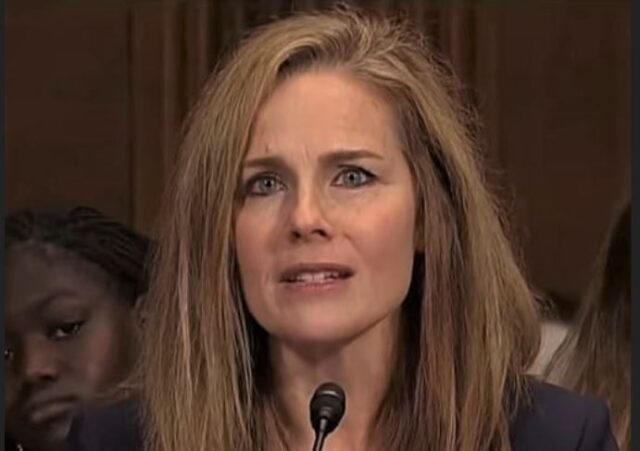 There are multiple reports from media outlets, supposedly confirmed with senior administration officials, that Court of Appeals Judge Amy Coney Barrett will be nominated tomorrow to fill the Supreme Court vacancy created by the death of Ruth Bader Ginsburg.
Barrett — can we call her Notorious ACB? – not only is Trump's choice, she was the overwhelming choice of Legal Insurrection readers.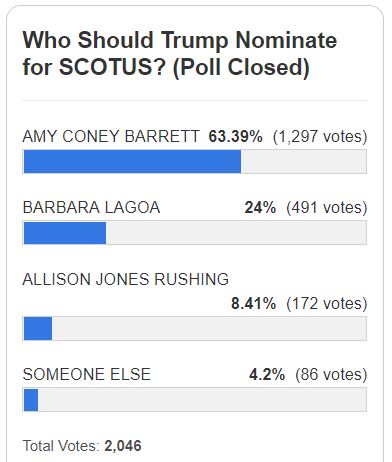 The crazed reactions already have started. Handmaids Tale! (Read here why the claim is false.)
Y'all cool with handmaidens?

— Wajahat "Wears a Mask Because of a Pandemic" Ali (@WajahatAli) September 25, 2020
Amy Coney Barrett is a member of People of Praise, a charismatic covenant community in South Bend, Indiana known for the submissive role played by women, some of whom were called "handmaids"—at least until the Handmaid's Tale aired in 2017. https://t.co/Hy0rEapfHA

— Mother Jones (@MotherJones) September 25, 2020
If Amy Coney Barrett is nominated & confirmed, she is not going to uphold Justice Ginsburg's legacy. She's going to do her best to dismantle it.

The American people should have a say in this appointment.

We oppose her nomination & this sham process. https://t.co/0gl6K8TRhe

— Alphonso David (@AlphonsoDavid) September 25, 2020
Don't overlook Amy Coney Barrett's age.

At 48, she could conceivably be an extremist voice on the Court for three decades or more.

— Robert Reich (@RBReich) September 25, 2020
Amy Coney Barrett will dedicate every single opportunity at her disposal to stripping LGBTQ people of our existing rights and block further expansion of our civil liberties and protection of them. She would have LGBTQ people be second class citizens. That is her worldview.

— Charlotte Clymer 🏳️‍🌈 (@cmclymer) September 25, 2020
Amy Coney Barrett is not a feminist.

Let me just go ahead and lay that nonsense narrative to rest right now.

She's a handmaiden of patriarchy and an insult to the memory of RBG.

— Imani Gandy ✊🏾 (@AngryBlackLady) September 25, 2020
Amy Coney Barrett is a disgrace to any woman who'd like to control her own body, to any parent who'd like their child not be gunned down, and to any human being who believes in fairness and equality. Period.

— Randi Mayem Singer (@rmayemsinger) September 25, 2020
QUESTION OF THE DAY
What fake shit are Democrats going to accuse Amy Coney Barrett of?

— Tim Young (@TimRunsHisMouth) September 25, 2020
THEY ARE SCUM
Dem operative's opening salvo at Judge Barrett: attacking her young children.

This is twisted. Leave the kids alone. pic.twitter.com/LHE5aOVVi6

— Ted Cruz (@tedcruz) September 25, 2020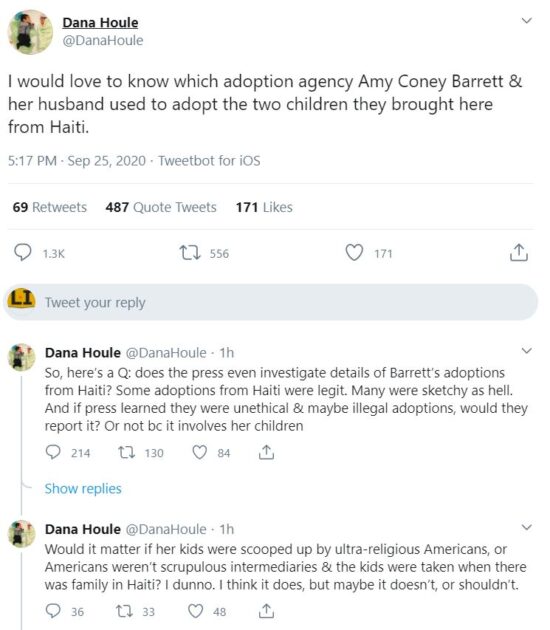 INTERESTING TAKE – DEMS CREATING ACB STARDOM BY ATTACKING HER FAITH
Shout out to Dianne Feinstein, whose incompetence elevated Amy Coney Barrett from obscure judicial nominee to Christian right celebrity and likely SCOTUS justice.https://t.co/7Cn9StLvB1

— Ian Millhiser (@imillhiser) September 25, 2020
OWNING THE LIBS
It's the wailing and gnashing of teeth from the left that I most enjoy. #AmyConeyBarrett

— M (@matthew74ga) September 25, 2020