Posted by
Mary Chastain
Saturday, September 12, 2020 at 4:00pm
| 9/12/2020 - 4:00pm
"We need to send a strong, consistent message that our employees, customers, clients and visitors will be coming back to a safe and healthy work environment."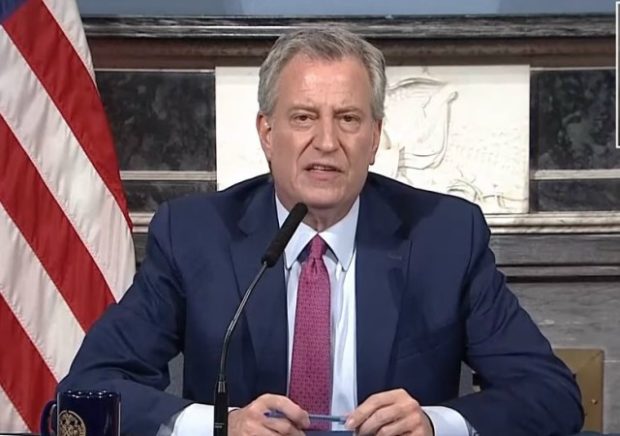 New York City has seen crime numbers go up since the death of George Floyd and the backlash against the police. Videos show people destroying and looting nationwide brands to small businesses.
Now CEOs of 160 corporations demanded New York City Mayor Bill de Blasio take action against the skyrocketing crime in the city and quality of life.
From The New York Post:
"There is widespread anxiety over public safety, cleanliness and other quality of life issues that are contributing to deteriorating conditions in commercial districts and neighborhoods across the five boroughs," the powerful business leaders wrote to de Blasio on Thursday.

"We need to send a strong, consistent message that our employees, customers, clients and visitors will be coming back to a safe and healthy work environment. People will be slow to return unless their concerns about security and the livability of our communities are addressed quickly and with respect and fairness for our city's diverse populations," they wrote.

"We urge you to take immediate action to restore essential services as a necessary precursor for solving the city's longer term, complex, economic challenges," the letter added.
Republican candidate for mayor and Guardian Angels founder Curtis Sliwa told de Blasio "to wake up and get this city back on track" because it's foolish to push people to go back to work among the mess in the streets.
Even the Democratic candidate for mayor Maya Wiley applauded the corporations for providing support for the "basic services" needed across the city. Wiley noted that everyone in the city needs to step in and push de Blasio to fix the problems.
In July, de Blasio and the city council ripped millions from the budgets of the NYPD and sanitation.
Crime has gone up, but so has the rat population. Trash is picked up three times a week, leaving garbage piled on the streets.
De Blasio's press secretary said that the office wants "to restore these services and save jobs," which means they need help from everyone.
It sounds like if the city restored the money to the police and sanitation the problem should get fixed easily.