Posted by
Mike LaChance
Saturday, September 26, 2020 at 10:00am
| 9/26/2020 - 10:00am
"see a fine line between Biden's passion and empathy, which can appeal to voters, and the raw anger that sometimes gets him in trouble and could undercut his pitch as a calming alternative"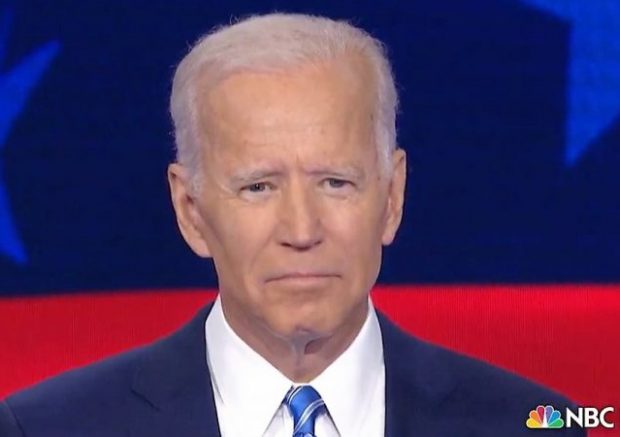 The first presidential debate between Joe Biden and Donald Trump is happening on Tuesday night. Democrats are playing it cool, but there is real concern about how Biden will perform.
In a format like this, Biden is on his own. There is no campaign handler who can suddenly step in and shut down the event by saying "OK, thanks so much everyone."
Sean Sullivan and Josh Dawsey of the Washington Post wrote this rather revealing story:
Trump readies a debate onslaught — and Biden allies worry

President Trump is gearing up to launch blistering personal attacks on Joe Biden and his family in the first presidential debate on Tuesday, while Biden is bracing for an onslaught and worried allies are warning the Democratic nominee not to lose his temper and lash out, according to people with knowledge of the strategies in both camps.

Trump has told associates he wants to talk specifically about his opponent's son Hunter Biden and mused that the debates are when "people will finally realize Biden is just not there," according to one adviser. The president is so eager to lay into his rival that he has called aides to test out various attacks, focusing on attacks that cast Biden as a longtime Washington insider with a limited record of accomplishment, said another adviser, who like many interviewed for this story spoke on the condition of anonymity to candidly describe private talks.

Biden and his advisers are anticipating a venomous barrage, according to a person with knowledge of their thinking, and they are preparing to counter with an affirmative case for a Biden presidency. The Democrat wants to stay focused on how he would address the coronavirus pandemic and the country's economic problems, which he blames Trump for worsening.

The prospect of a cage match between a president for whom no subject is off-limits and a challenger who can be openly emotional is making some Biden advisers nervous. They see a fine line between Biden's passion and empathy, which can appeal to voters, and the raw anger that sometimes gets him in trouble and could undercut his pitch as a calming alternative to a president who thrives on chaos.
Two quick reactions. First of all, Joe Biden is "a longtime Washington insider with a limited record of accomplishment." Second, why shouldn't Trump go after Biden's family? Hasn't Trump's family been fair game for Democrats and the media over the last four years?
In another sign of the left's utter panic, Nancy Pelosi is doubling down on her suggestion that Biden shouldn't even bother debating Trump. Funny, she didn't feel that way about Obama in 2008 or 2012. What changed?
Megan Henney reports at FOX News:
Pelosi doubles down that Biden shouldn't debate Trump: 'Why bother?'

House Speaker Nancy Pelosi on Friday doubled down on her argument that Democratic presidential nominee Joe Biden should not debate President Trump, claiming the Republican incumbent and his "henchmen" have no "fidelity" to facts or the truth.

Asked during an interview on "Morning on CBS" whether she still believed the former vice president should skip the three scheduled debates, Pelosi said: "Oh, I do. Not that I don't think he'll be excellent. I just think that the president has no fidelity to fact or truth and, actually in his comments the last few days, no fidelity to the Constitution of the United States."

She continued: "He and his henchmen are a danger, with their comments, are a danger to our democracy. So I don't want to give him – I mean, why bother? He doesn't tell the truth."
They have every reason to be concerned. Here are a few of Biden's greatest hits:
The ratings for Tuesday night should be outstanding, so there's that.