Posted by
Mary Chastain
Wednesday, July 29, 2020 at 7:00am
| 7/29/2020 - 7:00am
Barr: "Well, this is a hearing. I thought I was the one who was supposed to be heard."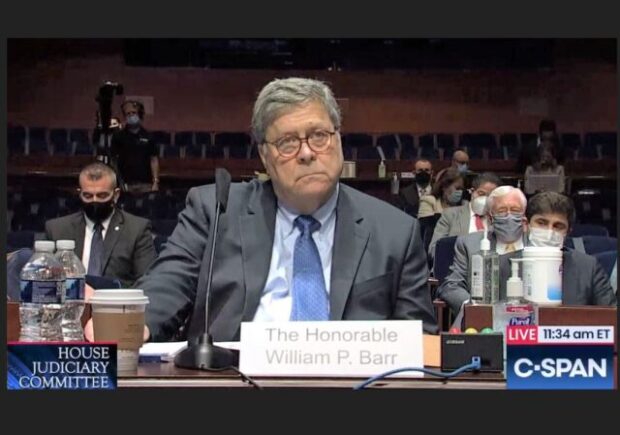 AG Bill Barr testified in front of the House Judiciary Committee this morning. For exactly what I do not know because it didn't take long for it to go off the rails.
In other words, right away:
Once the hearing, which lasted until mid-afternoon, [Chairman Jerry] Nadler did not hesitate to express his scorn for Barr and his Justice Department.

"Thank you for being here, Mr. Barr," Nadler said with a note of sarcasm, pointing out that this was the attorney general's first time appearing before the committee.
Nadler brought up the death of George Floyd, the protests, the collusion investigation, prosecutions against those involved in the investigation, re-elections, etc.
Like I said. Who knows the actual point of the hearing except to try to embarrass Barr on TV.
Nadler's opening statement:
In his opening remarks, House Judiciary Chair Rep. Jerry Nadler accused Attorney General William Barr of risking DOJ missions in "attempt to secure favors for the President."https://t.co/oLnUEk9Nob pic.twitter.com/YUKuOVIUWl

— CNN Newsroom (@CNNnewsroom) July 28, 2020
Ranking Member Jim Jordan fired back with a video of those peaceful protesters Nadler called a myth:
@Jim_Jordan opening statement at the House Judiciary Committee hearing chaired by Jerry Nadler is a must watch.

The devastating video of Portland violent mob is a stark contrast to Nadler's "that is a myth" comment. #NadlerPortlandMyth

— BlueStateBlues (@Tianmiao_wang) July 28, 2020
Nadler's reaction? He hopes that Jordan never complains about the length of his opening statements.
Barr's opening statement:
ICYMI: Attorney General Bill Barr's full opening statement before Judiciary Cmte: pic.twitter.com/by7Qj2sLt4

— Alex Salvi (@alexsalvinews) July 28, 2020
The Democrats could not stop interrupting Barr. They asked him stupid questions.
AG Barr after being interrupted again:

"Well, this is a hearing. I thought I was the one who was supposed to be heard." pic.twitter.com/MJP4EZ853N

— Daily Caller (@DailyCaller) July 28, 2020
"Reclaiming my time"

Drink! 🍸
pic.twitter.com/yb71cL2vDh

— Daily Caller (@DailyCaller) July 28, 2020
Rep. @Jim_Jordan:

"For months, you've tried to get the Attorney General to come. He's hear. Why don't you let him speak. Why don't you let him answer the questions?" pic.twitter.com/glwXPwbyaA

— Daily Caller (@DailyCaller) July 28, 2020
AG Barr to @RepJoeNeguse after he interrupts him:

"You said under penalty of perjury, I'm gonna answer the damn question." pic.twitter.com/UUfN7wXoLY

— Daily Caller (@DailyCaller) July 28, 2020
Rep. @marygayscanlon brings up AG Barr's political contributions to Republican candidates:

BARR: "Are you surprised that I'm a Republican?" pic.twitter.com/q3yJXY9fDN

— Daily Caller (@DailyCaller) July 28, 2020
SCANLON: "In fact you have no evidence that foreign countries can successfully sway our elections with counterfeit ballots."

BARR: "No I don't but I have common sense." pic.twitter.com/38xTm59LnV

— Daily Caller (@DailyCaller) July 28, 2020
On the night St. John's Church was set on fire:

RASKIN: Are you aware that church leaders "all denounced this police assault on the civil rights and civil liberties of the people?"

BARR: "Did they do that before or after the fire was put out?" pic.twitter.com/Aw5oE3cc2a

— Daily Caller (@DailyCaller) July 28, 2020
.@RepCohen blames AG Barr for Jeffrey Epstein's death pic.twitter.com/qJY0VtyLNs

— Daily Caller (@DailyCaller) July 28, 2020
AG Barr:

"Since when is it okay to try and burn down a federal court?"pic.twitter.com/0MLPD9EYU0

— Daily Caller (@DailyCaller) July 28, 2020
AG BARR: "Could we take a 5 minute break, Mr. Chairman?"

CHAIRMAN NADLER: "No.." pic.twitter.com/DGYpAYwS8P

— Benny (@bennyjohnson) July 28, 2020
Barr with the mic drop:
AG Barr to Rep. Nadler: "You're a real class act." pic.twitter.com/HMY7TSF0EY

— The Hill (@thehill) July 28, 2020