Posted by
William A. Jacobson
Friday, May 22, 2020 at 9:19am
| 5/22/2020 - 9:19am
Biden has benefitted by his hiding-in-the-basement strategy, which allows his handlers to minimize his gaffes. But even in that controlled environment, Biden gonna Biden, a preview of the general election.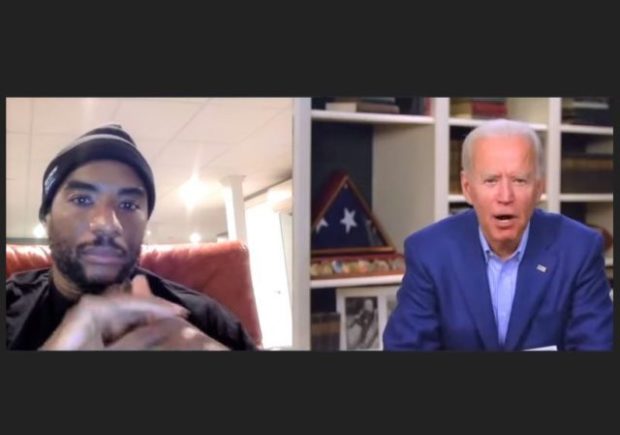 Joe Biden is a disaster waiting to happen every time he opens his mouth.
It's why his basement isolation strategy has worked so well for him. In that highly controlled environment, his handlers can minimize the gaffes.
A good example of what the general election holds in store for when Biden no longer can hide was revealed during a Biden appearance on The Breakfast Club, hosted by 'Charlamagne Tha God':
Biden: "If you have a problem figuring out whether you're for me or Trump, then you ain't black."

CTG: "It don't have nothing to do with Trump, it has to do with the fact — I want something for my community."
.@JoeBiden: "If you have a problem figuring out whether you're for me or Trump, then you ain't black." @cthagod: "It don't have nothing to do with Trump, it has to do with the fact — I want something for my community." @breakfastclubam pic.twitter.com/endvWnOIV2

— America Rising (@AmericaRising) May 22, 2020
Great interview! Joe Biden (an old white man who wrote the crime bill) should never say to a black man "You aint black" under ANY circumstances, very disappointed in him and his dodging of any questions on a black agenda but shout out to you for asking the tough questions

— Evan Samuels (@Evan_0117) May 22, 2020
Aside from that comment, Biden generally came across as a crazy person:
This is a good question from @cthagod. @JoeBiden starts filibustering about his jobs in the ghetto and black voter support. He never mentions what blacks will get in return that's a tangible solution to our problems. pic.twitter.com/UlzzA1ZCX2

— Ibrahim Tanner (@IbrahimTanner1) May 22, 2020
Here's the full appearance: