Posted by
Mike LaChance
Sunday, April 12, 2020 at 5:30pm
| 4/12/2020 - 5:30pm
Ted Cruz: "The Ayatollah leads chants of "death to America." He pledges to destroy America, which he calls "the Great Satan." And Senate Dems want to send him millions??? At the EXACT SAME TIME, Senate Dems are blocking desperately need relief to small businesses in America."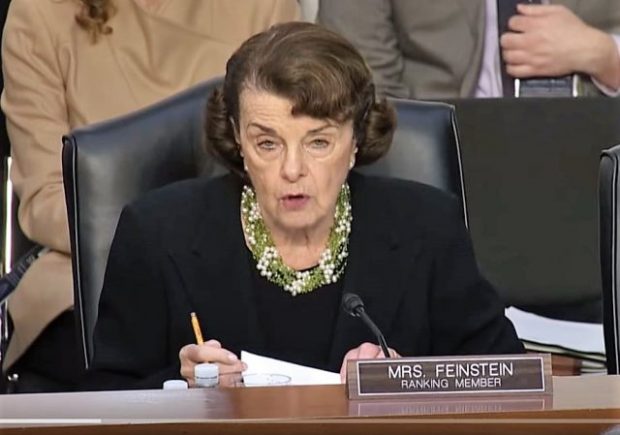 Senator Dianne Feinstein (D-CA) is taking heat for calling on President Trump to reverse the block on the IMF to Iran. You would think at a time like this, she might be more focused on the people of California.
Adam Shaw reports at FOX News:
Feinstein urges Trump to reverse plan to block Iran request for $5B in IMF aid, claims it is in 'our national interest'

Sen. Dianne Feinstein, D-Calif., has urged President Trump to reverse a reported plan to block an Iranian request to the IMF for $5 billion in aid to fight the coronavirus crisis — saying it is in the U.S. national interest to accede to the request.

"I am disappointed to see reports that your administration intends to block Iran from receiving $5 billion in humanitarian aid from the IMF to combat the coronavirus pandemic," Feinstein wrote in a letter dated Thursday to President Trump. "Providing these funds to Iran would help it respond more effectively to the disease and mitigate the risk of further destabilization in the region."

The administration plans to block the request for an emergency loan, amid concerns that the anti-American regime still has billion-dollar accounts available to it, The Wall Street Journal reported.

Senior officials told the Journal that the loan would allow Tehran to divert the money to its economy — which has been stunted by the sanctions imposed as part of the U.S. maximum pressure campaign — or to finance extremist militant groups in the Middle East.
See Feinstein's tweet below:
The coronavirus has hit Iran hard, with the potential for even greater spread in the region. In the interest of international security, President Trump should support Iran's request to the IMF for emergency funds to contain this virus. pic.twitter.com/yWD3kD9Qem

— Senator Dianne Feinstein (@SenFeinstein) April 9, 2020
This has sparked anger on social media. There are tons of tweets, but this one is right to the point:
ATTENTION @SenFeinstein

Take that $5Billion and shove it. We do not aid and abet the enemy.

We have had enough. pic.twitter.com/IKf9GYpsug

— Code of Vets ™ (@codeofvets) April 11, 2020
One of her loudest critics is Senator Ted Cruz (R-TX).
James Barrett writes at the Daily Wire:
Cruz Slams Feinstein: Trying To Send Millions To Iran, While Blocking Relief To American Businesses

Texas Sen. Ted Cruz unloaded on his Democratic colleagues on Friday in response to Sen. Dianne Feinstein sending a letter to President Trump declaring that she is "disappointed" in his administration's plan to block funding to the world's leading state sponsor of terrorism, Iran. The Democrats' demand of Trump to help Iran get $5 billion in aid, Cruz noted, comes "at the exact same time" that they are "blocking desperately need relief to small businesses in America."

In late March, a group of Democratic lawmakers — among them Reps. Alexandria Ocasio-Cortez (NY), Ilhan Omar (MN), and Rashida Tlaib (MI), and Sens. Bernie Sanders (I-VT) and Elizabeth Warren (D-MA) — sent a letter to Secretary of State Mike Pompeo and Treasury Sec. Steve Mnuchin calling for the easing of U.S. sanctions on Iran during the coronavirus pandemic, a request that was dead on arrival.

Iran has since requested $5 billion in aid from the International Monetary Fund (IMF). In response to the Trump administration indicating that they have no intention of allowing the terror-sponsoring state to get the massive infusion of money, Sen. Feinstein sent her own letter on Thursday expressing her disappointment…

In response to the pair of moves, Cruz called out Feinstein and the Democrats for what he suggested were some backward "priorities."
See Cruz's tweet below:
The Ayatollah leads chants of "death to America." He pledges to destroy America, which he calls "the Great Satan." And Senate Dems want to send him millions??? At the EXACT SAME TIME, Senate Dems are blocking desperately need relief to small businesses in America. ? #Priorities https://t.co/o44wqG9bOm

— Ted Cruz (@tedcruz) April 10, 2020
Democrats keep telling us who they really care about and it's never us.