Posted by
Mary Chastain
Wednesday, March 11, 2020 at 11:00am
| 3/11/2020 - 11:00am
"He is a REAL LEADER who will never let MAGA/KAG, or our Country, down!"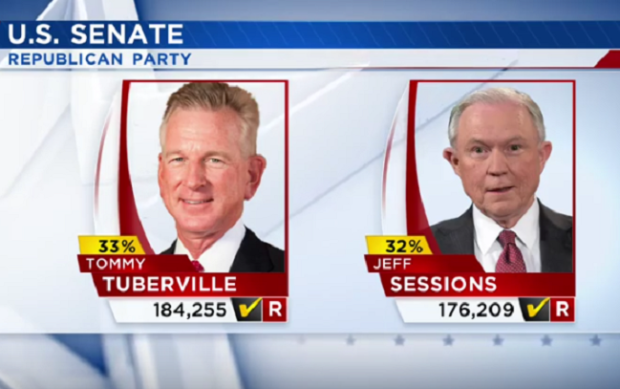 President Donald Trump officially endorsed former Auburn football coach Tommy Tuberville over his former attorney general Jeff Sessions.
Tommy Tuberville (@TTuberville) is running for the U.S. Senate from the Great State of Alabama. Tommy was a terrific head football coach at Auburn University. He is a REAL LEADER who will never let MAGA/KAG, or our Country, down! Tommy will protect your Second Amendment….

— Donald J. Trump (@realDonaldTrump) March 11, 2020
….(which is under siege), is strong on Crime and the Border, and truly LOVES our Military and our Vets. He will be a great Senator for the people of Alabama. Coach Tommy Tuberville, a winner, has my Complete and Total Endorsement. I love Alabama!

— Donald J. Trump (@realDonaldTrump) March 11, 2020
Sessions, then an Alabama senator, became one of Trump's earliest supporters in 2016.
Trump made him attorney general, but the relationship soured. In September 2018, Trump made his feelings known:
In September, Trump took his criticism to a new level when he disassociated Sessions from the administration, including the attorney general's border enforcement efforts.

"I don't have an attorney general. It's very sad," Trump said in an interview with Hill.TV. "I'm not happy at the border, I'm not happy with numerous things, not just this."

The broadsides became even more pointed in recent weeks, when Trump described Sessions as "disgraceful" for asking the Justice Department's inspector general – not prosecutors – to review Republican allegations of surveillance abuses related to the monitoring of a former Trump campaign aide.

Sessions' recusal in March 2017 for failing to disclose election-year meetings with Russian Ambassador Sergey Kislyak – and Trump's dismissal of FBI Director James Comey in May 2017 – prompted the appointment of Mueller, a former FBI director, as the Justice Department's special counsel to direct the wide-ranging Russia inquiry.
Sessions tweeted about Trump's snub:
Of course, President Trump can endorse anyone he chooses for the U.S. Senate election in Alabama. But the Constitution expressly empowers the people of Alabama, and only them, to select their Senator. I intend to take my case directly to the people of Alabama. (1/2.)

— Jeff Sessions (@jeffsessions) March 11, 2020
Even before he declared for the presidency, I fought for the principles that Donald Trump so effectively advocated in the campaign and has advanced as President. I believed in those principles then, I have always fought for them, and I will continue to do so. (2/2.)

— Jeff Sessions (@jeffsessions) March 11, 2020