Posted by
Kemberlee Kaye
Tuesday, March 3, 2020 at 6:30pm
| 3/3/2020 - 6:30pm
Over 1,300 Delegates in Play for 2020 Democratic Candidates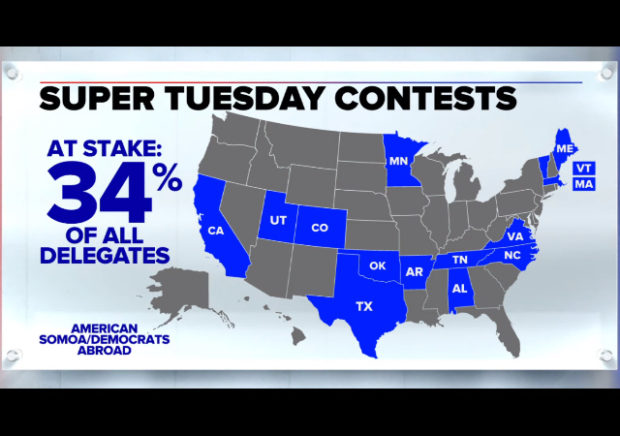 It's Super Tuesday, which means fourteen states voted in primaries today. Over 1,300 delegates are up for grabs for the 2020 Democratic presidential candidates.
California has 415 delegates while Texas has 228 delegates.
The 2020 Democratic primary consists of five people: Vice President Joe Biden, former NYC Mayor Michael Bloomberg, Rep. Tulsi Gabbard (D-HI), Sen. Bernie Sanders (I-VT), and Sen. Elizabeth Warren (D-MA).
As of Tuesday morning, Sanders had 60 delegates. Biden is in second place with 54 delegates. Warren had seven while Bloomberg and Gabbard have none.
LIVE COVERAGE
STATE RESULTS
Remember, "winning" a state is symbolically important, but what really matters is delegates, and whether the 2nd and 3rd place contenders pass the 15% threshold to get delegates. While "winners" will be declared early, delegate counts will not be known until much later.
Alabama
BREAKING: Former Vice President Joe Biden will win the Alabama Democratic primary, CNN projects #CNNElection https://t.co/xcLS0MRgQR pic.twitter.com/IOWrFYMijK

— CNN Politics (@CNNPolitics) March 4, 2020
American Samoa
BREAKING: Billionaire Mike Bloomberg secures first win….. American Samoa pic.twitter.com/SquYavTKAu

— Breaking911 (@Breaking911) March 4, 2020
Arkansas
BREAKING: Joe Biden wins the Democratic presidential primary in Arkansas. #APracecall at 8:49 p.m. CST. #Election2020 #ARprimary https://t.co/lGfinjTqT4

— AP Politics (@AP_Politics) March 4, 2020
California
BREAKING: Bernie Sanders is projected to win the California primary, according to the AP. #SuperTuesdayResults https://t.co/IctpSpzGYF pic.twitter.com/rOZpfRbN4G

— NPR (@NPR) March 4, 2020
Colorado
Bernie Sanders wins the Colorado Democratic presidential primary, his second victory on a Super Tuesday that has seen Joe Biden win a trio of Southern states. https://t.co/f3y6VnAzO8

— The Associated Press (@AP) March 4, 2020
Maine
Too close to call as of 2:01 AM ET.
Massachusetts
The Fox News Decision Desk can now project that former Vice President Joe Biden will win the commonwealth of Massachusetts, beating Senator Bernie Sanders from the neighboring state of Vermont and, Senator Elizabeth Warren, who will come in third in her home state. pic.twitter.com/ui8j1yj8Or

— Bret Baier (@BretBaier) March 4, 2020
Minnesota
BREAKING: Joe Biden wins the Democratic presidential primary in Minnesota. #APracecall at 8:45 p.m. CST. #Election2020 #MNprimary https://t.co/lGfinjTqT4

— AP Politics (@AP_Politics) March 4, 2020
North Carolina
BREAKING: Joe Biden wins North Carolina Democratic Primary, NBC News projects. https://t.co/KbzyuTVIwR pic.twitter.com/ZqH0sTrZlm

— NBC News (@NBCNews) March 4, 2020
Oklahoma
BREAKING: Joe Biden wins the Democratic presidential primary in Oklahoma. #APracecall at 8:05 p.m. CST. #Election2020 #OKprimary https://t.co/lGfinkb1KC

— AP Politics (@AP_Politics) March 4, 2020
Tennessee
Joe Biden has won his fifth Super Tuesday state, taking first place in Tennessee https://t.co/iQtXwkXi03 pic.twitter.com/vsKVhFHycC

— POLITICO (@politico) March 4, 2020
Texas
BREAKING: Joe Biden wins Texas Democratic Primary, NBC News projects. https://t.co/mWAcq3kBlp pic.twitter.com/LJO6eZjVtJ

— NBC News (@NBCNews) March 4, 2020
Utah
BREAKING: Bernie Sanders is projected to win the Utah primary, according to the AP. #SuperTuesdayResults https://t.co/bs03Wtg3Mc pic.twitter.com/tl7bHhrchA

— NPR (@NPR) March 4, 2020
Vermont
BREAKING: Sen. Bernie Sanders wins Vermont Democratic Primary, NBC News projects. https://t.co/GBQ1wxkw7S pic.twitter.com/gwJ6a3RHsV

— NBC News (@NBCNews) March 4, 2020
Virginia
BREAKING: Joe Biden will win the Virginia primary, ABC News projects based on analysis of the exit poll. https://t.co/b4SLSxape1 #VAPrimary pic.twitter.com/Qu3gWJOOcX

— ABC News (@ABC) March 4, 2020
[Featured image via YouTube]