Posted by
Mary Chastain
Sunday, March 22, 2020 at 7:16pm
| 3/22/2020 - 7:16pm
"Senate spends all weekend negotiating a bipartisan deal. Agreement reached. Pelosi flies in from California, whips out her unrelated 'wishlist,' and says no. Senate Democrats then vote against proceeding on a bill they negotiated. Jaw dropping."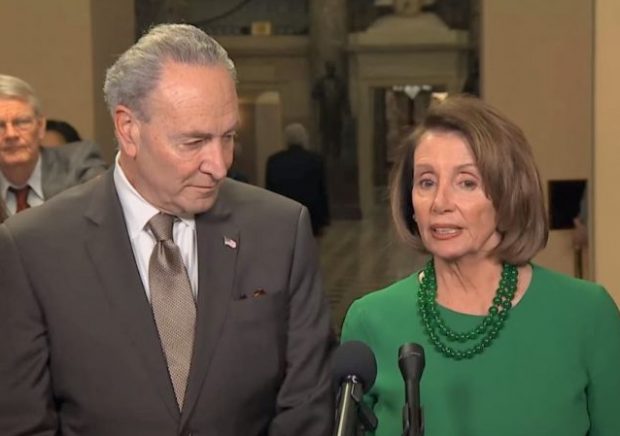 The supposed bipartisanship to help the economic fallout from the Wuhan coronavirus fell apart on Sunday after Speaker of the House Nancy Pelosi returned to DC.
Coincidence? Probably not because the minute she gets back, shows off her "wishlist," the Democrats vote no on a bill they negotiated.
Six hours ago:
So the Senate works through the weekend, with time of the essence (workers and businesses are getting crushed NOW)…and Pelosi rolls in and promises to blow it up and start from scratch with her own, unseen bill? https://t.co/w3X3jKvcJi

— Guy Benson (@guypbenson) March 22, 2020
/3 GOP source said Pelosi had a "laundry list" of additional requests, including election security funding. Dems also raised wiping out $10k in student loan debt & host of other issues

— John Bresnahan (@BresPolitico) March 22, 2020
Then it fails to advance.
Talking to some Senate GOP sources. They seem stunned and angry. I'm told there was lots of bipartisan input into the legislative outline & emerging specifics — including an agreement in principle on broad strokes. Then Pelosi showed up and threw a partisan grenade.

— Guy Benson (@guypbenson) March 22, 2020
From The Daily Caller:
House Speaker Nancy Pelosi on Sunday said she will halt negotiations with the Senate and move to pass her own coronavirus package in the House, which could drag things out longer than many expected. Pelosi's legislation will be a $1.6 trillion emergency package, according to Politico.

The text for a phase-three Senate bill announced Friday would give $1,200 checks to every person, while couples would receive $2,400. That $1,200 check will go to Americans making less than $75,000 annually. Each child will receive $500. The amount is reduced by $5 for every $100 a person earns over $75,000. Those making above $99,000 would not get any money.

The GOP's bill also includes specific provisions for disabled veterans, low-income seniors, and individuals with no income tax liability with at least $2,500 in qualifying income, according to The Senate Finance Committee. There will also be a much smaller benefit of $600 for millions without federal tax liability.

A task force reportedly gave the idea to Republicans during their caucus lunch. Republican South Carolina Sen. Lindsey Graham reportedly opposes direct payments. However, Graham said he is "willing to pay 75 percent of people's income up to $80,000 to get us through," adding, "this ought to be enough money to get us through the next six to eight weeks."
Senate Majority Leader Mitch McConnell unloaded on Pelosi after the vote:
McConnell tears into Democrats on the floor. Specifically calls out Pelosi. Rare to see that on the floor, As angry as we've ever seen him on the floor.

McConnell:
The notion that we have time to play games here..is utterly absurd

— Chad Pergram (@ChadPergram) March 22, 2020
McConnell: The build up to this is that we had a high level of bipartisanship over the last 48 hours…And then all of a sudden the Democratic Leader and the Speaker of the House shows up..and we're back to square one.

— Chad Pergram (@ChadPergram) March 22, 2020
McConnell lights up Pelosi on the flr over coronavirus talks:
She's the Speaker of the House. Not the Speaker of the Senate. We don't have one…the markets are already reacting to this outrageous nonsense. We have an obligation to deal with this..

— Chad Pergram (@ChadPergram) March 22, 2020
Others noted on Twitter that they can see right through Pelosi's games, but know that the MSM will spin it to blame the Republicans.
Senate spends all weekend negotiating a bipartisan deal. Agreement reached. Pelosi flies in from California, whips out her unrelated "wishlist," and says no. Senate Democrats then vote against proceeding on a bill they negotiated.

Jaw dropping.

— Ben Williamson (@_WilliamsonBen) March 22, 2020
The Democrat filibuster of corona relief is the single most irresponsible act I've seen in 20 years of being around the Senate. God help the Americans whose livelihoods will be irreparably damaged tomorrow as a result.

— Josh Holmes (@HolmesJosh) March 22, 2020
So basically Pelosi is strong-arming a national crisis to advance her own agenda. Disgusting. https://t.co/zHPcQ6bvE9

— Jenna Ellis (@JennaEllisEsq) March 22, 2020
2) Pelosi's balk is naked attempt to cadge more last-minute money. She's playing politics in a crisis. Which is almost as bad as Elizabeth Warren suggesting this is a corporate "slush fund." Gov shuts down economy, and Warren blames business? Toxic.

— Kimberley Strassel (@KimStrassel) March 22, 2020
Pelosi, full speed ahead with her own plan: "Today, we are finalizing our Take Responsibility for Workers and Families legislation.. Leader McConnell had to postpone his 3 p.m. cloture vote.. thanks to Leader Chuck Schumer and Senate Democrats, he did not have the 60 votes.." pic.twitter.com/aDPHK51Oqp

— Michael McAuliff (@mmcauliff) March 22, 2020
BACKGROUND — Democrats' Plan: "This is a tremendous opportunity to restructure things to fit our vision"
On a Thursday conference call featuring more than 200 members of the House Democratic caucus, lawmakers one by one laid out a sweeping wish list of provisions they want to see included in the nascent package, including a boost in infrastructure spending, an expansion of Social Security benefits and funding for states to set up an all-mail voting system in the event the pandemic extends into November's elections.

"This is a tremendous opportunity to restructure things to fit our vision," Majority Whip James Clyburn (D-S.C.) told lawmakers, according to a source on the call.
How crazy is it that less than 24 hours ago Schumer was talking about how *delighted* he was with the "bipartisan cooperation" on Coronavirus aid negotiations.

Then Pelosi got back into town, Schumer immediately flipped, and Democrats unanimously voted to block a critical bill. pic.twitter.com/gESFOstpm1

— Matt Whitlock (@mattdizwhitlock) March 23, 2020