Posted by
Mary Chastain
Thursday, March 5, 2020 at 9:00pm
| 3/5/2020 - 9:00pm
"It's not all about the Bojangles'. It's about every company and corporation that sits there and tries to tell us what we need to say, what we need to wear."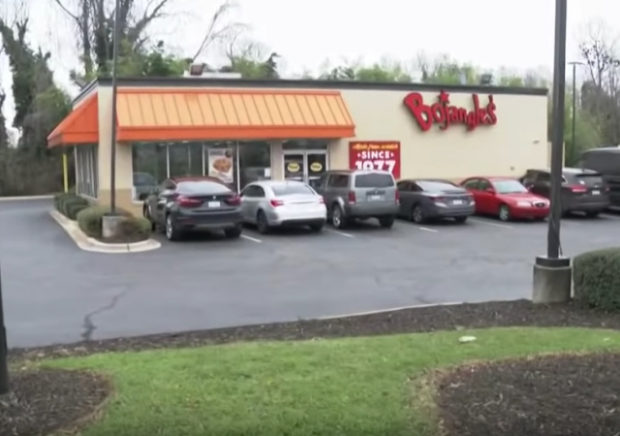 A shift manager at a Bojangles' in Charlotte, N.C., locked out supporters of President Donald Trump after a rally.
The Charlotte Observer reported that the manager "is no longer employed" at the restaurant.
As Furick pointed out, the rally took place at Bojangles' Coliseum, located about 10 minutes from the restaurant.
The rally had a full audience with people watching it outside in the parking lots.
From WCNC:
To clarify, Furick said he asked people outside the restaurant why no one could get inside.

"I said, 'Hey, why's the door locked?' Guy in a wheelchair says, 'They're not serving MAGA supporters," Furick told WCNC Charlotte. "They had said we had trashed the place earlier.'"

As Furick looked in the restaurant, he said he only saw a small pile of debris. Furick said he made a gesture with his hand to an employee, and that's when an employee held up his hand in a picture.

—

Furick believes the restaurant missed an opportunity to win over customers and make money.

"It's not all about the Bojangles'," he said. "It's about every company and corporation that sits there and tries to tell us what we need to say, what we need to wear. You're not gonna serve us? Yeah, you are, or you're gonna get rolled over."

Furick said he's not going to speculate on the political views of the Bojangles' employee, but he may be visiting other fast-food restaurants in the future.
Others have said that they will boycott the chain.
Bojangles originally said that the crowds "likely overwhelmed restaurant employees that night, which led to the doors being locked."
The chain changed its tune on Wednesday, calling it a "bad decision:"
To all our Bojangles' fans. An unfortunate incident happened at our store near Bojangles' Coliseum earlier this week. A manager made a bad decision to close the dining room. We apologize. That manager is no longer employed by Bojangles'. At a different store, a customer posted a sign that is not true. We welcome ALL customers.
Then on Monday a sign appeared on a door at a Bojangles' in Harrisburg that said employees will ask you to leave if you come in wearing Trump gear. But it was taped outside, which led some to believe the sign was a hoax.