Posted by
Kemberlee Kaye
Monday, March 2, 2020 at 1:00pm
| 3/2/2020 - 1:00pm
"The campaign offered a meeting with the senator if they would leave the stage after being on stage for more than an hour. After the group initially agreed, they backed out of the agreement and we are canceling the event."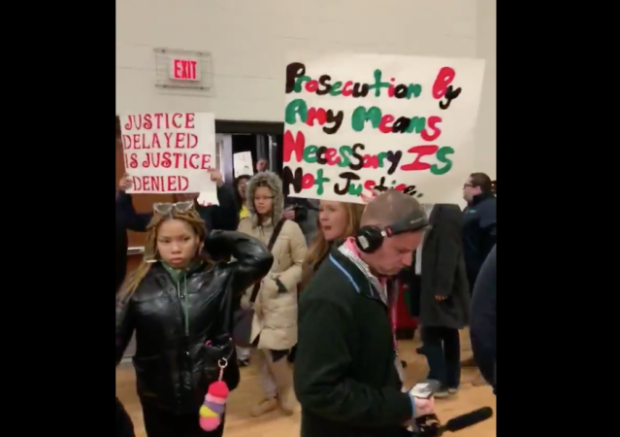 A "welcome home" rally for Democrat Presidential hopeful Sen. Amy Klobuchar was not the warm, boisterous greeting she'd hoped for.
Protesters infiltrated the school gymnasium shouting "Myon" (a black teenager convicted in a child murder case in 2002) and "Black Lives Matter." Klobuchar's campaign cancelled the event as a result.

Watch:
Demonstrators protesting Klobuchar's handling of the Myon Burrell case as a co prosecutor pour into the gym where the senator is set to rally supporters. They want her to drop out. pic.twitter.com/98HRr1MRUA

— Torey Van Oot (@toreyvanoot) March 2, 2020
More from the Star Tribune:
Sen. Amy Klobuchar returned to Minnesota on Sunday hoping to pivot to Super Tuesday after a distant sixth-place finish in the South Carolina primary.

But while hundreds of supporters gathered for her homecoming in a St. Louis Park High School gymnasium, dozens of protesters streamed in, chanting for her to exit the race over her handling of the case against Myon Burrell, a black teenager convicted in a 2002 child slaying when Klobuchar was Hennepin County attorney.

As protesters took over the stage shouting "Myon!" Klobuchar supporters shouted "Amy!" back. Klobuchar was not in the gymnasium as the protest unfolded, disrupting the start of a program of campaign speeches. The ongoing protest eventually forced the campaign to cancel the rally. "The campaign offered a meeting with the senator if they would leave the stage after being on stage for more than an hour," a campaign spokesman said. "After the group initially agreed, they backed out of the agreement and we are canceling the event."

Protest leaders said the campaign would not meet their demand to publicly acknowledge Burrell during the rally.

The event was planned as Klobuchar seeks to salvage momentum for a long-shot campaign low on cash and in a downward trajectory since a surprising third-place result in New Hampshire on Feb. 11.
With Mayor Pete dropping out and Obama meddling behind the scenes, it looks like not-Bernie support, at least from the Democrat base, seems to be coalescing behind Biden, who just won South Carolina's primary. Klobuchar hasn't broken out of mid-pack the entire primary, so this seems a little overly aspirational:
A source with knowledge of the @amyklobuchar campaign's workings says "Plans are being made post #SuperTuesday. The staff is operating under the assumption they are moving forward." Those plans include working on staffing plans for the March 10 states.

— Kyung Lah (@KyungLahCNN) March 2, 2020