Posted by
Mary Chastain
Friday, March 13, 2020 at 8:30pm
| 3/13/2020 - 8:30pm
"I encourage all Republicans and Democrats to come together and VOTE YES!"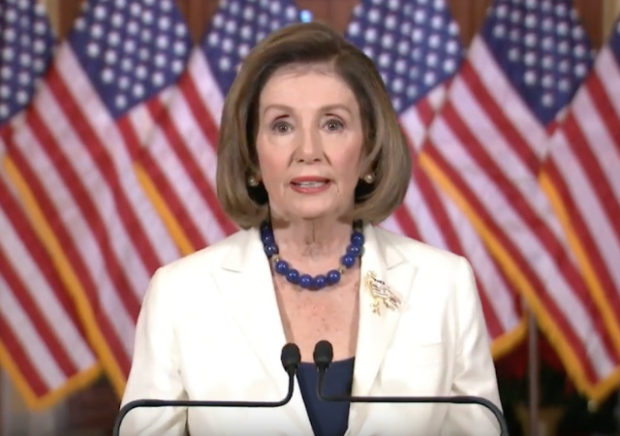 Speaker of the House Nancy Pelosi and President Donald Trump's administration are close to an agreement on a coronavirus relief package.
The vote in the House should happen tonight, but some House Republicans may not jump on board. It's possible pork is still shoved in the bill.
Turns out paid sick leave caused the delay.
McCarthy speaking now, post Trump tweet.

Confirms that paid sick leave — specifically flexibility for small businesses — was final hold up.

"The Speaker was able to make some changes here, which will be coming out shortly," he says. "I think this is a much better product."

— Sarah Ferris (@sarahnferris) March 14, 2020
Here are a few details of the bill:
Free coronavirus testing for everyone who needs a test, including the uninsured.
Two weeks of guaranteed paid sick leave, as well as increased family leave.
Increased support for unemployment benefits.
Works to strengthen programs that provide school lunches for students who rely on them.
A bump in Medicaid funding.
BUT since politicians have a pork addition, the bill may run into problems because who wouldn't vote for a bill to help the sick? Well, it makes me sick they do this. Like supposed Catholic Pelosi.
Pelosi came under fire because she tried to sneak in federally funded infanticide:
"While schools are closing and hospitals are gearing up, Speaker Pelosi is waging unnecessary culture wars. Speaker Pelosi should be fighting the coronavirus pandemic, not politicizing emergency funding by fighting against the bipartisan Hyde Amendment," Sasse told National Review in a statement. "We need to be ramping up our diagnostic testing, not waging culture wars at the behest of Planned Parenthood. Good grief."

Pelosi attempted to secure a funding stream of up to $1 billion for reimbursing laboratory claims. According to White House officials who spoke with the Daily Caller, that provision would establish a precedent under which health claims for all procedures, including abortion, could be reimbursed with federal funds. That precedent would render the Hyde Amendment, which blocks taxpayer funding for abortion clinics, obsolete.
Fox is told there could be a problem with the coronavirus bill. Pelosi/Admin source both said there was a deal earlier. But Mnuchin has not signed off on the pact yet. Hse GOPers aren't completely on board. Some details in bill which R's don't like

— Chad Pergram (@ChadPergram) March 13, 2020
From colleague Jason Donner. Hoyer on coronavirus bill: I wish I knew [the holdup]…we have been close for the last three hours…we thought we had an agreement..If it falls apart, in my view, I wanna bring it to the floor…Senate act on it as soon as possible.

— Chad Pergram (@ChadPergram) March 13, 2020
Hoyer: "I want to vote tonight."
Why did pelosi say she had a deal?
Hoyer: "She thought there was."

— Chad Pergram (@ChadPergram) March 13, 2020
However, Trump tweeted in support of the bill.
I fully support H.R. 6201: Families First CoronaVirus Response Act, which will be voted on in the House this evening. This Bill will follow my direction for free CoronaVirus tests, and paid sick leave for our impacted American workers. I have directed….

— Donald J. Trump (@realDonaldTrump) March 14, 2020
….the Secretary of the Treasury and the Secretary of Labor to issue regulations that will provide flexibility so that in no way will Small Businesses be hurt. I encourage all Republicans and Democrats to come together and VOTE YES! I will always put….

— Donald J. Trump (@realDonaldTrump) March 14, 2020
….the health and well-being of American families FIRST. Look forward to signing the final Bill, ASAP!

— Donald J. Trump (@realDonaldTrump) March 14, 2020