Posted by
Kemberlee Kaye
Tuesday, February 25, 2020 at 7:58pm
| 2/25/2020 - 7:58pm
Will Bernie escape unscathed?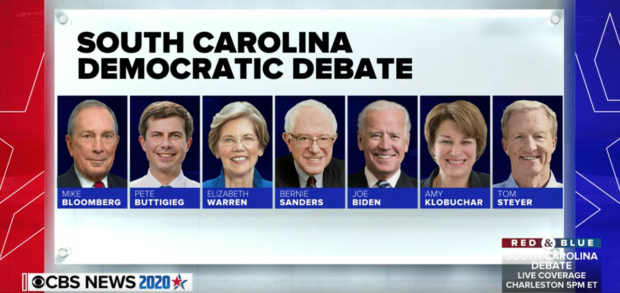 Democrat presidential hopefuls will square off ahead of Saturday's primary. This is a live thread so you'll find the latest updates up top.
Watch live:
Reactions and other things:
It's all sad, really:
This debate is happening in an alternate universe. Filibuster? Term limits? Qs about basic platform positions? It's as though the Democratic Party is not on the edge of a Sanders runaway – and as though the moderators were not aware the primary did not start yesterday #SCDebate

— David Siders (@davidsiders) February 26, 2020
Biden was touting his experience with the Swine Flu:
Oh, man, remember Biden's advice for swine flu? https://t.co/tHfGCj7l90 pic.twitter.com/W2tyklnuWt

— Jim Geraghty (@jimgeraghty) February 26, 2020
For real though:
Shouldn't the follow-up to calling Bloomberg "racist" "risky" "misogynist" or whatever be – should the Democratic Party stop taking hundreds of millions of dollars per cycle from a racist misogynist?

— Chris Hansen (@tankcat) February 26, 2020
Biden is Bidening:
Joe Biden getting a little too prissy for his britches: "I will win South Carolina."

— Kemberlee Kaye (@KemberleeKaye) February 26, 2020
And Warren at Peak Warren:
Warren telling the fake pregnancy discrimination story even after it's been debunked #demdebate

— Legal Insurrection (@LegInsurrection) February 26, 2020
You knew this was coming:
This debate is a 6 on 1 attack on Bernie Sanders.

There's a decent chance Bernie will yell "I'll see you in hell!"; throw down a smoke grenade and disappear into a cloud of vapor.

— The Hoarse Whisperer (@HoarseWisperer) February 26, 2020
Klobuchar is staring down Mayor Pete. Again. Which seems a silly strategy at this point:
Klobuchar focused on Pete from across the stage. #DemDebate pic.twitter.com/HTNvc0UZyB

— Matt Whitlock (@mattdizwhitlock) February 26, 2020
She's done.
15 minutes in and @amyklobuchar hasn't said a word. #PresidentialDebate

— James Robert Carroll (@JRCarrollNews) February 26, 2020
Can't wait til Klobuchar says to dance like no one's watching…

— Nick Gillespie (@nickgillespie) February 26, 2020
Though probably unintentional:
Klobuchar laying out a good, tough case against single-payer healthcare.

— Guy Benson (@guypbenson) February 26, 2020
7 white candidates talking about racial justice is exactly what you'd think it would be:
Now we're in the "I know black people" part of the #DemDebate

— Kemberlee Kaye (@KemberleeKaye) February 26, 2020
Let's be real about this:
Ending any pretense that Mom's Demand is anything but a wholly owned subsidiary of @MikeBloomberg @GUNVOTE https://t.co/U8AsXqZK10

— Larry Keane (@lkeane) February 26, 2020