Posted by
Mary Chastain
Monday, January 20, 2020 at 5:30pm
| 1/20/2020 - 5:30pm
"I don't see it as a gun issue, I see it as a human rights issue."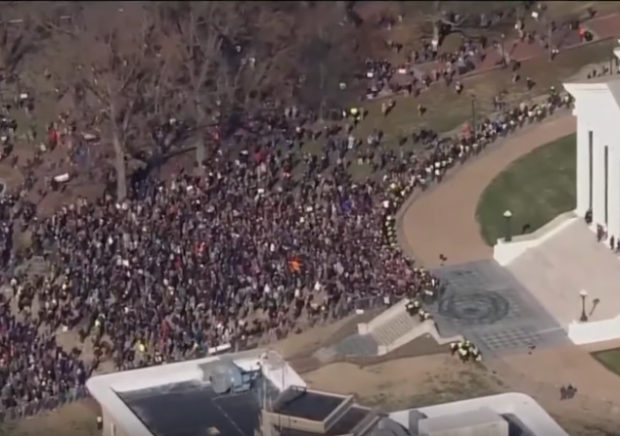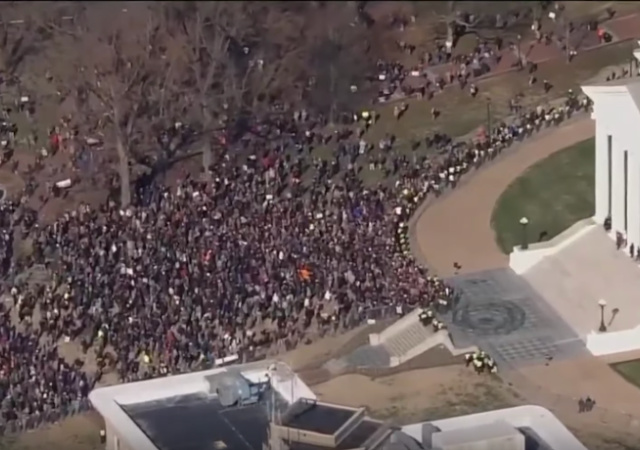 The left and media scared us for days about today's rally in Richmond, VA. They believed so many people who support the Second Amendment in one place would lead to death, destruction, and mayhem.
I mean, Democratic Gov. Ralph Northam declared a temporary state of emergency ahead of the rally.
Well, over 22,000 people attended the rally. It was peaceful with no arrests. State of emergency, eh?
Imagine that. Over 22,0000 people with guns and not one shooting or crime. Hhhmmm..it's almost as if these passionate gun supporters care about laws and other people, unlike criminals.
The supporters protested against new gun regulations by the Virginia legislation. This includes "universal background checks, a ban on military-style rifles and a bill that would allow authorities to temporarily take guns from people deemed dangerous to themselves or others."
The protestors believe these regulations will cause the Democratic-controlled legislation to pass more regulations.
Bill Hayden, a man at the rally, said that no one would ever "get the criminals to turn in their weapons." He insisted that is why people attended the rally. He wants the government to concentrate on the criminals, not the law-abiding citizens:
"I don't see it as a gun issue, I see it as a human rights issue," Hayden added. "I think the human rights issue affects all parts of the political spectrum, regardless of where you stand or what you believe in."
#NEW MONTAGE from me showing how @CNN and @MSNBC spent their mornings hyping fears that "white nationalists" and "extremists" would cause "violence" at #VirginiaRally for the #2A like in 2017 at Charlottesville #LobbyDay2020 pic.twitter.com/wR91mMPfmR

— Curtis Houck (@CurtisHouck) January 20, 2020
This group came all the way from New Jersey for this. They say it is more than just a gun rights rally for them, but a human rights rally. @CBS6 #Virginia #2A #LobbyDay pic.twitter.com/Kwdvr9MTo8

— Shannon Lilly CBS 6 (@ShannonLillyTV) January 20, 2020
The line getting out is way longer than getting in. Take a look at the massive crowd @NBC12 pic.twitter.com/QEV6Rce0zr

— Eric Perry (@EricpNBC12) January 20, 2020
An aerial view of the pro-gun rally at the State Capitol about 30 minutes ago. There seems to be more people in the streets than on Capitol grounds. #VAnews #NBC12 pic.twitter.com/HnrQtDgGmd

— Karina Bolster (@KarinaNBC12) January 20, 2020
More pictures of people carrying rifles at the #VirginiaRally and more evidence that debunks the narrative that the rally is filled with racists and white supremacists. pic.twitter.com/V0jGLpKW2d

— Julio Rosas (@Julio_Rosas11) January 20, 2020
An attendee at the rally in Richmond Virginia dispels the media smears against rally-goers.

He says the media is mischaracterizing them, & that they are just law abiding citizens who want to advocate for their constitutional rights.#VirginiaRally
pic.twitter.com/Vp3bJX8eNi

— Michael Coudrey (@MichaelCoudrey) January 20, 2020
One of the best signs I've seen all day #VirginiaRally pic.twitter.com/5VzJLuMIzN

— Alec Sears (@alec_sears) January 20, 2020
Representation for the gay community is also in attendance at the 2nd amendment rally in Richmond, Virginia.

"Gun rights are also gay rights" #VirginiaRally #Richmond2ARally pic.twitter.com/ED98qLXsKL

— Michael Coudrey (@MichaelCoudrey) January 20, 2020
Virginia Sheriffs: We Support the Second Amendment #VirginiaRally pic.twitter.com/uaDpBvVWdT

— Jack Posobiec?? (@JackPosobiec) January 20, 2020
A group of women showing support for gun rights. #VirginiaRally pic.twitter.com/YaBJCAmgUS

— Julio Rosas (@Julio_Rosas11) January 20, 2020
Look at the size of this pro-gun crowd.

The media claimed thousands of white nationalists would be here.

In reality, one Nazi Holocaust denier showed up and was quickly shut down by the #VirginiaRally attendees.

There was no violence all day. Just peaceful protest. pic.twitter.com/6euSNADKSY

— Caleb Hull (@CalebJHull) January 20, 2020
Black Panthers at the #Richmond2ARally

This is impossible because the media says this is impossible. pic.twitter.com/4QcZj35llD

— Being Libertarian (@beinlibertarian) January 20, 2020
Gun rights activists scrapping stickers off the road to clean up after themselves.

More environmentally friendly than the left. #Richmond2ARally #RichmondVA #GunRights pic.twitter.com/kzj6czGwXF

— Being Libertarian (@beinlibertarian) January 20, 2020
CNN sounds disappointed pic.twitter.com/OWpsCCYR0q

— Tom Elliott (@tomselliott) January 20, 2020
Agitator tried to stir up the crowd at the #VirginiaRally by suggesting violence but the crowd wasn't having it. pic.twitter.com/SUh1C3fO6l

— Brandon Morse (@TheBrandonMorse) January 20, 2020
Some of the "White Supremacists" at today's #VirginiaRally in support of the Second Amendment. pic.twitter.com/yJVyNjWbss

— Reagan Battalion (@ReaganBattalion) January 20, 2020
The Washington Post admitted it, too, when a person told the publication, "It was the opposite of what they expected, and what they wanted."
WaPo even noted how people picked up trash as they left the rally.
Groups picking up trash off the road after the rally is over. #VirginiaRally #Virginia2A @ABC13News pic.twitter.com/RgMlQroE2N

— Caroline Eaker (@caroline_wset) January 20, 2020