Posted by
Kemberlee Kaye
Friday, January 17, 2020 at 7:30pm
| 1/17/2020 - 7:30pm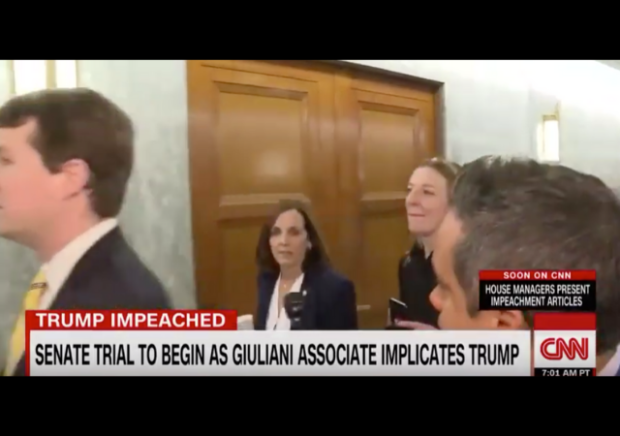 Thursday, Sen. Martha McSally refused to answer a question from CNN reporter Manu Raju. In her refusal, she called him a "liberal hack."
You can see that very brief, but watchworthy video here.
Shortly thereafter, someone in McSally's camp registered the domain, LiberalHack.com and her re-election campaign was capitalizing on the quip.
A little insight into how calculated this was.

McSally attacked Manu in the 10am hour. She had registered the domain name "https://t.co/YQW3ySFPna" by the 11am hour.

(16:24 UTC = 11:24 EST) pic.twitter.com/TkBHt8S2BZ

— Kyle Cheney (@kyledcheney) January 17, 2020
Calculated, you say? Because, I don't think that's how it works. See also:
If she registered the domain after saying it, wouldn't that suggest the opposite premeditation? I know sequencing can be hard, but keep at it.

— Luke Thompson (@ltthompso) January 17, 2020
But suppose it was calculated. So what? Was she wrong? Does that make her allegation any less true? The internet is on the case!
Some people are mad and without the smallest whiff of irony, used McSally's campaign opportunism to pitch for the other guy in the race:
McSally didn't win her seat, it was handed to her. I hope @ShuttleCDRKelly wins it away. He won't launch baseless attacks on our press, our eyes and ears, and fund-raise off them.

— chulesee (@chulesee) January 17, 2020
@SenMcSallyAZ has disgraced herself, her constituents & her country. She does not deserve to serve in the Senate. She's down in the polls. Lets get her smart, respectable & capable opponent elected. Arizona deserves better than this right wing hack. @ShuttleCDRKelly Senate 2020

— Dawn (@DawnMMorrison) January 17, 2020
I'm sure she planned it. It could've been anyone journalist not at Fox News. Just so happened to me Manu. She needed a push in the polls. This is a spur of the moment comment out of annoyance. It looks planned and she is the worse of the worse of women in gov't. Horrible example

— Nicole ?? (@NicoleJ_4) January 17, 2020
And then there are those with a brain.
Um. It costs like $8 to buy a domain and 5 minutes to set it up.

I've literally done it in the middle of a tech support call at work when the end user wouldn't stop typing something incorrectly.

"Calculated." Pathetic. Learn to Code.

— KiTA (@AeldariMark) January 17, 2020
If it were calculated, she would've purchased the domain PRIOR to the event, and planted herself in a position to get asked the question. This is one wild-ass conspiracy theory.

— theQuaziMofo (@theQuaziMofo) January 17, 2020
I mean, Nevertheless, she persisted… remember that gem? In any case.
In the McSally conspiracy, all of this leaves only one explanation — TIME TRAVEL.